After 30 Years in Corporate America... Ron Brown Made a Change!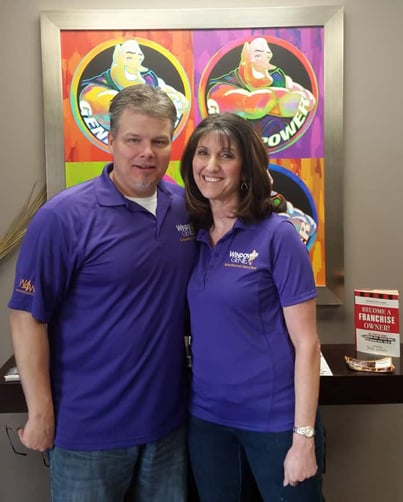 Ron Brown can be considered a pioneer of sorts. On March 14 he launched the first Window Genie in Colorado, an award-winning franchise specializing in window cleaning, window tinting and much more.
Recognized by Entrepreneur Magazine in both its annual Franchise 500® and Top Homebased/Mobile rankings, Window Genie will be serving residential and commercial customers in Broomfield, Lafayette, Superior, Louisville and Boulder.
"The multitude of services that Window Genie offers seems to be a great fit anywhere, especially in the territories my Window Genie covers," said Brown, a Broomfield resident. "Homeowners in Colorado take great pride in the appearance and upkeep of their property and Window Genie will help them maintain that level of upkeep at a very reasonable cost."
The 50-year-old Brown become a small-business owner after a 30-year corporate career with a specialty in operations. After many years at United Parcel Service, Brown joined Level 3 Communications in 1998, where he launched its logistics program and then took it to Europe for the global communications provider. Brown later held a variety of management positions until a workforce reduction took place in 2015.
"I found myself on the other side of the table and rather than jumping right back into the corporate environment I explored many opportunities, including small business ownership," Brown said.
According to the U.S. Census Bureau, about one in every 10 Americans is self-employed, that equals about 14.6 million people in the U.S. A franchise consultant helped Brown identify what type of business would fit him best, but he said it's crucial for individuals to perform their own due diligence.
"Research. Research. Research," Brown said. "It will be one of the biggest decisions of your life and be sure you are ready to run your business from A to Z every day. Talk to other owners, talk to would-be consumers and understand what it truly takes to not only launch the business but to sustain it."
Besides its core service offerings: pressure washing, gutter cleaning and window washing, Window Genie also offers additional services such as gutter re-securing, holiday light installation, chandelier cleaning and dryer vent cleaning.
"What is unique about Window Genie compared to other competitors is the depth and breadth of its services," Brown said. "Most competitors only offer two or three services. This is a distinct advantage to the customer because it gives them the ability to obtain multiple services from a single provider while also affording multi-service pricing."
Window Genie added holiday lighting and décor services in select markets this past winter, offering full-service custom holiday light design, installation, maintenance, takedown and storage in response to repeated demands from customers around the country. Window Genie is also America's largest installer of 3M Envision film products that help consumers and businesses save on utility bills, reduce glare and fading and improve privacy and aesthetics. The Window Genie brand has the territory to open five more locations in the state of Colorado.
"The holiday lighting success stories shared by other Window Genie owners are very encouraging. The market for this service appears to be very real," Brown said. "I also believe window filming has a true place in Colorado given the number of sunny days per year and the damage and heat issues the sun causes. During my 18 years in Colorado I cannot recall any company promoting this service and product. I plan to change that."