5 Franchising Lessons from Baseball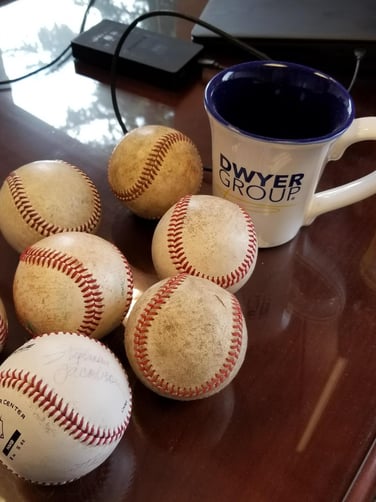 A Mr. Handyman executive points out and revels in the similarities between America's pastime and running a successful franchise.
On and off the baseball diamond, Joel Welsh still enjoys playing hardball.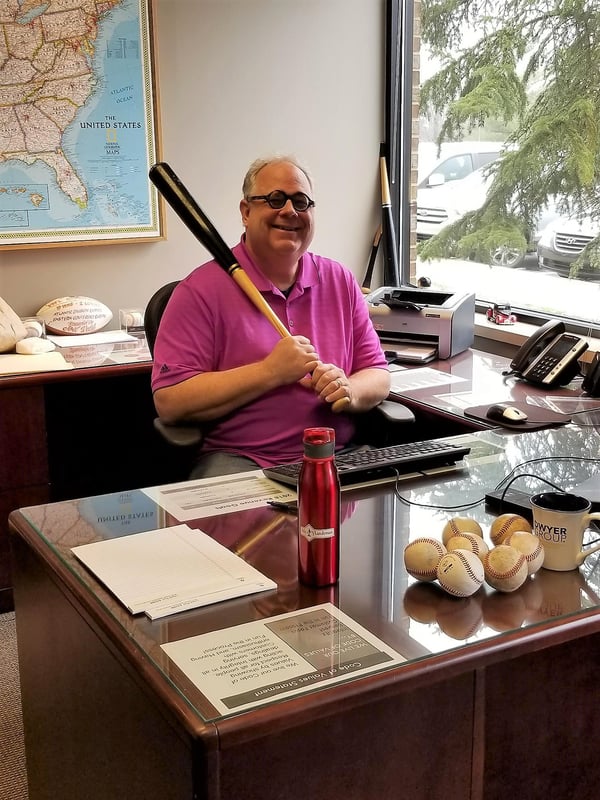 Joel Welsh, V.P. of Operations at Mr. Handyman, in his office at the Dwyer Group Ann Arbor campus.
The Vice President of Operations for Mr. Handyman is soaking up the start of baseball season. His office in Ann Arbor, Michigan, boasts a computer and other office necessities, along with several broken bats. They are souvenirs of Welsh's after-hours passion, playing hardball in a men's baseball league. Welsh, 57, says his love of baseball—and the strategies behind the game—apply to franchising, too.
He offers these takeaways:
Recognize the pace of the game. The tempo of baseball is "purposeful strategy, like any game," says Welsh. Though some find the sport boring, Welsh enjoys the "cerebral" slower pace. Baseball forces you think between pitches and take decisive action based on the game situation, he says. "Strong leadership in business is the same way." There are varying energy levels necessary for success, he says.
Respect the length of a season. There are 162 games that begin in early spring and run into mid-fall. Football has only 16 regular-season games. "We set a 'big picture' course that gets implemented day to day," says Welsh. Similarly, a franchisee's "big picture" is the top line revenue projections they set. "Owners look at the money they generate and then have the net operating income—or profits," Welsh says. Another aspect, he points out, is that every game offers a fresh start. "If yesterday was a rough game or a win, either way, there's a zero score and a clean slate."
RELATED: 10 Common Myths about Franchising
Rely on the entire team. In baseball, everyone gets a chance to contribute, often in a particular way, depending on the game situation, says Welsh, a third baseman. Each player gets to bat a few times, and on any given pitch a fielder (or several) might be required to make a defensive play. "The reality is that one player can set the tone and take a leadership role, but you have to rely on the entire team." He says the same is true in franchising. "If you have five techs, one may be super, but he can't service every customer," just as you can't bat your top slugger in every slot in the lineup, Welsh says.
Understand the personal dynamics. In baseball, Welsh says the pitcher takes on the hitter, making it "individual against individual." Leaders must be cognizant of this, Welsh says. "Each person needs to perform on a one-on-one basis in business, with everyone working to hit overall goals."
Appreciate that failure brings humility. Baseball great Babe Ruth said, "Every strike brings me closer to the next home run." A .300 batting average (meaning a 70 percent failure rate) is good, says Welsh, who points out that "you miss more than you hit." The same is true with potential customers, Welsh says. Not every person you talk to will be a base hit –or a paying customer, "but you can still win the game."
Welsh, who has had two hip replacements and a knee replacement, doesn't plan to hang up his cleats anytime soon.
What keeps him going on the diamond and at Dwyer Group?
He cites the movie "A League of Their Own," about women playing baseball in the 1940s. Geena Davis portrays standout player Dottie Hinson, who tells her manager (Tom Hanks) that she wants to leave the team and join her husband as he returns home from the war.
"It just got too hard," Hinson says. The manager replies: "It's supposed to be hard. If it wasn't hard, everyone would do it. The 'hard' is what makes it great."
Welsh says that exchange "applies to anything in life—and certainly in the franchise business."