Leadership
A Special Thank You to the Veterans Who Make Us Neighborly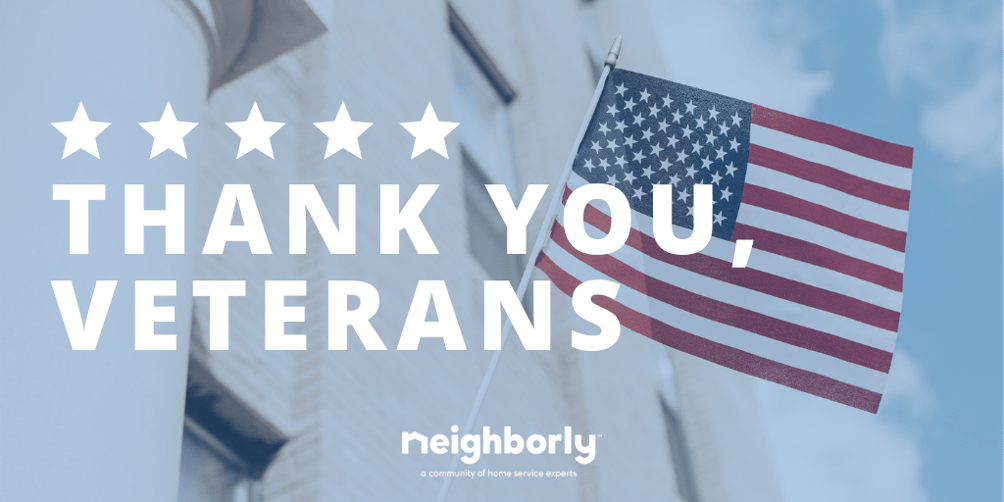 This year has been an eventful one for our nation, and our Neighborly team has proven stronger than ever in the face of so much uncertainty. As I've watched our team persevere through a number of hardships, I've been consistently reminded of what great people we have in our Neighborly family.
Today on Veterans Day, I'd like to specifically recognize those in our network who have served in the United States Armed Forces. I can never thank them enough for their service to our country, and now they represent some of the best of what our organization has to offer.
It has always been part of our mission at Neighborly to support veterans. They have been trained to follow a system and work well within a structured environment, important elements in a franchise business. They are also driven, disciplined and dedicated, the three characteristics we look for in all potential franchise owners. That's why our organization is so passionate about providing opportunities for veterans to be able to invest in a franchise.
VetFran and P.A.V.E.
Back in 1991 after the Gulf War, our founder, Don Dwyer Sr., helped create VetFran -- a program that provides financial incentives to veterans who are interested in becoming their own boss. Today, VetFran has more than 500 franchisors, including Neighborly, participating in the program. And through VetFran, more than 6,300 veterans have become business owners.
In addition to VetFran, Don Dwyer Sr. also created the Program for Assisting Veteran Entrepreneurship, also known as P.A.V.E. This program is similar to VetFran in that it gives financial support to veteran franchise owners, while also providing additional tools and training to help them be successful in franchising.
One Big Vet-Filled Family
For almost 30 years, Neighborly has supported veteran franchise ownership with the offer of a 15% discount off the franchising fee for the initial base territory purchased by a military veteran. So far in 2020, Neighborly has had more than 40 veterans benefit from the VetFran Program by providing more than $250,000 in savings to help facilitate them in their transition into franchising. Our support of veterans will continue for many years to come through our steadfast commitments to VetFran and P.A.V.E.
The veteran presence that adds to Neighborly's greatness does not stop with our franchise network. I'm proud to say a number of our corporate team members are veterans as well, such as Mary Thompson, COO of Neighborly and a U.S. Marine veteran; Lou Schager, President of Mosquito Joe and combat Navy veteran; Glenn Gallas, Mr. Rooter Plumbing VP of Operations and a U.S. Army veteran; and many others. Their leadership of our organization is yet another testament to the positive impact military veterans can make on a business.
In our 40 years of business, Neighborly has seen firsthand and at every level what it takes for someone to be successful and for our organization to succeed in turn. Time and again, military veterans have proven to be some of the strongest members of our team.
To all of you who have served our great nation and now have a role at Neighborly (or anywhere in this country), I thank you for all you've done and continue to do serving where you are now.
We look forward to adding even more veterans to our worldwide family in the years to come. For more information on Neighborly's commitment to supporting veteran franchise owners, check out neighborlybrands.com/about-us/vetfran-program.
Happy Veterans Day to all!
Written by Mike Bidwell, President & CEO, Neighborly for LinkedIn