Leadership
,
Work/Life Balance
,
Franchising 101
Achieve the Perfect Work-Life Balance with Franchising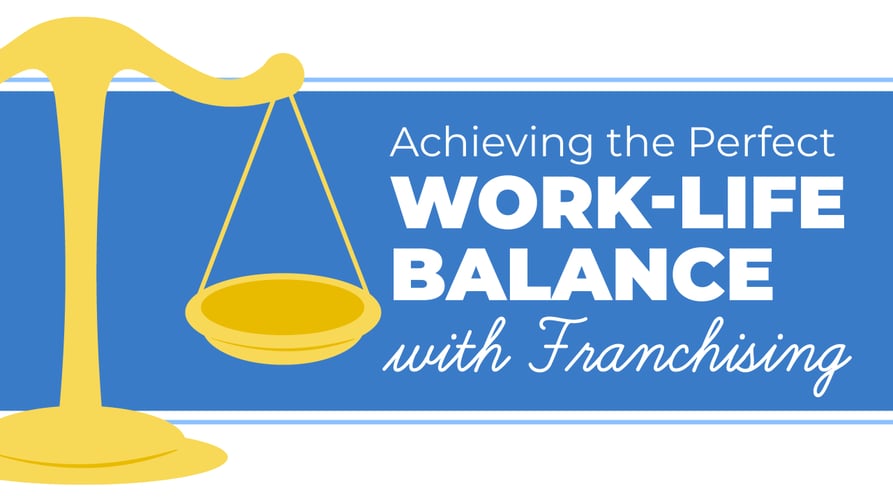 "If you choose to do what others refuse to do for just a short while, then you can do what they cannot do for the rest of your life."
This Wade Cooke quote is more than a quote to me, and rather it is a declaration for the way I live my life. You see, I grew up in a family that worked in the trades, and we didn't have the luxury of work-life balance. My dad was up and gone before we were ever awake and worked tirelessly for us. While I appreciated every single thing he did for our family, I knew then and more now that you can choose to have both if you make it a priority.
But in this new virtual world, we've allowed work to take more and more of our personal and family time away from us. This pandemic put all of our co-workers into our homes and personal spaces, causing us to relearn personal boundaries and how to say NO more often. Work should not be our entire life, and there are opportunities out there to find career paths that offer better work-life balance - like franchising.
If you do it right, franchise ownership is a really appealing business model for maintaining a healthy work-life balance.
How can business ownership and work-life balance go hand-in-hand?
Franchising is an opportunity that provides a tremendous amount of flexibility when it comes to work-life balance. When choosing to own and operate a franchise, you are choosing to be in business for yourself, not by yourself. The system to support your business endeavors is already built by the franchisor, and you don't have to reinvent the wheel, but rather just use it as a tool for success. And when you're your own boss, you get to set your own hours.
Now that is not to say that franchise ownership is easy. It's incredibly hard to navigate all the hats you have to wear as a business owner. Franchise owners have to learn and be flexible with management of team members, utilizing marketing tools and technology and creating an inviting work environment. There will be especially long work weeks with excessive hours put toward getting things moving in the right direction.
But once you have the system figured out, you reach a point where it begins working on its own. Just like Wade Cook was getting at with his quote… Putting in the hard work upfront can lead to endless payoff. And while the work will never stop, it will become more manageable with time and will put you in a position where you can fully enjoy a life outside of the office.
Neighborly's strides toward creating a healthy work-life balance...
At Neighborly, we are -- like most -- still learning how to best support our employees inside and outside of the office. We have established ourselves as a workplace founded on a strong Code of Values and solid family principles. Therefore, when we look to our Code of Values as a guide for our work as well as personal lifestyles, the simple phrase "treating others as you want to be treated" perfectly describes how we should act.
Our process for training prospective franchise owners includes inserting them into a day in the life of a store owner so they can experience our Code of Values firsthand. The goal of this placement is to give our prospects the opportunity to absorb what the day-to-day duties of a franchise owner entails. Giving prospective franchise owners firsthand experience allows us to be transparent with what their future lifestyle would look like as the operator of a Neighborly franchise brand.
Neighborly has 1,000+ corporate employees here to help, serve, and coach our business owners through every step to free up their time, while still getting them and their business to the place they want to go. It is important to note, however, that because each brand is different, each franchise owner is different. And we want our prospects to decide for themselves where they believe they would fit best into our global family of brands.
"If You Fail To Plan, You Plan To Fail"
I don't know what your priorities are for your life, but I do know that I want you to experience the freedom of a well-balanced life like I have. Just like the old saying goes, "If you fail to plan, you plan to fail." You have to make sure you are prioritizing the things that are important to you in life, or they can easily be put on the backburner. And making time for all of those priorities requires planning.
Franchising is a direct route to building a career that offers reasonable work-life balance, but you have to be willing to put the work in upfront in order to experience the fruits of your labor in the long run.
Is franchising with Neighborly right for you? Click here to contact us today!
Written by Brandon Haire, SVP of Franchise Development, Neighborly on LinkedIn