Are Home Services On-Demand Becoming a Trend?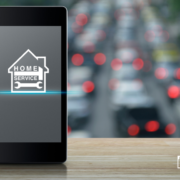 One trend that has recently captured attention is the rise of on-demand home services. Every year, service industry businesses providing home care and design, repair and maintenance, health, wellness, and many more embrace the technology-fueled convenience of serving their customers through apps, websites, and other rapid-response systems. To stay competitive, many industries that have traditionally relied on more traditional models of customer service, including real estate and property management, are adopting aspects of on-demand services. These upgrades allow such industries to provide faster, more convenient service for tenants and property owners alike, likely leading to even more adaptation in the future.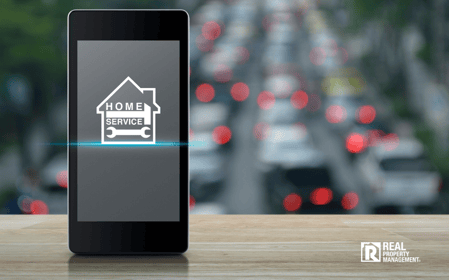 Home Services Industry
The home services industry comprises a wide range of different businesses who focus on services for residential properties. In this industry, you will find everything from HVAC, plumbing, flooring, and landscaping services to pet care and ridesharing – and much more. Due to the way that this industry is made up of a large number of small vendors, it is both intensely competitive and represents an increasing percentage of the U.S. economy – close to $60 billion nationally, by one recent estimate, and nearly $600 billion globally.
Home Services On Demand
It is not hard to find examples of home service businesses who have successfully adopted an on-demand framework. To be considered "on demand," a business must be available to consumers through an app or other convenience. For example, Angie's List recently launched a mobile app called Snapfix, which allows house owners to send pictures of the requested home repair job to service providers and get bids without an appointment or an in-home visit.
Thanks to innovations like these and the prevalence of mobile technology, consumers have come to expect more of their residential services providers. Those expectations are nearly ubiquitous among the largest groups of single-family home renters. Busy lifestyles and an affinity for smart technologies have only helped to encourage new on-demand home services that bring real-world services and instant online services closer together.
Effects on Real Estate and Property Management
Such trends cannot help but change the real estate and property management industries, as well. In an on-demand economy, traditional business models, especially those like the owner-landlord approach to property management, no longer meet the expectations of today's renters. These renters want to be able to search for rental properties with speed and convenience, while having the ability to personalize their experience to meet their needs. They are not interested in making phone calls or even visiting dozens of potential rental properties before submitting a paper application. For this large renter demographic, they increasingly expect digital conveniences from start to finish, from the start of the property search to signing a lease, and from paying rent to requesting repairs. Property managers who are unable to meet these expectations may find themselves left on the sidelines of a rental market expected to thrive for many years to come.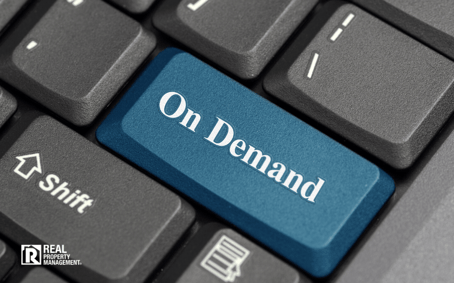 Property Management Software
Fortunately, the home services industry has developed tools that property managers can use to bring their rental processes up to speed. Many property management companies will use Appfolio to improve response times and meet higher expectations for near-instant customer service. Through this app, property managers can automate vacancy postings, make property information and showings on-demand, and complete the application and screening process online. Tenants can also pay their rent and make requests for repairs this way, creating the ease and convenience that consumers – and business owners – want and need.
Real Property Management Advantage
Although any property management company can use Appfolio, Real Property Management, a national property management franchise, has a full-time specialist on staff at its Franchise Support Center. This role is dedicated to assisting Real Property Management offices to get the maximum value out of Appfolio, as well as communicate with Appfolio the wants and needs of Real Property Management offices. Additionally, because of our size, Real Property Management franchisees pay less for Appfolio than independent property management companies do.
We at Real Property Management stay at the forefront of the property management industry to understand what today's consumers want as well as what tools are needed to meet those needs.