Becoming the Trusted Property Restoration Franchise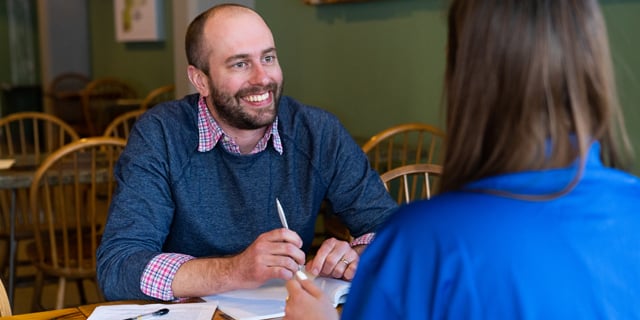 Rainbow International's Journey
The franchise development folks at Neighborly are a major authority in the home service industry. But the vast organization – encompassing more than 21 brands and thousands of local franchisees – started small as Rainbow International® Carpet Dyeing & Cleaning Company, owned by Don Dwyer in 1981. This was the modest carpet cleaning business that evolved into the fruitful property restoration franchise Rainbow International Restoration® and became the flagship company of the Neighborly organization.
We sat down with Rick Swango, owner of Rainbow International of East Central Kansas and 2016 Franchisee of the Year, to get an insider's perspective on the corporate franchise's success. His insights will appear throughout this story of the organization's journey.
How did Rainbow International become a top property restoration franchise in the industry? It breaks down like this.
1. Embracing transformation.
The original carpet cleaning and dyeing company was supported by the hard work of Don Dwyer, Jack A. White (current Rainbow International vice president of technical services), and their first employees. From there, it evolved quickly. Because of leadership's willingness to embrace transformation, the company began expanding service offerings and became a property restoration franchise. Then came the Dwyer Group (now Neighborly), which acquired more and more brands until it became one of the largest franchise organizations in the world.
Meanwhile, Rainbow remained strong and open to change. Today, it has become not only a restoration company but a full-service reconstruction company. Rick Swango, who is also a member of the Franchise Advisory Council, sees this more recent change as one of the most exciting. He shared, "Rainbow is now a complete turnkey solution for home and business owners."
2. Supporting franchisees as individuals.
Another factor contributing to Rainbow International's growth is the way they support their franchisees as individuals. Rick Swango shared details about his first encounters with this support. "I was an independent owner in Junction City, Kansas, wearing many hats. I was tired of being a lonely fish in the sea." He and his wife decided that converting their business to a franchise was the best path, so his assistant compiled a list of 22 property restoration franchises for him to choose from. He chose Rainbow International.
Right away, Rick noticed that the franchise development experts at Rainbow International communicated with him promptly and in a straightforward, friendly manner. He chose them because he felt respected and he admired their strong code of values. "I see those values play out even today, and I've never regretted my decision," he said.
After Rick had made his decision, he knew he was engaging with a supportive organization. It's this support of the individual franchisee that has helped Rainbow International stay healthy as a franchise restoration company. "We felt like we were part of a close-knit family," Rick explained, referring to his and his wife's experience at their first Rainbow International reunion.
When asked which corporate support has been the most valuable over the years, Rick pointed out these perks:
A dedicated franchise coach
The opportunity to visit other franchisees (Field Training Partners) to see their businesses in operation
A web portal full of customized resources such as marketing materials
Knowing your organization has "a proven track record and proven systems"
As time passed, Rick embraced transformation just like Rainbow did. He shared, "It was really eye opening to learn that you are the reason your business isn't growing." The organization helped him see that as a chance to change and thrive. And thrive he did! He eventually purchased another Neighborly franchise, The Grounds Guys in his area, which he eventually sold. He even expanded his Rainbow International business to four new territories.
3. Cultivating connections between franchisees, near and far.
By fostering connections between their franchisees – even those on opposite ends of the country – Rainbow International creates an environment of family that helps franchisees stay motivated and lift up the organization. This can be seen in the reunions, training seminars, Field Training Program and more. As Rick explained, "There's always somebody in the network with the knowledge you need." This helps other franchisees transform just as Rick did and explore new opportunities within Neighborly. Rick described it as a "tremendous community" full of opportunity.
Rick even shared a story about calling his friend, a Mr. Electric owner in the next state over, to get some electrical advice – demonstrating that these relationships extend outside of single brands and beyond the businesses themselves.
4. Involving franchisees in major decision making.
When he was voted onto the Franchise Advisory Council (FAC), Rick saw firsthand how involving franchisees in major decision making makes Rainbow International stronger as a corporate property restoration franchise. Today he continues as an FAC member appointed by the president of Rainbow International. He's also a member of Technical Committee. "There are typically a few corporate leaders involved, but many of the ideas and decisions come directly from franchisees."
There are several other committees that operate in the same way, such as the Rainbow Standards Committee. Rick expressed his approval of this system, as it values the individual franchisee's opinions and experiences. It makes for constant, positive change within the organization that the owners can support without hesitation.
5. Being a part of the Neighborly family.
Perhaps one of the most exciting aspects of Rainbow International's success story is that they're a part of the Neighborly family. Franchisees have connections with other Neighborly brands all over the nation, and these brands are committed to helping other Neighborly brands through marketing cross-promotions and shared knowledge. Rick takes this commitment very seriously and sees its positive effects. "The biggest value of all is Rainbow's dedication to growing our fellow Neighborly brands."
Under Neighborly, the brands share home service industry insights to continuously improve. Rick pointed out that the franchise model itself is a large part of Rainbow International's value, in that it allows consumers to trust these truths:
Rainbow International franchisees, employees and members of leadership hold each other accountable for providing excellent service.
Rainbow International franchisees and their employees are always up-to-date on training and certification.
You can expect great value from this brand and its sister brands under Neighborly.
Want to Know More about Franchising?
We asked Rick what his advice is for those considering joining the Neighborly family as new franchisees. "Hold on!" he replied, recounting his growth and learning curve in the first year. "It took a lot of dedication from me and my staff." He explained, however, that if you need help with anything that isn't your strong suit, such as marketing or hiring, you can connect with "brilliant [Rainbow International] minds that specialize in that."