Franchising 101
Business Ownership Success: 6 Common Franchising Myths Debunked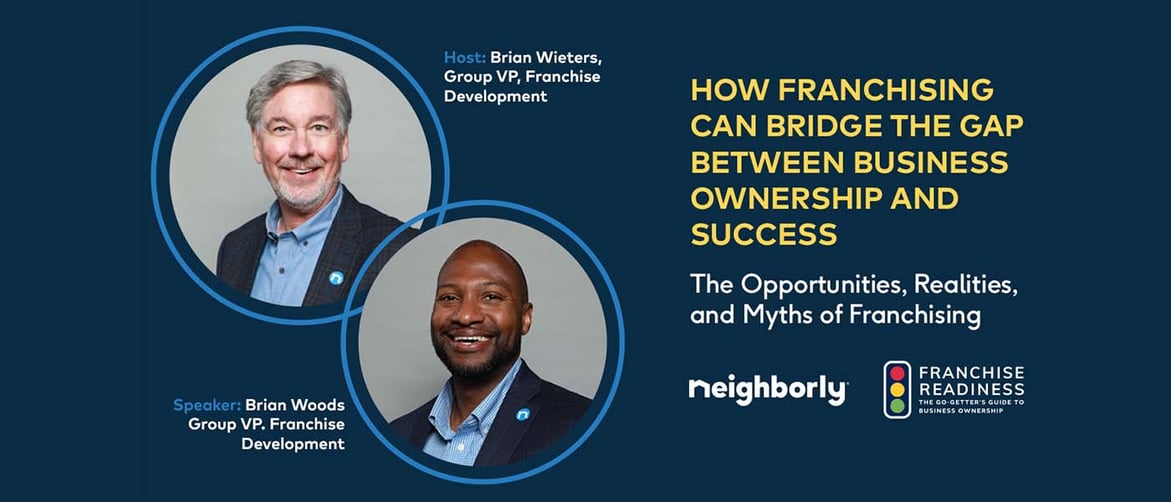 Have you ever thought about opening a franchise but were hesitant because of some of the things you've heard? Don't let misconceptions dissuade you from following your dream. Franchising offers potential entrepreneurs an opportunity to start and grow a business quickly and efficiently using an established business plan. Let's debunk six common franchising myths and help get you on your way to business ownership success.
#1: Financial Support
Myth: Franchising is not affordable.
Reality: There is a wide range of lower-cost opportunities and various financing options.
Financing is one of the top reasons that can determine if a business will succeed. Franchise owners often find it easier to obtain a business loan or financing due to realistic financial planning and projections. Various financing options are available to aspiring franchise business owners, each with unique benefits. Here are four of the most common ways to finance a franchise:

Investment Account rollovers (401K)

- If you have an inactive IRA or 401K that isn't growing as you'd like it to, you could roll it over to fund your business.

SBA loans

- SBA loans (small business loans) operate similarly to commercial bank loans but with lower interest rates and longer repayment timelines.

HELOC

- Many people have developed a lot of equity in their homes that they can leverage to finance their new business with a home equity line of credit (HELOC).

Personal Savings -

Some franchisees choose to launch their business from existing funds. This could also include funds from friends and family.
Remember that exact franchise start-up costs vary by brand, industry, and territory. While franchise ownership has many paths, they all start with funding. The best finance options for you will depend on your individual circumstances, credit score, and financial savings. It is always worth seeking the advice of a professional accountant before going down any of these routes.
#2: Flexibility and Work/Life Balance
Myth: Starting a franchise will give me no flexibility or free time
Reality:Franchising with Neighborly® can allow you to be your own boss and control your schedule
Aspiring entrepreneurs may worry that opening a new business means they will have no flexibility and no free time, and will work constantly. That doesn't have to be the case. At Neighborly, our franchise models can allow our owners to work on reaching their professional goals, but can leave flexibility in their schedule to have time to spend with loved ones and doing the things they want to do.
With a Neighborly franchise, you are your own boss, and you have the opportunity to create your own schedule and build the type of lifestyle you want.
#3: Guidance, Support, and Training
Myth: You need experience in the industry to own a Neighborly franchise.
Reality:Knowledge is helpful but not always necessary with the proper training and framework.
Support and guidance are some of the main things a franchisor can provide its franchise owners. When you open a franchise with Neighborly, we will train you and ensure you have everything you need for long-term success.
What does Neighborly provide?

Marketing strategy and materials

- We have a dedicated marketing team specializing in social media, digital, local campaigns, national campaigns, and more, who are here to provide you with the marketing blueprint you need to be successful.

Operational/business support

- We have some of the best franchise business coaches who work with our franchise owners to ensure that they implement the business model correctly and run their business as effectively as possible.

Proven business models

- By adopting our proven models, franchise owners with Neighborly can see success quickly.

Access to technology

- Neighborly is committed to being well ahead of the competition, investing in research and development, and providing that technology to our franchise owners.

Special discounts

- Our franchise owners have exclusive access to ProTradeNet® (PTN) for vendor relations. This program leverages the

buying power

of all Neighborly brand franchise owners to secure special pricing and negotiate rebates for tools, resources, and services for our franchise owners.

Networking opportunities

- Our franchise owners can network and learn from each other. Many of our owners have been in the business for over 15 years, and they help guide new franchise owners so they can be just as successful.

Reputation management

- Responding to reviews and comments is time-consuming. That's why Neighborly has a dedicated team focused on scouring the internet and ensuring that reviews are responded to promptly.



#4: Higher Rate of Success
Myth: All business startup types have the same amount of risk.
Reality: Franchising can be less risky than starting a business from scratch.
Statistics show that opening a franchise helps mitigate startup risks compared to a traditional business.

When you franchise with a franchisor like Neighborly, your potential for success increases. Franchising offers future business owners a proven, successful model that has been tested, so the risk is considerably lower than starting a business from scratch. At Neighborly, we always want to ensure that our franchise owners will be put in the best position for success.
#5: Home Services Leaders and Expertise
Myth:Franchising opportunities are only in fast food
Reality: Franchising opportunities are available in almost every industry
As you look through your franchising options, ensure that you're expanding your horizons to include all available options. Neighborly is the largest franchisor of home services.
Why are home services so attractive? The average age of homes in the United States is almost 40 years old. As a result of these older homes, there's more opportunity for things to be repaired, replaced, fixed, or renovated. Irrespective of a pandemic or a recession, people will always spend money on their homes. It's usually their number one investment, and we don't see this trend slowing down anytime soon.
#6: Neighborly Community
Myth: After starting my franchise, I'll be left on my own.
Reality: Neighborly helps provide the support you need even after you open.
One of the things we like to say in franchising is, 'we want you to be in business for yourself, not by yourself.' With Neighborly, you have access to our franchise owners, the ability to work with our vendors, and we have over 1500 team members in the corporate and support staff offices to help your success. We only have one goal and one objective in mind: for all of our franchise owners to be successful.
Neighborly Helps Franchise Owners on the Path to Business Ownership Success
When it comes to franchising, we know there are many opportunities out there to consider. With Neighborly, you receive the help and support you need to make your business a success. Talk to a franchise consultant to get started and make your business ownership goals a reality.