Cleaning Franchise Extraordinaire: How Did Molly Maid® Get There?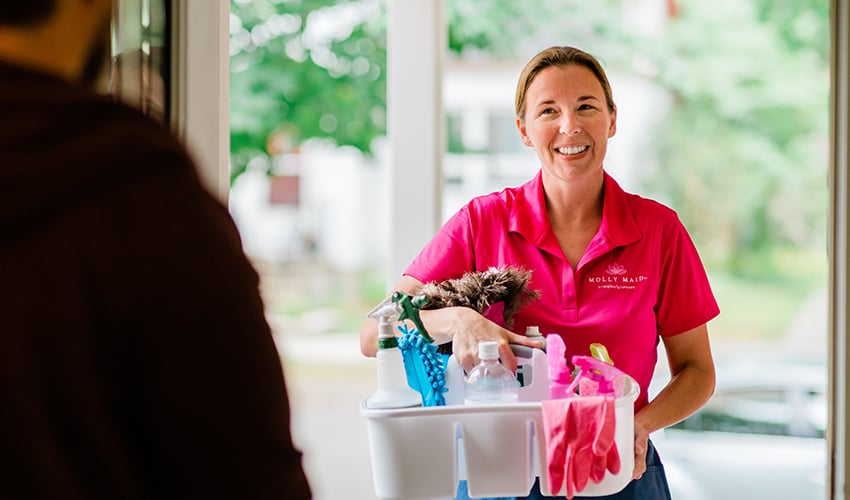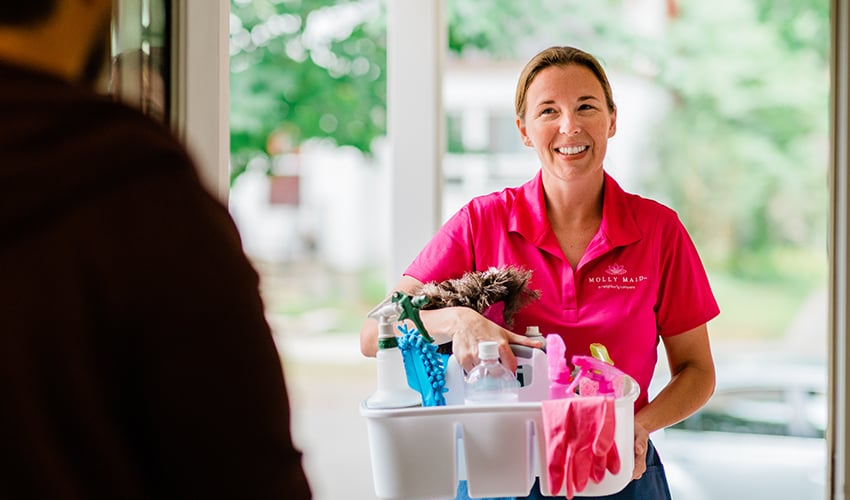 Many people have heard of Molly Maid, but it wasn't always that way!
What are the keys to Molly Maid's lasting success? Let's examine what it really takes to build an international cleaning franchise that thrives with more than 450 local franchisees.
Key #1: A Bright Idea
Molly Maid was a pioneer of sending uniformed teams in branded vehicles to clean people's homes. The brand has always promised that their teams will be well trained and fully equipped, which has appealed to their customer base and dispelled the myth that anyone can clean a house well.
Key #2: The Franchise Model
Molly Maid began franchising in the US 1984, when entrepreneur David McKinnon recognized the effective business model and massive potential for serving busy homeowners.
The franchise model provided the chance for the company to grow without losing sight of personal service from local teams. It also gave local franchise owners the support of a national home office and widespread brand recognition—benefits that have only grown stronger over the years.
Key #3: A Booming Industry
Like any other industry, the house cleaning industry has experienced ups and downs, such as during the economic recession of 2008. But this service industry has seen strong economic activity since 2015 and is expected to continue expanding.
This means more competition. But Molly Maid has continually held down the fort by providing excellent service and encouraging repeat customers. In 2018, franchisees reported a90% average recurring customer base. (Item 19 of the Molly Maid LLC 2018 Franchise Disclosure Document)
Key #4: Technology
Molly Maid has stayed on top of technology trends to remain relevant as a national cleaning franchise. Part of their success can be tied back to technology-simplified processes, like cloud-based scheduling, email and text reminders, and modern avenues for customer communication.
Key #5: Care for Franchisees
Molly Maid's care for their franchise owners goes far beyond ongoing training and established systems. They go the extra mile to and help them prosper at the local level too—for example, with marketing strategies and one-on-one consulting.
Many veterans own Molly Maid franchises, having found their ideal opportunity through the VetFran funding program and P.A.V.E. training program. Learn about Molly Maid's franchise opportunities for veterans here.
Key #6: Culture & Community Involvement
No matter how big Molly Maid has gotten, the company is values-driven from the top down. A strong dedication to personal integrity and respect for all people helps the brand establish rapport with customers and attract franchise owners.
The company also helps communities with the Ms. Molly Foundation, a non-profit organization that supports victims of domestic violence. Since 1996, the Ms. Molly Foundation has raised millions of dollars for local shelters and agencies across the country.
Key #7: Part of Neighborly®
In 2015, Molly Maid gained a key competitive advantage by joining the Neighborly family of brands. This helped Molly Maid offer their franchise owners unbeatable benefits. For example, franchisees enjoy mentorship and potential cross-promotion opportunities from other local Neighborly brands, as well as national cross-marketing campaigns and lead generation support from the consumer-facing Get Neighborly website and web app.
Key #8: Cleaning Franchise Opportunities Worth Checking Out
To sum it up, Molly Maid has made many good moves over the years to become an award-winning brand. If you're interested in owning a cleaning franchise with a system that simply works, visit the Molly Maid website or call (888) 327-3343 to connect with a franchise advisor today!
This advertisement should not be construed as an offer to sell any Molly Maid franchises. The offer of a franchise can only be made through the delivery of a franchise disclosure document.