Considering a Real Property Management Franchise? Learn Why the Property Management Business is Booming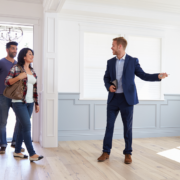 Residential property management has become one of the fastest growing industries in the country, and this presents a solid opportunity for those interested in a Real Property Management franchise.
Growing number of rentals
More than one-third of residential households in the U.S. are rentals. The Census Bureau estimates there are 43 million rental properties in the United States. Each one of those rentals requires someone to find tenants, screen tenants, collect rents, enforce lease agreements, handle maintenance & repairs, and maintain accounting records. These are the things property managers do.
The trend toward rentals is likely to continue. With higher credit lending standards and stagnant wage growth, fewer Americans can afford to buy. Millennials are burdened with high college loans and prefer the flexibility of renting over buying. Prices for properties have rebounded, making them less affordable. Advances in technology have made it possible for investors to acquire real estate outside of their local markets, which encourages them to buy more investment properties. All this has resulted in significant growth and profitability potential for property management companies.
Solid revenue per property
The average revenue per property for Real Property Management franchise offices is $3,000 annually. That means an office with 250 properties under management will generate $625,000 in revenue. With the right systems, procedures and staff in place, this can deliver a substantial annual income to the office owner. And this business scales. Margins increase with more properties under management because of economies of scale. That means the greater the number of properties under management, the more income generated for a Real Property Management franchise office owner.
Stable revenue flows
The industry is stable and generates consistent monthly revenue because no matter what the economic conditions, people need a place to live. The business is also stable because of the annuity-like revenue streams. Unlike some businesses where customers are won or lost every day, property management agreements last one or more years. Each new customer adds incremental revenue to the business. When an office is well managed and customer satisfaction high, the turnover rate is low, so over time, the business can grow and grow. Real Property Management franchise offices focus on managing many single-family residences which are generally owned by many different investors, so when one customer leaves, the impact on total revenue is minimal. This avoids wild swings in revenue that happen when businesses only have a few large customers.
Weak competitors
Although there are tens of thousands of property managers, the vast majority are small, unsophisticated, and unfortunately, not very professional. Many manage properties as a sideline instead of as their primary source of income. Sixty-four percent of property management firms with an office location employ five or less full-time employees. Based on research sponsored by the Real Property Management brand, one-third of their customers are unhappy, which presents a business opportunity to competitors.
The small size means that small operators do not have the resources or knowledge to automate activities, afford sophisticated software, or manage state-of-the-art marketing programs. This gives large property management organizations, like the national Real Property Management network, distinct advantages. For example, Real Property Management office owners go through extensive training prior to opening their office. Each office employs sophisticated software systems to manage the business. National marketing agencies, that a single office could not afford, provide online advertising support at the local level. The national Franchise Support organization tracks and establishes best practices, and has experts on each aspect of the business available to support local offices.
Future growth
Collectively, all these factors indicate the industry will continue to grow, and that larger, more sophisticated operators, such as Real Property Management franchise offices, will continue to gain market share and business from others.