Dana Jennings, of Rainbow International, Wins Cruise and More at REUNION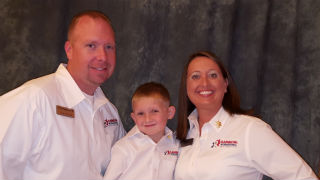 It was a Reunion to remember for Dana Jennings, owner of Rainbow International Restoration of the Illinois Valley. Jennings, his wife Kari and young son, Isaac, knew they were in for a great trip, but had no idea it would be as exciting as it was. Jennings left the San Antonio event with a Top Gun Award, the Restoration Project of the Year Award, and was the big winner of a 7-day cruise. He was entered into the cruise drawing because of his participation in the People Like You franchisee referral program.
"It was quite an eventful Reunion," Jennings said. That may be putting it mildly.
Reunion is the star-powered, annual international convention put on by Dwyer Group for franchisees of all Dwyer Group brands, including Rainbow International Restoration. Jennings has been in the restoration business for 30 years, and although he has won the Top Gun Award before, a reward for reaching sales and business goals of a heightened level, it was the first time for the other awards, and for participating in the People Like You program.
People Like You is a franchisee referral program that benefits the company, its franchisees, and potentially the referral if they invest in a franchise. If a current franchisee, like Jennings, refers a candidate for a business and they become a business owner, then the referring franchisee receives several perks for their referral. These include: $2000 cash for the first successful referral ($3500 for each additional in the same year), Reunion accommodations for the following year, entry into a quarterly drawing, and then entry into the annual drawing for the 7-day cruise.
"It was funny," Jennings said. "I had just stepped out of the banquet hall for a minute to talk with another franchisee, when suddenly people were like, 'Dana! Dana! You've got to get in here!'" Indeed, the People Like You drawing had taken place while he was outside. "I walked up to collect the envelope from Dina [Dina Dwyer-Owens], and she said 'Enjoy your trip!' and I didn't have any idea what it was until I got back to my table." Jennings said when he heard about the cruise, he had no idea it would be worth so much, valued at $4000. "I should have known," he laughed. "It's Dwyer Group!"

Jennings referred two people who are now franchisees. He says the rewards are nice but aren't the best part; it is about giving someone an opportunity and strengthening the brand. "People Like You is exactly how it sounds, it brings on people who are like you, who are strong and capable of running a business, who are almost pre-screened, you could say."
The following day at Reunion, during the Rainbow International Restoration breakout session, more brand specific awards were given out. Jennings was surprised to win, yet again. This time, he received a large trophy for Restoration Project of the Year. The project was such a major undertaking that R&R (Restoration and Remediation) magazine featured the story. It was a combined effort with a neighboring Rainbow business, and involved three devastated businesses with upper level apartments and basements, 13,000 square feet in total, all ravaged from fire, smoke and then water. There were extra challenges with the project due to the age of the buildings.
The theme for Reunion 2016 was "Bring it!" but really was an opportunity for franchisees to "take." They took away knowledge, new innovations and ideas, friendships and networking opportunities, and in Jennings' case, two trophies and a 7-day cruise! Jennings is looking forward to spending the vacation time with his family.