Leadership
,
Franchising 101
Dispelling the Myth that Rising Interest Rates Are a Good Reason to Hold Off on Investing in a Franchise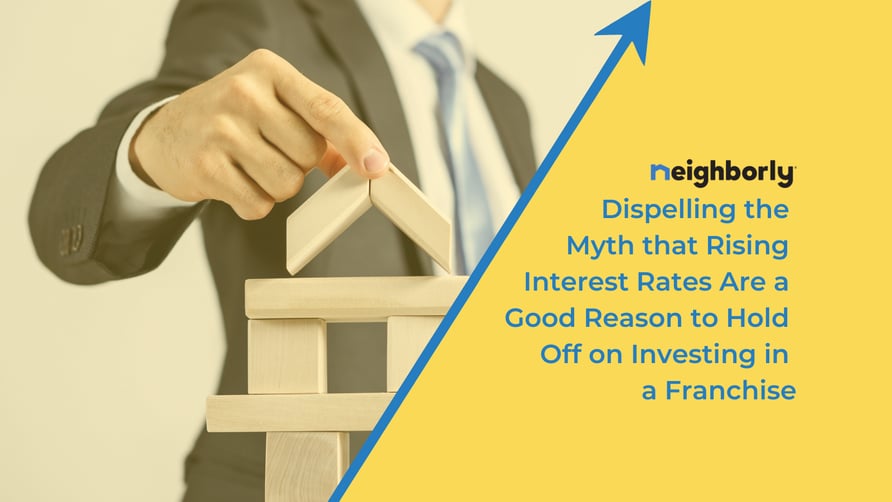 Starting a new business is a rewarding experience, but let's face the facts, it can be a challenging and even scary process. You must build a business plan, size the market, build systems, create and deploy marketing, research competitors – the list goes on and on. The normal fears around starting a business are also compounded by fears of rising interest rates and a looming recession.
Many people are putting off starting a business with a potential recession on the way, but the idea that rising rates are a reason not to invest in a franchise is ultimately untrue. Starting a franchise allows you to tap into experience, systems, existing owners, marketing and other resources to help you get a fast start on success.
Let's take a deeper look at why, despite common misconceptions, now is, in fact, a good time to invest in a home services franchise.
Myth 1: "I can't fund a business in this economy."
Even when the economy is struggling, not every industry feels the effects the same way. Home services is a highly resilient industry today as many homeowners are choosing to stay in place rather than move due to high-interest rates. This means homeowners will only continue to call on home service professionals to enhance, repair and maintain their homes regardless of the state of the economy.
Owning a business in a $400 billion, recession-proof industry with a franchisor's support means that you can earn revenue and find success even if interest rates rise. But you may ask yourself, "how would I fund my business?" Let's imagine that you put your money in a money market account and see returns of 3% to 4%. It's low risk, sure, but low reward as well. Or, you can become your own boss and bet on yourself. What do those returns look like?
Rising interest rates are likely the biggest culprit for entrepreneurs putting their dreams on hold. Neighborly's brands have lower start-up costs as many of them don't require the purchase of land or a building - meaning you can start within the four walls of your home or other space. In addition, franchise candidates can use resources such as SBA loans or Rollover as Business Start-up (ROBS) to help get their business off the ground. Funding is the first issue that comes to mind when you hear "recession," but franchising offers pathways to the funding you need.
Myth 2: "Unemployment is high; I won't be able to staff my business."
High unemployment seems like a worrying sign. However, if unemployment increases, it means there are more quality people looking for work. In addition, owning a recession-resistant business isn't too bad when the alternative is the potential of being laid off.
We're starting to see large waves of layoffs in certain industries, but as hiring has become more difficult in the last few years, many businesses may be unprepared to capitalize on the talent flooding the job market. That's why Neighborly has implemented support tools and platforms to help streamline the hiring process and help our franchise owners recruit the best person for the job. As more people enter the job market, now is the time to build a team to set your business up for success.
Myth 3: "Now just isn't a good time."
In just three years with Neighborly, I've experienced a pandemic, the Great Resignation, and now the potential of a looming recession, and I've learned that external factors change often. A year from now when the economy regains its strength, those getting a head start now will already be up and running. People starting a business during a recession usually run a leaner business, create great best practices, and develop good habits that carry through to boom times. Starting a business now can help equip owners with the skills needed to handle future crises and build a team in the process.
Entrepreneurs are hesitant to start their businesses when they see other businesses struggling. However, this creates opportunities for businesses entering the market to capture customers and market share. With less competition, you can stand out from the crowd right away. This is especially true when you have a recognizable, established name already behind you when working with a franchise like Neighborly.
Well, What's the Point?
Starting a business is phenomenal for personal growth and development, helping you stretch as a person and leader. Facing a potential recession is a scary prospect, but you shouldn't hold off on chasing your dreams because of it, especially when there's no guarantee a recession will even happen. There's no time like now to be building your business. The longer you wait, the longer you'll be from reaching your "why," whether it's spending time with family, building a legacy, reselling your business, etc.
Despite some common myths surrounding rising interest rates and recessions, now is the time to invest in a home services franchise, build your business, and make your entrepreneurial dreams come true.
Click here to learn more about franchising with Neighborly®.
Written By Brad Stevenson, Chief Development Officer, Neighborly