Join us! Dwyer Group Reunion kicks off Sept. 24 with "Lets Get Neighborly"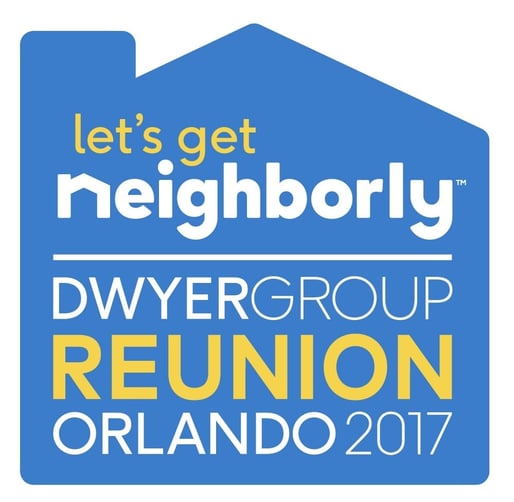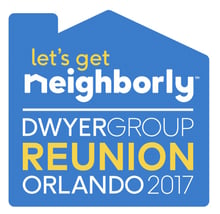 The annual gathering is always a 'great emotional high.' This year's 'Let's Get Neighborly' theme focuses on cross-promotional marketing, education and relationships.
As with most families, things at Dwyer Group are always changing. Still, there's a sense of comfort that many things remain the same.
That's how Gary Landon, franchise developer for Mr. Appliance, thinks of Reunion. The annual convention always creates a buzz for franchisees around the world.
Executives are bursting with excitement about the recent introduction of the Neighborly marketing program and GetNeighborly website for consumers. "Let's Get Neighborly" is the theme of the 2017 Reunion, which runs Sept. 24–27 in Orlando, Florida.
Landon has been to 12 Reunions during his tenure with the company. He says founder Don Dwyer aptly named the gathering years ago. The face-to-face connections are invaluable and bring an exciting level of energy, says Landon. "The franchise owners aren't competitors; they are allies in business, and that camaraderie comes together at Reunion."
The fellowship plays an integral part in the corporate Neighborly marketing program. Neighborly is the umbrella brand that unites Dwyer Group's 11 home service contractors into "one consumer-facing brand."
The website was launched at Reunion last year, and now, Landon says, corporate is building upon it. "If one brand has a customer, it's a customer for all brands. We can cross-promote and cross-reference it in many ways."
For example, if a Mr. Rooter customer has water damage from a broken pipe, the customer can also contact Rainbow Restoration or Mr. Handyman to assist with additional cleanup and repairs. The cross-marketing campaigns can use a database of customers, generating more business for franchises, Landon says.
The experience
The event officially begins at Rosen Shingle Creek resort on Sunday, Sept. 24, but Landon says around 200 potential franchisees will arrive Saturday.
"I meet with them and provide a 30,000-foot overview of what they will see with each of the brands," Landon says. "It's an opportunity for them to interview us, and [vice versa]. We want to see if it's a good fit for both parties."
On Monday, Sept. 25, some 3,000 people are expected for kickoff presentations from Dina Dwyer-Owens, co-chairwoman of Dwyer Group's Board of Directors, and Mike Bidwell, its CEO. Best-selling author Stephen M.R. Covey will deliver the keynote. Franchise owners can also mingle with preferred vendors.
Monday night's banquet awards will highlight the "best of the best" from each brand and recognition of Top Gun performers, Landon says.
RELATED: Dwyer Group Launches Neighborly
Tuesday's morning fellowship breakfast is led by Robert Tunmire, executive vice president of Dwyer Group. The "more intimate session with around 300 people" will feature Dave Holly, founder of Truth at Work.
Landon says the presentation will focus on business as the vehicle to help franchisees reach their individual and professional goals. It ties in to Dwyer Group's six core values: spiritual, family, physical, mental, social and financial. Smaller breakout sessions for each brand will take place Wednesday.
"Our objective is to keep our franchise owners on the cutting edge. Most small businesses are three to five years behind the cutting edge," Landon says. At Reunion, shop owners learn about additional revenue streams, employee training and recruiting.
Still, nothing beats the buzz of the banquet hall. It's "pretty impressive when you walk in for the opening event," Landon says. After all, it's filled with friends and family.