Leadership
,
Business Ownership
Education Surrounding Diversity in Franchising, What to Know and Where to Start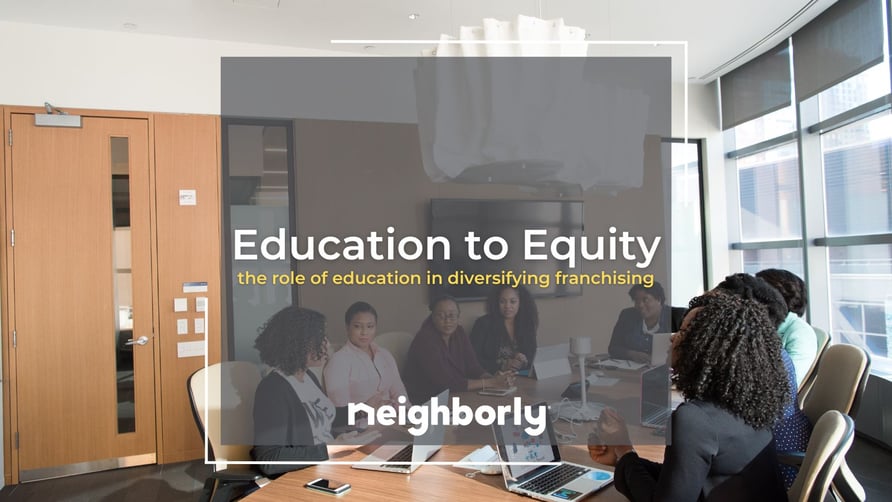 Franchising offers a path to a successful career, providing the blueprint for any aspiring entrepreneur to be successful with less risk than going into business from scratch. As such, franchising is an especially viable option for Black entrepreneurs. However, the path to business ownership is far from a straight line. It requires an understanding of business ownership, the financial wherewithal, support from your family and friends and a laid-out plan before the journey can even begin.
Ultimately, the key to developing the needed skills and gaining the necessary resources for business ownership, particularly for minorities, is rooted in education. Let's take a look at some of the available resources to help you get started…
Get Involved
Education is integral for expanding business ownership opportunities for the Black community as it fosters a deeper understanding of the fundamentals of business, including sales, finance and marketing. But where do you begin when seeking out opportunities to further your education?
Joining organizations like the Black Franchise Leadership Council (BFLC) and the IFA Foundation's Diversity Institute who work to create opportunities and provide insights about franchising to diverse groups is a great place to start, no matter where you are in your entrepreneurship journey. I joined the BFLC in 2022 and IFA in 2018 when I was just starting out in my franchise development career and found my experience with these organizations to be so insightful, I developed the drive to learn and do more.
Today, I am honored to be a part of Neighborly's Diversity and Inclusion committee, where I have the ability to help implement practices and policies to foster diversity within our own organization and provide our franchise owners with the tools they need to find success. My continued involvement with the Black Franchise Leadership Council and IFA also allows me to further attract diverse candidates to Neighborly and franchising as a whole.
Understand Access to Capital
One of the most common barriers to entry for business ownership is limited access to capital. And therefore, it's important to find resources to help you further your education on how to overcome this challenge. Educating yourself on the available resources can help open doors to make your dreams more viable.
Partnerships with financial institutions and community development financial institutions (CDFIs) provide paths to capital for minority entrepreneurs to begin their franchising journeys. Connect with groups such as the Coalition of Community Development Financial Institutions (CDFI Coalition) who work to provide access to capital through loans and private equity groups to expand opportunities for Black business owners.
Seek Out Mentorship Opportunities
Mentorship from existing franchise owners and the franchisor, particularly when brands have representation through diversity franchising programs and diverse leadership, provides Black franchise owners with an established network of support and resources to help them navigate business ownership and receive continuous education. At Neighborly, we encourage our existing diverse franchise owners to refer others to join Neighborly through our Neighbors Like You program and collaborate with trade schools and college institutions to reach a broader audience.
From developing leadership skills necessary to run a business and manage a team, to establishing a network that can be leveraged for guidance and mentorship, education provides an advantage in building the qualities and resources essential to finding success as a business owner, and franchising makes educational resources more accessible.
The Road to Inclusivity
Franchising has come a long way towards fostering inclusiveness, and educational resources have certainly played a large role in getting us to this point. However, the work is not done yet. As we continue to work towards an equitable entrepreneurship space, I would like to see easier paths to capital for qualified diverse business owners, more robust diversity incentive programs to lower barriers of entry and customized brand support to increase success, from mentoring programs to dedicated operations support.
I am immensely proud to be part of driving progress towards diversity and inclusion with Neighborly. Each year during Black History Month, I find myself inspired by the Black leaders who helped open doors for diversity in business. I've seen firsthand how franchise ownership is paving the way for greater inclusivity and opportunities for Black entrepreneurs, and as a leader myself, I am driven to provide the Black community with the resources and tools they need to reach their entrepreneurial dreams.
To learn more about franchising with Neighborly, contact us today!
Written By Brian Woods, Group VP, Franchise Development, Neighborly on LinkedIn