Finding Strength in Numbers, Joining a Family of Brands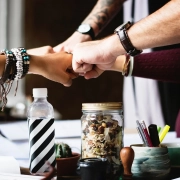 In uncertain economic times, it may seem like a challenge to plan out your next career or business move with confidence. If you've been researching the best industries to start a business, you already know that property management businesses offer some of the strongest growth potential and stability.
Perhaps you've even been thinking about starting your own property management company, but aren't sure whether you should go it alone or invest in a franchise. While it's worth looking at both options, there are clear advantages to starting a property management franchise.
In fact, if you are ready to work toward a more successful future, choosing a Real Property Management franchise can help your future be very much what you make of it. One big reason for this is that when you join Real Property Management, you also become part of the Neighborly family of brands – and gain access to all the benefits that come with that. Let's take a closer look at the benefits of owning a franchise over starting a business from scratch, and how being part of a respected network of brands can put you on the path to financial stability and success.
Stability
Perhaps the best reason to start a property management franchise is the high degree of stability it may offer. Unlike more seasonal businesses, property management offers a dependable, year-round income. Not only will your monthly cash flows be easier to predict, but it will also make it possible to make time for all the important people and events in your life.
Demand for professional property management has never been higher and is only expected to grow in the years to come. This can make your business much more resilient through a recession. If you've been wondering how to start a business that can keep going strong in challenging economic times, property management may just be the answer!
Proven Business Model
Another great reason to choose a franchise is the amount of time and stress you'll save launching your new business. Instead of wasting time trying to create every aspect of your business from scratch, a franchise offers both a proven business model and a roadmap to the path for success.
For property management franchises, that means no more trial and error. Instead, you can focus your time and energy on applying the systems and best practices that come with your franchise investment. That means that you will have both independence and guidance – the best of both worlds.
Training and Support
Industry data shows that franchise business owners are much more likely to succeed, both long- and short-term, than startup businesses are. And the biggest reason for this is the support that franchise owners receive. One of the most valuable parts of choosing a Real Property Management franchise is the quality of training and support you'll receive.
Our comprehensive training program and ongoing owner support is recognized as being among the top in the nation. That quality training and support can keep your business growing year after year, no matter what the economy does.
The Power of a Respected Brand Family
Finally, it's important to note that not all property management franchises are the same. Starting a franchise business is a significant investment, so it makes sense to choose a company that offers you the most value in exchange. When you partner with Real Property Management, you are also joining the Neighborly family of brands.
As a Neighborly company, you will be in business for yourself – not by yourself. It's hard to overstate the benefits of being part of a network built on proprietary tools and systems, extensive training, and national brand recognition. At Real Property Management, we set you up for success!