Leadership
,
Professional Development
Five Key Metrics that Businesses Need to Track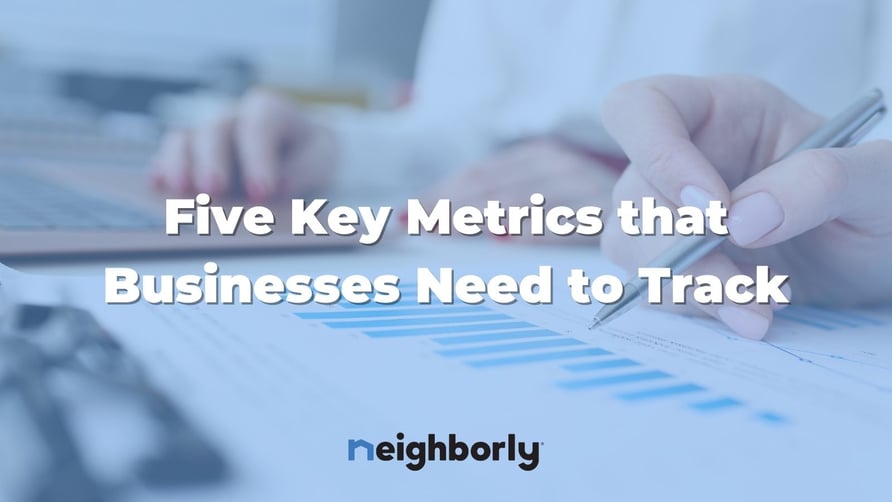 For entrepreneurs, owning a successful business is the ultimate dream, and franchising can help prepare business owners to be able to reach their goals. Once you've worked with the experts to design your territory, set your growth targets, and opened your doors, it's natural to think to the future. How will you know if you're on track to achieving your growth targets? What do you need to watch out for?
The simple answer is focus on key metrics. A metric is a quantifiable measure owners use to track, monitor, and assess how the business is performing. Tracking key performance indicators (KPIs) will assist owners with driving focus and growth for their business. These metrics are more than just a series of numbers–they give franchise owners the knowledge to make informed decisions and track their business's success.
At Neighborly, we recognize the importance of supporting our franchise owners to help them achieve their goals, so we provide key metrics and dashboards to help owners feel confident in measuring success. Here are five top metrics you should track to help your business thrive…
Metric #1: Job average
Earning revenue ultimately allows your business to run, so understanding how much each customer is spending with your company is a good place to start. For example, a recent American Housing Survey from the U.S. Census Bureau found that home projects cost an average of more than $4,000. As more homeowners choose to stay in their current homes due to the rise in inflation, home renovation and maintenance projects–and thus consumer spending on these projects–are projected to increase. Knowing how homeowners spend their money allows Neighborly to better serve their needs while earning revenue in the process.

For instance, the job averages for ShelfGenie and Five Star Painting are more than $4,000, showing that people continue to enhance, repair, and maintain their homes with significant investment. Knowing if you are building up your average and seeing it increase offers insights on your gross revenue.
Metric #2: Return on Ad spend
Getting a return on investment is always top of mind for business owners, and the return on marketing and advertising efforts is crucial for driving business results. Understanding how your marketing tactics are moving the needle is crucial to recognize if your efforts are achieving your desired objectives, whether you're looking to increase brand awareness, garner more sales, generate differentiated leads, or achieve other goals. Incremental sales, the sales made during a promotion or marketing campaign as opposed to normal sales volume, can be a valuable KPI to determine the success of your efforts.
Metric #3: Close rate
Another key metric business owners need to track is how well your service professionals are doing with the customer(s). The close rate is a direct measure of your sales efforts success. Your close rate can provide valuable insights that can allow you to adjust your marketing and sales strategies to best gain new customers and keep current customers coming back to your business.
Metric #4: Customer satisfaction
The old adage, "the customer is king," certainly holds true. One of the best ways to measure and track success is to know how happy your customers are with your service and company. At Neighborly, our Done Right Promise ensures that we offer our customers a consistent, quality experience to keep them coming back to not just the brand they know, but across Neighborly's family of brands. This "Hub for Home Services" gives homeowners a network of trusted brands and allows Neighborly to cross-market our brands' services.
Metric #5: Employee satisfaction
Customer satisfaction will be challenging to achieve if employees are unhappy or burned out. A study by SurveyMonkey found that happy employees lead to increased productivity, lower absenteeism, and improved output, thus contributing to overall company growth. Check in with your team frequently to make sure your associates are happy with your company and its leadership.
At Neighborly, we pride ourselves on our strong Code of Values that helps ensure each employee can work toward a shared vision: to be so remarkable we become a beloved household name. Our principles and systems for personal and business success help people live happier and more successful lives.
The Neighborly Difference
Neighborly offers the best-in-class tools and resources available to enable franchise owners to track these metrics, including Point of Sale systems to accept payments and track sales, business intelligence tools, marketing support for all owners, sure start coordinators, dedicated Franchise Business Coaches, a world-class owner's network, and dashboards that show a variety of metrics including the number of jobs, average ticket size, and close rate. Just to name a few.
Since recruiting and retaining top talent is a top priority and need for most small businesses, Neighborly has engaged with Paradox to help franchise owners discover and hire the perfect candidates for critical roles. In addition, our ProTradeNet (PTN) Network helps our owners secure preferred pricing on all types of goods and services. In 2021, we helped owners save over $93 million in upfront costs and returned $7.6 million in rebate checks. That is the power of franchising with Neighborly.
Tracking metrics provides an overview of your business to help you adjust your strategy and reach your goals. Joining a franchise network like Neighborly provides you with the tools and resources you need to effectively track key metrics. While there are certainly more metrics that can help your business, the five I discussed are critical for businesses to track to gain success in their endeavors.
Written By Brad Stevenson, Chief Development Officer, Neighborly