Five Star Painting Franchisee Mike Christensen Mentors Family in Business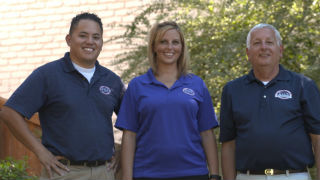 Part 3: Dwyer Group Franchise Families in Business
"Attitude is a Huge Definer of Success" -- Mike Christensen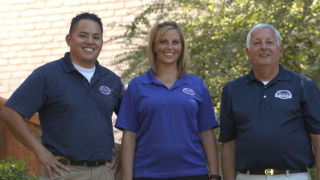 Mike Christensen owns Five Star Painting in Plano, TX, where he employs his son, daughter, and son-in-law. Ask the kids what they've learned from him and you will hear words like dedication and fairness, coupled with the importance of investing in one's self and taking care of others. It's a family business grown on hard work and philosophy, with rewards even bigger than the bottom line.
"Stacy, my daughter, was my first hire," Christensen said.
When the doors opened in 2009, Christensen realized he would need help. Demand for service happened quickly and he was needed in too many places at one time. He thought of Stacy, and how the flexibility of what he could offer her may be a win-win for them both.
"Stacy was teaching school, and was about to have her first child," he said. "I told her she could come to work with me, and I would let her bring her baby with her, saving a baby sitter." Stacy has been working with her Dad ever since. She started as a Production Manager, then moved to being an Estimator, and now is the Office Manager. Her husband, JP Ortiz, also joined the business and works as an Estimator after serving as Production Director.
"One of the biggest things I have learned from working with my dad is the importance of hard work and dedication," Stacy said. "He has shown by example how important it is to work hard and put in 100% when you are working, and to be dedicated to the company you work for."
Christensen's son Josh came to the business, straight from college. He began as a production manager, and five years later now serves as General Manager of the entire business.
"One thing that I have learned from my dad is being fair in business," Josh said. "This stretches from how we treat our customers, all the way to our painters. We make sure that everyone gets treated fairly, and we know that when they are taken care of, we will be successful."
The business thrives because of a common thread of understanding between them all. As Christensen says, "There ain't no free lunch, you get what you work for."
JP agrees that this sentiment is one he has learned well from his father-in-law. "If you want to make $50 an hour, then spend an hour doing work that is worth $50 an hour," he said. He's also learned the importance of return on investment. "Organize one's time to be efficient, invest in yourself and your company, do the little things well, and remember you have to spend time and money to make money."
A can-do attitude drives Christensen, and he is overjoyed to share it with his family. "It's been fun mentoring my kids in a whole new way." He said. "Everyone knows dad goes to work, but few get to know exactly what gets done on the job."
The only drawback seems to be the challenge of not talking shop.
"Everyone talks about work after they get home, probably venting, or telling stories," Christensen said. "When we talk about work, it becomes work." For a family that vacations together and still enjoys Sunday dinners together, they try their best not to talk shop and to concentrate on family time when out of the office.
The overall theme of Christensen, his work, and his family is that hard work and dedication will result in opportunities to enjoy the fruits of your labor. This Five Star Painting team, with all of their family, vacationed together in Europe last year, and will spend this 4th of July exploring Yellowstone.
With the right attitude and everyone's hard work, Christensen is doing what some business owners only dream about.
"We have grown closer and know more about each other than probably almost any family," he said, and that is an even bigger reward that comes with a successful family business.