Glass Doctor Duo Are Clear: Help Make Dreams Come True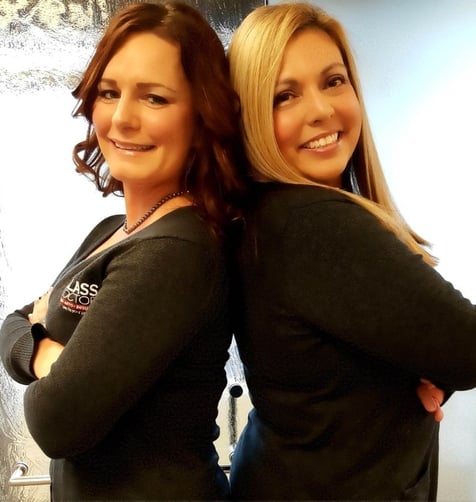 The Franchise Development Ladies of Glass Doctor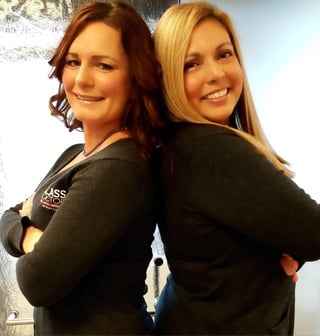 Take a walk down one long hallway inside the Dwyer Group Franchise Development office and you will find the yin and yang of the Glass Doctor Franchise Development team. With offices side by side, the ladies of Glass Doctor house two completely opposite energies that work seamlessly together.
Torrie Chavez is the sales-savvy whirlwind, the high-speed dreamer who lights up the minute someone tells her she can't do something that she says she can do – and then she does it. She has an intelligent, exhilarating, lightness about her that people trust, believe in, and follow. Brandy McFarland is anchored with power-packed experience and an impressive resume. She is relentlessly ambitious and the master of a challenge. She is a solver, a critical thinker and grounded goal-getter who leads with strength and ability.
Both women are a force of ambition and epitome of teamwork. When it comes to Glass Doctor, their differences complement each other and help them reach their common goal: to change people's lives for the better through a Glass Doctor Business opportunity.
Glass Doctor is an all-in-one national glass specialist for installing, replacing, and repairing home, auto and business glass. The primary focus is on helping franchisees meet and exceed their financial, professional and personal goals. As part of Dwyer Group, the business expertise of Glass Doctor lies in providing exactly the right tools, support and environment to turn those goals and dreams into a reality.
Chavez has been with Glass Doctor a little over a year and a half, and she hit the floor running. In 2015, she received an award for surpassing the $250M in sales mark (she'll tell you it was closer to half a million), and lead with the highest number of units sold and monthly sales volume, across all Dwyer Group brands, in April of that year. For Chavez, the job isn't only about numbers.
"I get to help make their dreams come true," Chavez said. She says she will take someone who has an idea, who can feel entrepreneurship within themselves, and lead them through the process. When it's right for them, "Then their lives are completely changed."
One such life is that of Bryant Terry, a new Glass Doctor franchisee in College Station, Texas. "This guy is a military veteran who is exactly what Glass Doctor is looking for. Because he is young, it was difficult to find him funding," Chavez said. "He'd call me ready to give up and I would say, 'No. We are going to figure this out.'" It took four lenders and a deep dive for Chavez into learning the SBA and other financing programs, but in the end all of the effort was worth it.
Chavez shared a text message she received from Terry not long after he opened. He had projected $7500 in sales for the month, but was about to hit $20,000. He wrote, "Really can't believe how well things are taking off. Thanks for helping me get to this. If it hadn't been for you fighting for this, there is no telling where I would have ended up, but I know I wouldn't have been as happy as I am now. Thank you so much."
For Chavez, that's what it's all about. Terry added, "Working with Torrie was awesome. She was
always so optimistic and upbeat. Getting my SBA loan approval wasn't easy. We ran into issue after issue but even when I was on the border of giving up and walking away, Torrie stuck with it and kept pushing different options and possibilities. She refused to give up and refused to let me give up. I couldn't have made it here without her help."
Just on the other side of Chavez's wall, is where you'll find Brandy McFarland working at her desk, deep in conversation on the phone. She is, no doubt, in the midst of creating another Glass Doctor Business opportunity for someone she believes in. McFarland is a smart cookie who loves helping people build companies. Her experience as a business owner, as well as her strong background in advertising and finance, aids in knowing who is a right fit for the brand.
"I love a good, challenging conversation," she said. "I especially like watching young people come through who don't want to work for someone else, and seeing if Glass Doctor is going to be the right vehicle for them to get them where they want to be in life. I love that energy they have coming in. They get that failure isn't failure, it's just something to learn from."
In McFarland's four years at Glass Doctor, she is the longest running, female sales person and has won multiple monthly and quarterly sales awards. In addition, she is part of the Million Dollar Club in the sales department.
Ryan Cranston worked with McFarland to invest in his Glass Doctor in Middletown, New York. He began talking with McFarland in the early months of 2016, took a break from his business search, and then texted her back in early summer.
"She called me back within 20 minutes, and it was like I had never left," Cranston said. "She is patient. She listens. There is just no pressure at all. She listened to my perspective, showed me the business and then left it up to me."
Cranston said he had visited other business opportunities but felt a lot of pressure to buy.
"I went to this one place, and it was like being in an interrogation room for eight hours." He said it wasn't like that with Brandy, Glass Doctor and Dwyer Group. "We talked about our families, Brandy is very family oriented, which is what the Dwyer Group is about."
Chavez and McFarland both are pleased to see an uptick in women candidates, as well as women technicians. They are immediately able to name several female Glass Doctor Franchisees who are doing well in the glass industry, one of whom has reached over $1M in sales in a very short period of time.
"Glass is an excellent industry for women," Chavez said. McFarland added, "We will see more women in the trades. Things are changing."
Dwyer Group is a known champion for women in business and women in the trades. It currently employs five women in corporate and brand leadership roles, and offers a Women in the Trades scholarship to help further the careers of women pursuing work in the trades, or future business ownership in home services.
The personalities of McFarland and Chavez may be opposite – one energetic, one grounded – but there is a sincere kinship with these two ladies in the Glass Doctor sales department. It is palpable when you are around them. You hear it when they are on the phone together. The energy and enthusiasm is downright contagious. They root each other on and keep each other positive, all while competing as a team, not against one another. They are the Glass Doctor Duo, and they are ready to take your call.