Handyman Business Ideas for Growth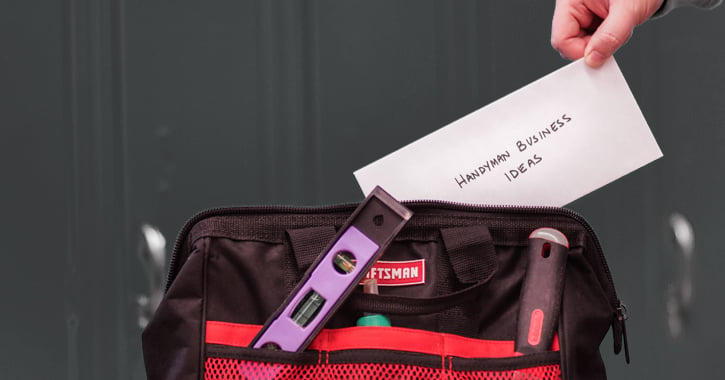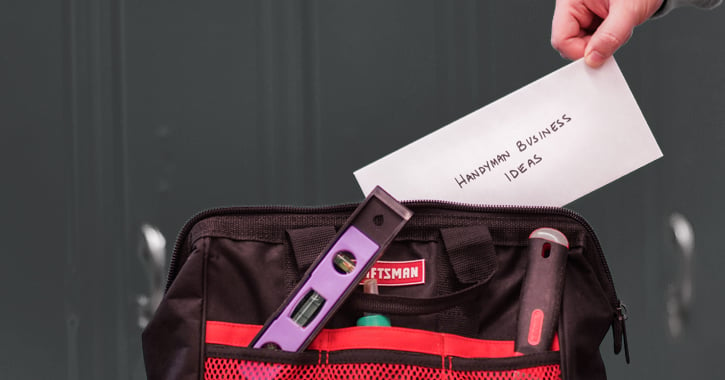 Owning a handyman business can be a fulfilling choice for those who enjoy solving problems and developing teams. One of the most appealing parts of the handyman industry is the steady growth it's seen in the U.S. over the past few years. In fact, the home services market is expected to grow by over 36% by 2026.
To capitalize on this growth, it's important to position your handyman business well and provide a variety of service offerings. The most successful handyman businesses are those that seek creative ways to grow and expand their services.


Handyman Business Ideas for Home Services to Offer
The typical handyman business offers services such as general home repairs, carpentry work, drywall repairs, painting, and basic plumbing or electrical work. These are the bread-and-butter services of the handyman industry.
It can be difficult to differentiate yourself from other handyman businesses if you only offer the same services they do. In 2021, 78% of business owners updated their service list to add one or more new services. It's important to stay up to date on trends and add services offerings that are reflective of current homeowner needs. To stand out from your competitors and bring your handyman business to new heights, consider offering these new and in-demand services to your customers:


CCTV Camera Installation Services
Home security systems are more popular than ever and offering CCTV camera installation services could be a great addition to your handyman business. Installing cameras and other security features requires no specialized equipment, and a single handyman can perform the job. This makes it a cost-effective service to add to your business (note that some states may require a license for specialized services).


Small Remodeling
Whether someone is looking to organize and build out their home office or do minor renovations to make a home their own, this service allows a handyman business to apply a wide range of skill. The home remodeling industry is expected to grow at over 4.1% CAGR between 2021 and 2027 thanks to a shift in consumer trends to home technology and security along with several convenience components. Handyman businesses can provide some of these smaller upgrades and capitalize on the growing market.


Furniture Assembly and Repair Services
Another great service option to consider is furniture assembly and repair. Most major online furniture retailers don't offer free assembly services when someone buys furniture. Many people like to purchase furniture online because it is convenient and offers a wider range of options than shopping in local stores. But when the furniture arrives, it typically requires assembly and even installation. If your business can offer assembly and repair services at a reasonable price, it could become a new revenue generating handyman business idea.


Eco-Friendly Handyman Service Ideas
Recent polls show that 66% of today's consumers are willing to pay more for sustainable products and services. In fact, a growing number of homeowners are very environmentally conscious and want to add green and sustainable features to their homes - especially when they help lower utility bills! Some of the most popular eco-friendly services you could offer include installing solar panels, tinting windows, installing sustainable flooring, and more.


Bundled Handyman Services
In today's fast-paced and often hectic world, homeowners need home service options that help them save time and effort. Enter bundled services! Bundled services are becoming increasingly popular and valued by consumers who don't have time to research and hire different service providers for every home project. The way that bundled services work is that instead of buying individual services from different companies, homeowners can purchase a package deal that includes multiple services from a handyman. This can be a great way to simplify home maintenance and repair for homeowners and to increase growth as a handyman business owner.


Handyman Business Marketing Ideas
Expanding your handyman business's service offerings is an important first step toward sustainable growth, but these services won't contribute to your growth unless homeowners know about them. Effective marketing is an essential part of any successful handyman business.
In today's digitized world, homeowners are increasingly looking online for home service providers. They like the convenience of doing research online, and the amount of information that is readily available there. To make sure that your business reaches these homeowners, all home service businesses need to have a strong online presence and should be active on multiple platforms. By marketing effectively online, you can ensure that your business information reaches your potential customers and helps you to turn leads into sales.


Online Booking
In the past few years, there has been an 85% increase in consumers shopping online for home services. And once homeowners find the service and service provider they want, they want to be able to book that service online. Today's consumers want to be able to set an appointment quickly and easily, without needing to dial a phone or even leave the website or app they're using.
By providing online booking, you can open a new market of customers. One recent study found that home service companies that enabled an online booking system had an average revenue increase of 37%, with the highest at 125%. Consider, for example, how Mr. Handyman® utilizes leading-edge software and technology solutions to streamline bookings, service requests, and administrative tasks. This feature alone could give your handyman business a substantial increase in revenue.


Digital Communication
Along with online booking, today's consumers also prefer to contact businesses online. In fact, nearly 93% of consumers would rather message a business than call them on the phone. Most home services businesses are not equipped to handle messages on the types of platforms that consumers prefer, such as live chat, SMS, or social media. If one out of every two customers want to reach out to you in this way and you're not set up for it, you could miss a huge segment of potential customers. From getting a quote for drywall repair to matching a desired paint color, homeowners value seamless communication that meets them where they are on their mobile devices.


Social Media Content
Owning a business today means having a strong presence on social media. To keep growing, your business needs to develop great content to build its audiences on social media channels. Plus, it gives you a place to showcase your skills as a handyman, which may be the most convincing way to market your business.
Because social media posts may be the first point of contact for many new customers, it's important to create and post quality content on a regular basis. Tips for creating quality content include:
Write engaging posts that will capture the attention of potential clients.

Promptly respond to comments and questions from potential clients.

Link your website to your social media profiles.

Monitor your social media analytics regularly to see how well your campaigns are performing.

Experiment with several types of content (videos, infographics, etc.) to see what works best for you.

Update your social media content regularly so that it remains relevant.

Weave special promotions into your social activity.


Take Advantage of "Near Me" Searches
More people are turning to their phones for answers to their everyday needs, and one of the most frequent searches on mobile devices is for businesses located "near me." In fact, "near me" searches have grown by more than 900% in the past two years. This means that if your handyman business doesn't show up in local search results, you could miss out on potential customers.
Currently, Google My Business and Yelp are two of the most widely used local listing sites, and it only takes a minute to claim your business and fill out your details. By doing so, you can connect with potential clients who are searching for "best handyman near me" online. Listing your business in multiple places also helps build your online presence and improve conversion rates.


Reviews
Online reviews have become one of the most influential factors in a consumer's decision to choose a business. In fact, 90% of consumers read online reviews before visiting a business, and 89% of them trust online reviews as much as a personal recommendation! For this reason, positive reviews are critical to your business's growth. Homeowners rely on online reviews to help them make informed decisions about which home service businesses to hire. For this reason, positive reviews can help attract new customers and grow your business.
To make sure you have good online reviews, it's important to actively ask for feedback and manage your online reputation. You can do so in the following ways:
Encourage customers to leave reviews by asking them directly, providing links to review sites on your website or social media pages, or email campaigns offering incentives.
Respond to both positive and negative reviews
Thank customers for their feedback and address any concerns.
Monitor review sites regularly


Franchising A Handyman Business
Owning a handyman business can be a fulfilling and rewarding career. But independent business owners only have so many hours in a day, and if you are working in your business all day long, when will you have time to grow your business? What if there is a better way?
These very questions have led many handyman business owners to consider buying a handyman franchise rather than owning an independent business. There are many reasons to choose a franchise business over going it along. For example, a well-established franchise brings the benefits of a proven model to help you scale your business and grow your team, with a solid support on management, marketing, and growth, which can give your business a solid jump on the competition. It's also important to look for a franchisor that offers advantages like a proven business model as well as ongoing marketing support and training.


Mr. Handyman Franchise
Mr. Handyman® is an internationally known and well-respected leader in the handyman service industry. A key advantage to the Mr. Handyman franchise model is the fact that your service offerings are customizable to your comfort level. You may continue hiring "generalists" to accomplish a higher volume of smaller jobs, or you may diversify by hiring specialists to tackle more sophisticated, time-consuming work. Our experts have been providing franchisees with business-boosting tools and strategies for more than twenty years. Other benefits of franchising with Mr. Handyman include:
Proven marketing strategies and materials
Ongoing training, consultation, and resources
Hiring support
Nationwide networking opportunities
Vendor discounts
And more!
Get the insight and support you need to build a stronger foundation for a handyman business. Visit the corporate Mr. Handyman website or download our franchise guide to get started today.