Leadership
Having Fun in the Process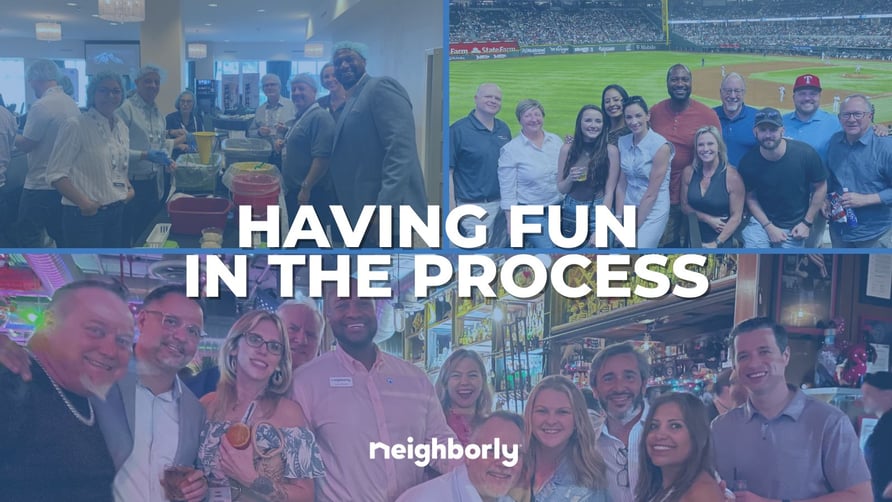 It's a myth that work and play have to be separate. At Neighborly, we're serious about business, but we're also focused on making working here fun. Research shows that when people are happy at work, they're more engaged, productive, and committed to the cause. And when you're committed, progress keeps moving in the right direction.
Neighborly blends work with fun to create an authentic organizational culture where people feel empowered, excited to be here, and engaged in their jobs. Our culture is shaped by our Code of Values. It outlines the expectation we have for everyone, top to bottom, to respect one another, have integrity in word and deed, focus on the customer, and have fun in the process. Having fun may just be the best part.
Code Creates Culture
It's one thing to have a Code of Values, and it's quite another to make sure everyone understands and follows it. So, we make it simple.
Every franchise owner is introduced to the Code of Values when they come on board.

At the beginning of every company meeting, we review the

se values

.

From day one when we engage with a broker, they're educated about the Code of Values as well.
In other words, we put forth tremendous effort to underscore our core values because we believe following it is the way our organization should be run. By bringing these important guiding principles to the forefront of everyone's mind, we're ensuring franchise owners, staff, and brokers understand what's expected. And if you talk to any of our franchise owners, they'll tell you they recognize just how much following the Code of Values translates into business success.
For my part, I foster these principles through my leadership style. I hold myself and my team accountable every day. If I have a favorite value, it's respecting one another. Treating others as you would like to be treated is the Golden Rule for life, and at Neighborly, we take it to heart.
Fun Fosters Fellowship
Let's get back to the fun part. As part of the Code of Values, we encourage our team members and franchise owners to have fun in the process. This is essential for two reasons: it shows that the company cares about their success and well-being, and it also gives everyone a chance to destress and connect with others.
Neighborly arranges fun activities—such as afternoons at Top Golf, axe throwing, and movie nights—to build camaraderie and trust among the team. We plan events with franchise owners within the different hubs to help them build fellowship and networking. And we also prioritize incentive trips for high performers on the franchise development teams.
On a brand level, our franchise owners do a great job of creating their own unique fun and memorable experiences, while aligning their plans to the Code of Values.
Brokers Help Us Build
But having fun in the process isn't just for the Neighborly family – it is an important part of our broker and consultant communities as well. These professionals are our brand ambassadors, helping to build the Neighborly network by introducing new candidates to the opportunity of business ownership. We cherish our brokers and consultants, so we put as much energy and effort into fostering these relationships as we do with our franchise brands.
We invite brokers to our headquarters to learn about Neighborly's brands and support systems. We participate in broker events; network with consults; and join webinars, panels, and speaking engagements all to ensure that these important brand ambassadors have what they need to best represent Neighborly in the marketplace.
Foundations of Fulfillment
Establishing a solid Code of Values that shapes the company culture is ambitious, but it's absolutely vital to creating a cohesive vision that leads to marketplace growth. This is exactly why we apply our philosophy of having fun in the process to everything we do, from a fun team-building event to our franchise owner partnerships. In the context of respect and trust, work and play can coexist, and at Neighborly, we ensure that they do.
Written By Brian Woods, Group VP, Franchise Development, Neighborly on LinkedIn