How to Start a Carpet Cleaning Business ‒ Go with a Franchise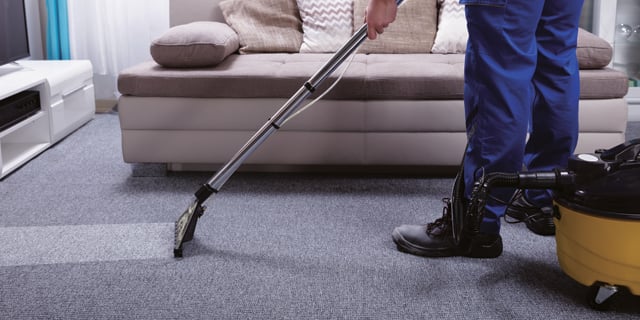 Carpet cleaning services are in demand year-round. If there's a market need in your area and you're ready to jump on the business opportunity, we're here to help! Here's why and how to start a carpet cleaning business with the support you get from choosing a Rainbow International Restoration franchise.
Why Choose a Rainbow International Franchise?
Carpet cleaning is a popular service offered by Rainbow International owners, who support any lulls in carpet cleaning demand with varied restoration service offerings. Restoration is a recurring-revenue business that applies to both residential and commercial customers. There's perpetual demand for these services, driven by insurance claims, the weather, environmental awareness and so on. In other words, carpet cleaning alone doesn't provide as much security as a more diverse restoration business.
But why a franchise? The best part about franchising with Rainbow International is that, to find success, you don't have to know exactly how to start a carpet cleaning business or restoration business in the beginning. You're supported by our resources, consultation and experience (more than 30 years!). Here's how business ownership happens when we have your back.
How to Start a Carpet Cleaning Business & Restoration Business with Rainbow International
To put it simply, we'll support you through all the steps you might be worrying about.
Knowing if you're ready – we'll help you navigate the details of responsibilities, funding, location assessment, etc.
Building a business model that truly works
Building brand awareness. (Hint: Rainbow International is one of the most internationally respected names in the business.)
Following a proven marketing plan with the right marketing materials
Using the right software and managing a website
Obtaining the most advanced carpet cleaning, odor removal and restoration equipment
Learning the ins and outs of business ownership
Recruiting, hiring and training employees
Interested in Exploring Franchise Opportunities with Rainbow?
Opening a business is an exciting, life-changing decision. As you narrow in on your best answer for "how to start a carpet cleaning business" – for example, is it a good idea to start a business at 40? – we understand that you'll want to seriously consider all your options before taking the leap. That's why the process of opening a franchise with Rainbow International includes thoughtful discussions with the franchise developer in your area, a joint assessment of the opportunity, and a thorough walk-through of our business models, marketing support and other details.
Your passion for running a service business, our resources and decades of experience – these are the ingredients of great potential. To connect with a Rainbow International franchise developer today, call 888-496-0831 or reach out to us online.