How to Start a Landscaping Business: A 4-Step Guide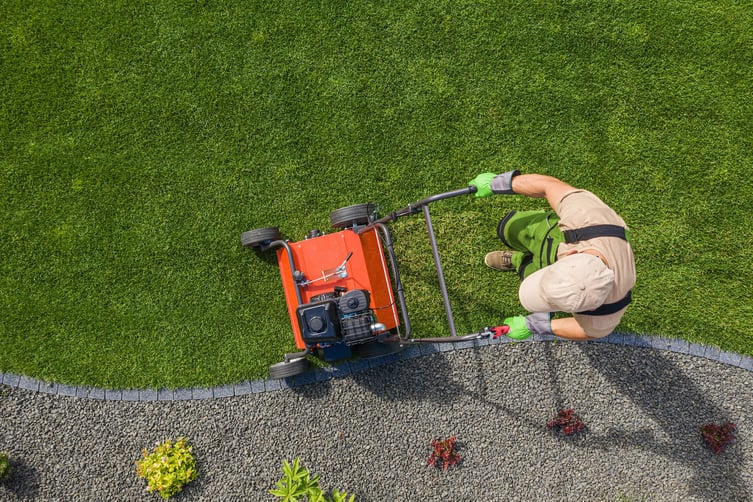 Landscaping businesses provide a wide range of services encompassing designing, building, and maintaining outdoor spaces. From mowing lawns and basic plant care to full-service landscape installation, landscape professionals are dedicated to transforming the outdoors for homes and businesses.
The landscape industry is a lucrative business with the industry continuing to show growth as more homeowners and business owners outsource their lawn care. With consumers demanding landscaping that is sustainable and eco-friendly, services such as installing water-efficient irrigation systems, planting herb and vegetable gardens, and designing native plant gardens are rising in popularity. From 2021 to 2022 alone, there was a 5.5% increase in the number of landscaping businesses in the United States.
To capitalize on this opportunity, some may decide to start a business from scratch while others look to buy into a local business already operating in their area. Another option that many aren't aware of is franchising. The Grounds Guys is a landscaping franchise in the Neighborly family of brands that offers opportunities to prospective owners and helps them learn about starting a landscaping business using an established business model.
Many prospective owners see the value in a company that can provide them with tested tools and resources to help them realize their dreams. Here are a few steps to help budding entrepreneurs as they navigate the path to landscaping business ownership.
Step 1: Create a Business Plan & Set Clear Goals
Pave the way to success by setting off on the right foot. The landscaping industry offers entrepreneurs choices in the type of customers they serve and what services they offer.
One of the first steps for a landscaping business start-up is to analyze the opportunity within the market and set clear goals. Often, the best way to start is by creating an organized business plan. This can be a valuable approach for prospective owners as they set their goals for the next 1, 5 or even 10 years. This includes analyzing the costs of running the business and raising funds to finance future growth.
A landscaping business plan should include:
Customer Analysis - Define your customers
Will you target residential or commercial?
What is the income range of your customer?
What area will your landscaping business service?
Company Analysis - Decide on what specific services you will offer
Will you provide general lawn care and landscaping or a niche?
Popular landscaping niches include native plant landscaping, edible gardens, and irrigation/water features.
Marketing Planning - Outline website, marketing, and advertising needs
One of the key advantages of a franchise is training, marketing, and support systems.
Financial Planning - Calculate start-up and operational finance information
This part of the process is crucial, but not easy. This is where help from experienced professionals within the industry can make all the difference and why franchising can be a valid solution.
Step 2: Consider Franchising Vs. Starting from Scratch
Starting a landscaping business from scratch can be intimidating. Entrepreneurs who want to own a landscaping business may find that investing in a landscaping franchise is a better option for them.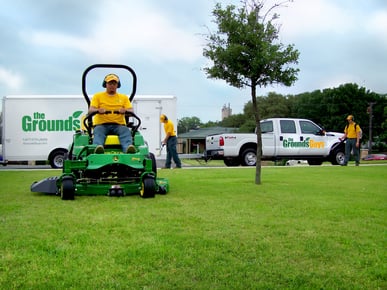 Among the benefits of choosing a franchise like The Grounds Guys are:
An established business plan and model
Training and support

Classroom-style business operations, sales, and marketing training

Financial support options
Software provided
Marketing and branding provided
Franchising allows entrepreneurs to go into business for themselves but not by themselves. Many prospective owners find value in franchising to achieve the freedom, flexibility, and ongoing opportunities they seek.
Step 3: Analyze Your Start-up Costs for the Business
How much does it cost to start a landscaping business? The amount can vary depending on the services you're looking to offer, the equipment you need to buy, the estimated size of your territory, projected customer base, and if you plan on doing it alone or hiring a team.
New Landscaping business owners can expect start-up costs to include:
Equipment and tools
Mower
Trimmer
Blower
Rakes, hoses, etc.
Vehicle/trailer
Permits, licensing, and certifications
Insurance
Equipment Storage
Website and Marketing
Staffing
When considering equipment purchases, businesses looking to lower these start-up costs may consider buying used rather than new equipment, or even renting some of the equipment. Although less cost-effective over the long-term, renting equipment can help businesses save on initial expenses.
This is another area where franchising can be more cost-effective. Franchises like The Grounds Guys provide business advice along with discounts that can help business owners get started thanks to the Neighborly partnership with ProTradeNet.
Step 4: Apply for all Necessary Permits, Licenses, and Registrations
It's important for anyone considering owning a landscaping business to be aware of the necessary permits, licenses, and registrations needed to begin operating. The rules and regulations regarding specific paperwork requirements will vary state by state.
It's important to seek out advice from a business adviser, attorney, and/or accountant about starting a landscaping business legally. These professionals can assist with any permits and licenses required as well as provide relevant information regarding taxes and insurance.
How Can You Get Started?
Neighborly and The Grounds Guys can help provide much of the support and knowledge you need to get started in the landscaping business and make your business ownership goals a reality. Talk to a franchise consultant to build your better future or download The Ground Guys franchise guide to learn more.