How To Start An Electrical Business: The Electrician's Guide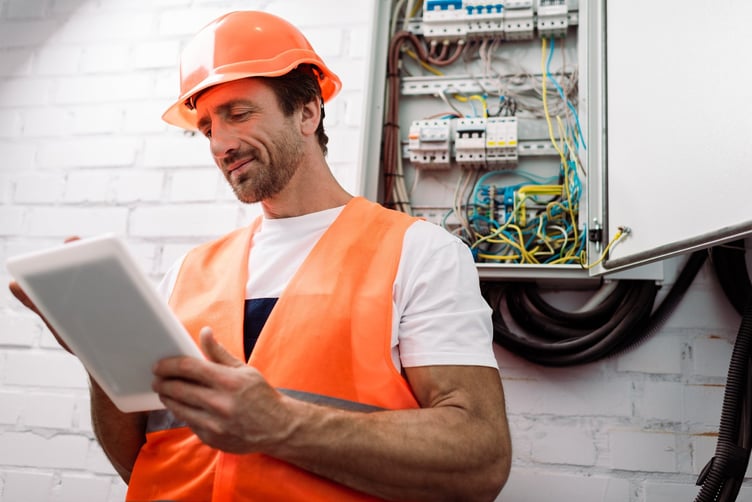 Whether you're looking to enter the electrical industry or are already an experienced electrician, you may be thinking about starting your own electrical business. And why not? There are many benefits to owning your own business, including the ability to set your salary, set your own hours, and be your own boss.
Of course, starting any business comes with its share of challenges and obstacles. That is why when it comes to planning, opening, and operating your own electrical business, it's important to understand the ins and outs of the industry, as well as the various business and marketing strategies that will set you up for success.
In this guide, we'll show you how to start an electrical business, including tips on how to get started, what to expect, and how to make your business thrive.


Why Start an Electrical Business?
The first question you may be asking yourself is "Why start an electrical business?" After all, there are already many electricians out there providing services to homeowners and businesses. What would make starting your own business worthwhile?


Recession Resistant
Electricity is a necessity for everyone, from homeowners to commercial businesses and beyond. This means that electricians remain demand even in economic recessions. This makes starting an electrical business a recession-resistant option.


High Demand
The U.S. Bureau of Labor Statistics projects that the number of electrician jobs will grow by 9% from 2020 to 2030. This growth is due in part to the increasing demand for electrical work in the residential and commercial construction industries. This strong and growing demand displays the need for electricians and electrical businesses. Homeowners and businesses regularly need wiring work done, from basic repairs to electrical upgrades and beyond.


New Opportunities
Innovations in electrical technology will also create new opportunities for electricians and electrical businesses. For example, many homeowners and businesses are now hiring electricians to install electric charging stations, smart home technology, smart security features, and much more. The installation of electric charging stations alone will increase demand for electricians by 25% over 20 years, a clear indication of the industry's future growth potential.


How to Start an Electrical Business
Now that we've answered the question "Why start an electrical business?" it's time to get into the details of how to start your own business. Here are some basics steps you'll need to take:


Create a Business Plan
A clear business plan is an essential for success as an electrical business owner. Your business plan should include your business goals, a market analysis, a competitive analysis, a marketing strategy, and financial analysis. More specifically, a business plan for electricians should include answers to these questions:
What services will you offer? Within the electrical services industry, there are many specialty areas to choose from. Two of the most common specialties are residential and commercial. However, you can specialize even further, and many businesses have thrived by focusing on a particular service or niche. For example, perhaps you want to specialize in eco-friendly services such as EV station installation or photovoltaic systems. There may also be a gap in quality electrical services in your market that you can fill. Identify these early and use them to decide on your customer — and how to reach them.

What is your target market? For electricians, it's important to have a mobile business model because you bring your services to the customer, not the other way around. To identify your target market, think about what areas you would like to service that are within driving distance of where you live. For example, if you live in an area that's saturated with electricians, but an hour away there's hot demand, it may be worth establishing your operation further from home.

Do you have a financial plan? Starting your own business can be a pricey venture. So, it's important to carefully lay out a financial plan that includes start-up costs, projected income, and expenses, and to figure out financing. Common expenses for electricians include equipment, tools, vehicles, marketing, hiring employees, and more. It's important to build in a financial buffer for unexpected costs that may pop up.


Obtain Electrical Business Licenses, Permits, & Insurance
To operate legally, electricians and electrical businesses need to obtain the proper licenses, permits, and insurance. It is important for electrical businesses to strictly follow state and local regulations. The consequences for failing to do so include high fines and penalties, among other possible actions.
In most states, if you want to run your own business as an electrician, you will need an electrical contractor license. While licensing requirements vary from state to state, most will allow you to hire licensed electricians, bid on projects, and apply for the necessary permits for projects. Be sure to research the licensing requirements in your state and complete the process in a timely manner.
In addition to a professional license, in most places you will also need to get a business permit and business insurance. Business insurance is vital for any business, but especially for electricians who work with high-voltage electricity daily. Business insurance is designed to cover yourself, your equipment, your technicians, and your clients. You'll need insurance for your vehicles, too, as well as other essentials like general liability insurance. Shop around and compare rates from different providers to make sure you are getting the best coverage for your needs and budget.


Purchase Vehicle & Equipment
For a new electrical business, one of the largest upfront costs is typically the initial investment in vehicles and tools. The cost of these tools may vary significantly, depending on your specialty area and business needs. While it may be tempting to buy the cheapest vehicles and tools that you can find, it's important not to cut costs in these areas. Cheap vehicles and tools are often unreliable, and you may end up spending more to keep them running (or replace them more often) than you would if you opted for better quality.


Hiring Qualified Licensed Electricians
To start an electrical business, you don't necessarily need to have hands-on experience as an electrician yourself, but you will need to obtain the necessary electrician training and hire qualified licensed employees. During the hiring process, make sure that you are only hiring licensed and insured workers, and that their skills fit your business needs. There are two main types of electricians: journeyman electricians, who would be considered entry-level, and master electricians, who will have far more experience. It's important to hire the right type of electrician for the kind of services you plan to provide.


Start Your Own Electrical Services Franchise
If you want to own your own electrical business, but you'd rather be the boss (and not the sole employee), franchising may be the best option for you. Investment in an electrical franchise is a great way to get started in the industry, whether you are an entrepreneur, an established electrical contractor, or just getting started in the field.
One of the biggest benefits of choosing a franchise business instead of going it alone is that you will have experienced assistance with your business. Not only will this save time, but it can help you avoid making costly mistakes, too. Most small business start-ups struggle to stay in business long-term because most small business owners lack the support and resources that a franchisor has to offer.
Other advantages of starting an electrical services franchise include:
The business model is already established
No industry experience is required
The benefits of a national brand name
Access to both initial and ongoing training and support
With these valuable resources, buying an electrical business franchise is generally a much less risky proposition than starting a business from scratch.


Mr. Electric®
One of the nation's top electrical business franchises is Mr. Electric®. As a respected brand, Mr. Electric provides expert electrical installation and repair services to both commercial and residential customers in locations nationwide. Let's take a closer look at what you can expect as a Mr. Electric franchisee.


Mr. Electric Franchise Services
Some of the quality services that Mr. Electric offers include:
Residential electrical repairs and service
Generators installs and service
Electric vehicle car charging installations
Commercial lighting and lighting retrofit
Commercial contracting services
Residential outdoor lighting
Low voltage systems
Innovation: Franchisees benefit from research and expertise in new and growing areas of the electrical industry, such as solar, electrical vehicle charging, and lighting retrofit.


Mr. Electric Franchise Training
Our Sure Start training is currently a 4–6-week program combining classroom-style business operations, sales, and marketing training. You won't be conducting electricity — at least, not literally – you'll be running a business, and our comprehensive training will ensure you know how.


Mr. Electric Franchise Technology
Our custom business management software simplifies your day-to-day administrative duties. It's an all-in-one system for job estimates, tracking leads, assistance with leadership, workplace culture and more.


Mr. Electric Franchise Hiring
Your people will make all the difference in your business. A third-party, industry-leading hiring and onboarding platform helps you find the right people to deliver quality services in your community.


Mr. Electric Franchise Marketing
In addition to your local marketing efforts, we keep the national marketing engine running on your behalf, with a hyper-focus on digital ads that continuously raise awareness and drive leads to your business.
Ready to get started? We're here to answer your questions and help you take the next step to owning your own business! Contact a franchise developer today.