How To Start An HVAC Business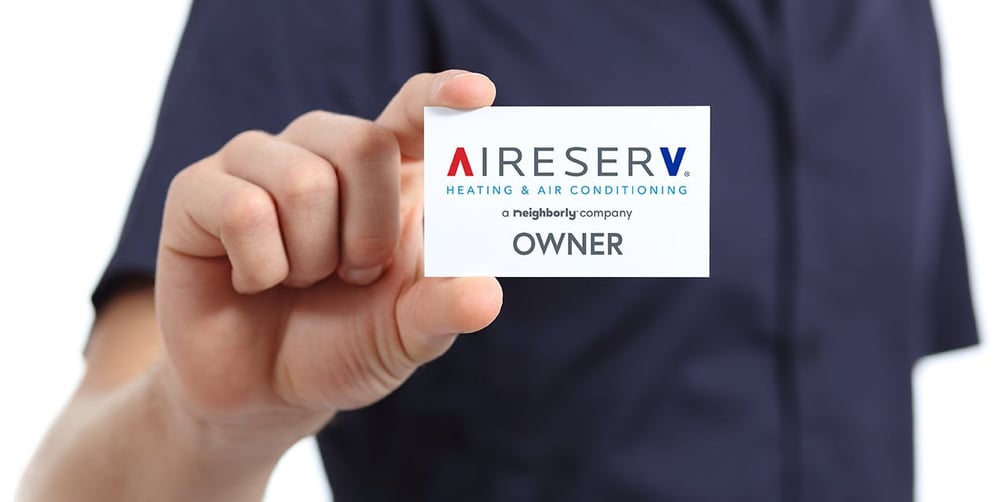 If you've been thinking about starting an HVAC business, now is a great time to do it! In the U.S., the HVAC market is worth $16.54 billion, and it's expected to keep growing. Americans already spend over $10 billion every year on HVAC repair and maintenance services, but higher construction rates and recent changes in energy efficiency standards are expected to fuel even more growth in the Heating, Ventilation, Air Conditioning industry. With such a strong outlook in a recession-resilient industry, perhaps the question isn't whether to start an HVAC business, it is how to start an HVAC business.
In what follows, we will take a closer look at how to start your own HVAC business. We'll also consider how franchising with a well-established brand may mean the difference between success and failure in this competitive industry.


How To Start an HVAC Business from Scratch
Before we discuss how to start an HVAC business, let's first briefly review what the industry looks like. As we alluded to earlier, the HVAC industry is big and growing. In fact, since 2010 it has been one of the fastest-growing industries in the United States.
To start your own HVAC business, you will first need to make a few critical decisions about what services you want to offer, how your business will be organized, how to plan to finance it, and more.


Decide What Services to Offer
Most HVAC businesses primarily focus on heating and air conditioning services. At the same time, however, the range of services offered by HVAC companies can be much wider. Some specialize in HVAC service and repairs, while others sell and install new units. Some may even offer related or complementary services as well.
For this reason, one of the first things you'll need to decide is who your target market is and which HVAC services you're going to offer. To narrow down the options, start by asking yourself these questions:
What services do clients in my area need?

For example, the U.S. smart home market is expected to grow by

over 17% annually

through 2026, so if you're located in an area where people have a lot of interest in smart home technology, you may want to consider offering smart thermostat installation services.
Remote control HVAC systems are growing in popularity and provide an opportunity for HVAC businesses to focus their service offerings.
If your area has a lot of residential customers with older homes, you may want to take HVAC services to the next level with Mold Removal, Water Damage Remediation, or Asbestos Removal.
On the other hand, if you're in an area where homeowners have access to year-round sunlight, solar HVAC system installation is a very profitable niche in the HVAC service market.
Consider whether you should target residential vs. commercial or new construction as your primary service market. Each can have a strong customer base depending on your territory.



What services can I do BEST?

Compare the services that would do well in your area with your expertise. If you're not comfortable or familiar with a particular service, it may not make sense to make this one of your initial service priorities.
For example, if you've been in the HVAC industry for years and have a lot of experience with installation and repair, starting an HVAC business that focuses on those services may make the most sense.


Evaluate Costs
Once you decide which HVAC services you will offer, you will then have a better idea of what types of equipment you will need and any associated costs. Starting an HVAC company is not cheap, and there are many factors to consider. Typically, the start-up equipment you will need includes:
Van or truck to transport equipment
HVAC tools (hammers, drills, ladders, wire strippers, etc.)
Air conditioning and refrigeration-specific tools such as a multimeter
Safety equipment
Along with business expenses, you also need to consider hiring practices and costs associated with onboarding.
Ultimately, if you are starting an HVAC business from scratch without a vehicle or equipment, initial startup costs can easily reach over $100,000.


Create A Business Plan
Another essential part of starting a new HVAC business is having a business plan. A business plan will serve as a road map to guide you through the start-up phase and early years of your HVAC business. It will also make it easier to obtain funding from lenders and banks.
The U.S. Small Business Administration (SBA) lists the following as the standard elements of a business plan:
Executive Summary: A brief overview of your business.
Company Description: Summarizes what your company does, its mission and purpose, and what makes it unique.
Market Analysis: Research on your competitors that identifies any service gaps in the local market that you could fill.
Service or Product Line: Include specifics about the narrowed-down services you'll offer based on your experience and the service gaps you've identified in the market. Make sure that opportunities in the market align with your skills and interests.
Marketing and Sales: Outline how you'll market your HVAC business with specifics of how you'll generate business.
Financial Projections: Estimate the average cost of running your HVAC business, your niche's projected profitability by collecting data on your competitors' gross margins, your plan for seasonality, and HVAC industry trends.
Your business plan may include other elements, as needed. But the most important aspect of your business plan is that it's detailed, thorough, and realistic.


Secure Financing
The next important decision to make regarding your new HVAC business is how to finance it. If you don't have the personal savings to cover startup costs, you'll need to explore other avenues of financing.
Some common ways to finance an HVAC business include:
Small Business Administration (SBA) Loans

: The SBA offers several loan programs that can help small businesses get started, including the 7(a) Loan Guaranty Program and the Microloan Program.
Business credit cards: Business credit cards can be a good option for financing smaller purchases or for covering business expenses when cash flow is tight. However, it's important to use business credit cards responsibly and to keep an eye on interest rates, as they can be high.
Equipment financing: If you need to finance the purchase of expensive HVAC equipment, equipment financing may be a good option. With this type of financing, the equipment serves as collateral for the loan.
As you research your financing options, it is important to consider that many lenders look more favorably on well-established franchise businesses than they do on unknown entities. In most cases, you are more likely to get the business funding you need at reasonable terms by taking the franchise route.


Obtain HVAC Certification and Licenses
If you haven't already done so, the next question you'll need to answer is "what licenses are needed to start an HVAC business?" If you aren't already certified and you plan to provide HVAC services yourself, you will likely need an HVAC certification and an HVAC contractor license to run your business. All HVAC technicians in the U.S. who service AC and refrigeration equipment need, at a minimum, an Environmental Protection Agency (EPA) certification.
You will also need an HVAC contractor license. This license is basically a legal document that lets you service HVAC systems. Each state has its own HVAC license requirements, but in general, you will need to pass a business and law exam specific to the HVAC industry as well as a trade exam. Most states also require that you have a certain amount of apprenticeship experience working in the HVAC industry before you can obtain a license.
Other certifications that are recommended but not required include:
NATE Certification

(North American Technician Excellence). This is a highly respected, multi-level certification program for HVAC technicians. Although it is not legally required, it is nationally recognized as a qualification for highly competent HVAC technicians.

HVAC Excellence Certification

. This is another well-respected, multi-level certification program that awards certificates to experienced technicians who meet their criteria.
Without the correct HVAC certifications and licenses, you could face serious penalties and fines. In some cases, you may even be required to stop working until you obtain the proper certification and licensing.
For any certification, the certification process depends on the type of path you're taking to HVAC certification and which certification(s) you need. Even if you are looking to solely run the HVAC business and not go out on service calls yourself, it is still important to understand what certifications and licenses are required so you can hire the best technicians.


HVAC Business Insurance
Along with financing, certifications, and licenses, your HVAC business will also need to have business insurance. HVAC contractors are usually required to have insurance due to the risk of injury and property damage involved. But beyond minimum requirements, having insurance coverage for your HVAC business provides a safety net for you, your employees, and your business.
In most cases, the types of insurance you will need include:
General liability insurance: This insurance covers a wide range of HVAC accidents and risks. You'll have financial protection if someone other than an employee gets hurt or you are held responsible for damaging property that doesn't belong to you.
Errors and omissions insurance (professional liability): This insurance helps you defend your business if it's accused of making a mistake.
Commercial auto insurance:

This insurance offers protection for business-owned vehicles and their drivers.
Cyber Insurance: This insurance protects against threats and unauthorized access to system data and computerized systems.
Like a business plan and other essentials, HVAC business insurance is a necessary part of growing any HVAC business.


HVAC Franchise
With such a large and growing industry, it's no wonder that so many entrepreneurs are interested in starting their own HVAC businesses. However, while the opportunity is certainly there, it's important to understand that this is a highly competitive industry. In order to be successful, you'll need to differentiate your business in some way.
As you can see, it takes a lot to start an HVAC business, including obtaining funding, certifications, and licenses, and getting additional training and education - not just about providing HVAC services, but also about how to successfully run a business. Completing these necessary steps can take a lot of time and money, not to mention the personal investment of running your own business. That is why, for many, the best option is to invest in an HVAC franchise business.
Starting an HVAC franchise is a great opportunity for:
First-time business owners.
HVAC technicians who want to take the next step in their career.
Entrepreneurs looking to invest in an essential business.
Others looking to build a business and a fulfilling future.
Franchisees get to enjoy the benefits of running their own HVAC company while receiving the tools, resources, and support of a national brand. These resources typically include things like a wide range of marketing tools and assets to help with advertising, as well as a customer database to help you keep and grow your customer base. Other benefits that franchisees gain access to often include things like comprehensive training and support, help with financing, and the expert advice you need to run your business like a pro from day one. But not all HVAC franchise opportunities are the same, so it's important to do your research and choose one that offers everything you're looking for.


HVAC Franchise Case Study
Take, for example, the case of Aire Serv®. Aire Serv is an HVAC franchise opportunity that has been in business since 1992 and has over 200 locations across North America. Aire Serv provides a wide range of services to residential and some light commercial customers, including things like repairs, replacements, installations, and maintenance.
What makes Aire Serv stand out as an HVAC franchise is the fact that they are a part of Neighborly® - a home services company that helps connect homeowners with the services they need in their local area. This broader ownership gives Aire Serv franchisees access to a wide range of potential customers that they may not have otherwise had.
In addition to this, Aire Serv also offers several resources and support to help franchisees get their business off the ground and start generating revenue quickly. These resources include things like marketing tools and assets, as well as comprehensive training and support.
To learn more about Aire Serv and what we can offer you as an HVAC franchisee, visit our website or get in touch with one of our franchise development representatives today.