Is Business Ownership Right For You? Try Our 4-Step Exercise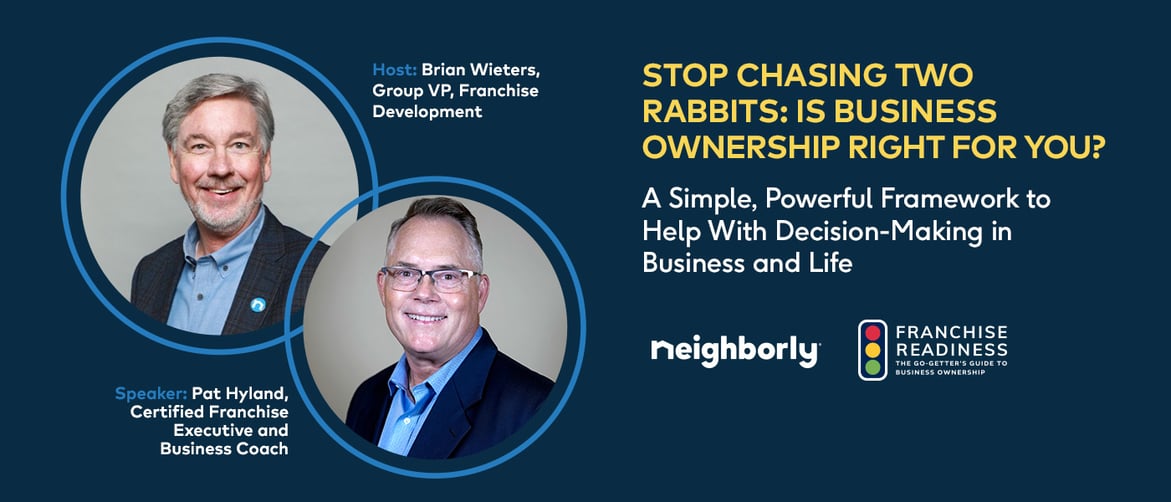 Business ownership is not for everyone. It takes determination and resiliency to build a profitable business that lasts. Successful business owners are learners, driven, and adaptable…but sometimes the hardest part is taking the first step. How does one get the clarity needed to make the decision to move forward? Often, all that is missing is a framework that can help them set clear goals, make decisions, prioritize what really motivates them, and decide what their next steps could be.
From resources and tools to networking opportunities and ongoing support, Neighborly can help individuals determine if business ownership is right for them, and help get them on the path to success.
Step 1: Identifying Your Dreams, Goals, Needs, and Quality of Life
Dream and Goals
When making life-changing decisions, it's important to be practical. But when establishing a vision for where you want to go in life, sometimes dreaming up what your life could be (even if just for a moment) can really help. People aren't always good at knowing what is possible and what isn't, so at the earliest stages of goal setting, you get a chance to be impractical for a minute. Take the lid off and think outside the realm of what you previously thought you could achieve. Make a list of your biggest dreams and goals. You might consider these areas:
Where do you want to go? Maybe you want to travel the world or take your extended family on a vacation at your expense.
What do you want to have? It might be your dream to have a vacation home in the mountains, on the beach, or at a lake. You might dream of owning a luxury car or a private jet so that you can travel on a whim.
Who do you want to become? You might be at a point in your life where you want to go and do more philanthropic work or support those organizations that are important to you. Or it could be your dream to go into politics, perhaps running for mayor or senator.


Needs
As much as you reached for the stars when identifying your goals, you'll want to move to the other end of the spectrum when you start considering your needs and start building a plan toward actually achieving your goals. It's necessary to be practical here.
Retirement: Most people look forward to getting to the point where they can relax and enjoy their quality of life in their later years. To enjoy their golden years, individuals need to take a realistic look at their retirement needs.
Children: Another significant expense that many people need to address is their children. Do you plan to help your children with a car or college? Extracurricular activities, schooling, and marriage can all come with hefty price tags. You'll want to plan accordingly.


Quality of Life
What would living the life that you want look like for you? You might want to prioritize taking care of your health and fitness, or you want time to give back socially. Think about the lifestyle that you desire, and consider these questions:
How much time did you work today?

Do you want to spend more time with your family?

Do you want to be able to travel more with your family?

Do you want to be able to enjoy your quality of life?




Step 2: Check Yes or No
Ask yourself one question, if things continue over the next three years just as they have done over the last three years, without making any significant changes, will you be on track to accomplishing your dreams, goals, needs, and quality life requirements?
If the answer is yes, then you're already on the right track with your career and you should just keep doing what you have been doing. If the answer is no, then you have to decide what you're going to do about it.
Step 3: Selecting The Business That is Right For You
If you checked no in step two, then the next step is to determine which business is best for you. No one particular business type is suitable for everyone, and with a plethora of different opportunities to choose from, it's important to select the right one for you and your long-term interests. Narrow down your choices by considering these three areas:
What kind of business do you need?

What size of business do you need?

How does your business need to be structured?


What kind of business do you need?
What kind of business are you passionate about? Capitalizing on your hobbies and interests can be used to start a business. For example, if you enjoy working with your hands and being outdoors, landscaping or lawn care might be a good opportunity.


What size of business do you need?
This question is particularly important because when you think about the size of a business, it needs to match your dreams and goals, your needs, and your quality of life requirements. Keep in mind that some businesses may not generate the level of profits you want.


How does your business need to be structured?
Specifically, will the business be built around you so that you're tied to the business all the time? Or will you choose a business that can make you money even when you are not directly involved? Will your business be a consultancy where your efforts earn your income directly….or is built around systems, processes, structure, and organizational charts, and others' labor to help provide you with the quality of life that you're looking for?
Step 4: Identify Potential Consequences and Victims
This is your chance to face the consequences of what could happen if you never accomplished those dreams and goals, needs, and quality of life requirements. Who might the victims be, other than yourself? The decisions we make don't just impact us, they impact many other people around us. The victims of those potential consequences might include your spouse, children, parents, or community.
Bonus: Who Will Benefit From Conducting the Decision Exercise?
Of course, the decision exercise is excellent for someone starting a new business, but it can also be beneficial for existing business owners. Are they where they thought they would be when they started their business? Without making any significant changes are they on track to meet their goals?
The decision exercise is a tool that you can use again and again as a way to help you re-evaluate how you're doing and where you are in your business. Situations change, and things happen that are unexpected, and it can be helpful to use this exercise as a way to see how you are doing and where you may want to make changes.
Neighborly Can Help You Determine if Business Ownership is Right For You
Deciding to start or build a new business can be nerve-wracking. Neighborly is here to help people considering the path of business ownership understand the options and opportunities available to them. Neighborly provides aspiring entrepreneurs with valuable information and insights that can help them decide to pursue the dream of business ownership.
Watch our Franchise Readiness webinar series on-demand to learn more about if business ownership is right for you, or talk to one of our franchise developers today.