Leadership
Make a Living to Make a Life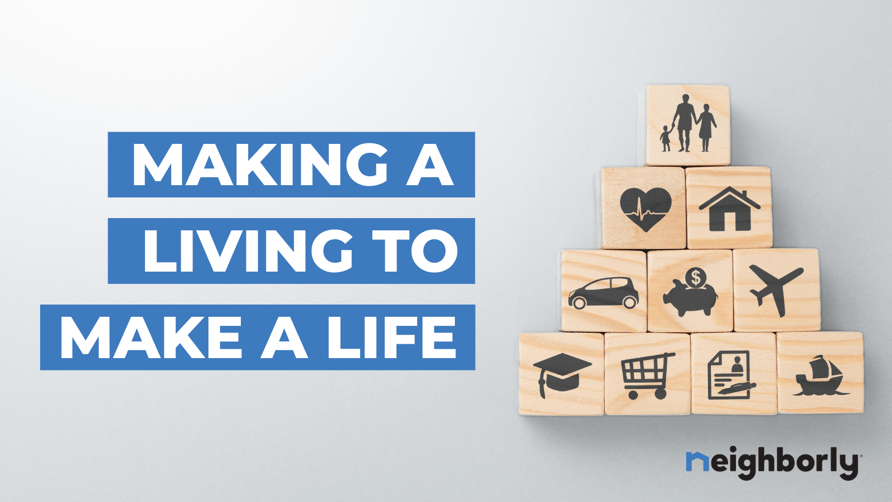 Whether serving homeowners by repairing, maintaining, and enhancing their homes, or helping aspiring entrepreneurs kick-start their business ownership journeys, the idea of building the life you envision for yourself is ultimately at the heart of the Neighborly brand.
I have talked extensively about remembering your "why" before choosing business ownership, yet I can't help but to reiterate it again. For many entrepreneurs, this "why" is all about escaping the grind of the 9 to 5, building a legacy, and creating opportunity for themselves and their families. It's not about making money or gaining status, but building something that matters – an enRICHing life
Business ownership extends far beyond simply making a living – it creates the ability to truly build a fulfilling life and legacy you can be proud of. But don't just take my word for it…
The Grass is Greener
Todd and Elizabeth Antonick had dreamed of owning a business together for 15 years, but it wasn't until their daughters left for college that it felt like the right time to truly pursue business ownership. After seeing a need for a landscape company in Virginia Beach, they took the leap and invested in The Grounds Guys franchise. And it wasn't long until this jump paid off with the husband/wife duo receiving Rookie Franchise of the Year for The Grounds Guys that same year.
In a recent interview with Total Landscape Care, Todd shared, "This was an opportunity for us to work closely together on something that we both could be passionate about. It's been very rewarding."
The Antonicks' story is a tale as old as time; in fact, married couples exploring franchise opportunities account for 65.5% of inquiries. Owning a business together allowed the couple to embark on a new chapter of their life together after their children had grown up, made possible by franchising with Neighborly.
Seeding a Legacy
While the Antonicks had no prior landscaping experience, Chris and Juanita Draaistra discovered a means to elevate their passion to a higher plane. The pair had previously worked together in the nursery sector, unearthing a mutual affection for tending to plants. When they decided it was time to try something new, they also found opportunity with The Grounds Guys.
Now, Chris and Juanita run a successful business in a field they're passionate about. They've even established a legacy of extending opportunities to others in their area by partnering with local nonprofit organizations to hire people with diverse abilities.
"We loved the culture that Neighborly was generating, and really, that's what sealed the deal for us: the business opportunity with a culture that assimilates who we are as people," Chris told Green Industry Pros.
Don't Put Your Dreams on the Shelf
Drea Montali, owner of ShelfGenie West Brooklyn, found a passion for organization after growing up in New York City and seeing the large impact of a small space on storage solutions. She launched a professional organizing business, Dream Organization, seven years ago and quickly found that her customers wanted to utilize every inch of space in every part of their home. When looking for a brand to partner with for custom pull-out shelving, she found ShelfGenie provided a much-needed service for her city.
"I came across ShelfGenie and reached out immediately to see if I could refer them to my clients. I learned that there were no franchise owners in the NYC area and was upset that we couldn't bring this amazing product line to my clients and the rest of the city," shared Drea. "In the moment, I did not have any idea that being a franchise owner was even a possibility in my life. Becoming a franchise owner has definitely been an eye opening experience to new possibilities in life and living outside of your comfort zone."
Painting Your Future
For some, running a business is truly a family affair, as is the case with mother-daughter duo Sabrina and Holly Fuller. After experiencing isolation during the pandemic and witnessing Holly's incredible work ethic amidst the unexpected curveballs that life threw, Sabrina had an idea to start a business alongside her daughter. By going into business together, they not only found success in running their franchise but have also grown closer as a family.
When speaking to the Athens Banner Herald, Sabrina said "I am more on the retirement end, of course, and for the second chapter of my life, I want to do something that I really enjoy… One of the easiest things I've ever done was writing that check for the Five Star Painting franchise fee and signing the agreement with her."
Rather than retiring, Sabrina is building a business as a new career – one that she can share with her family – and Holly left corporate America to build something of her own alongside her. Five Star Painting gave their family a new lease on life and let them be the artists of their own future.
Join the Neighborly Family
Owning a business allows you to not just make a living, but to build something you can be truly proud of. Whether starting a business with your family, following your passion, or starting a new chapter in your life, each Neighborly franchise owner has the opportunity to establish a legacy and build a life that they desire.
We support our franchise owners in each step of the process, to help others like the Antonicks, Draaistras, and Fullers achieve their entrepreneurial dreams. To find out more about franchising with a Neighborly brand, visit our updated franchising website.
Written By Brad Stevenson, Chief Development Officer, Neighborly