Mr. Handyman is a Military Friendly Franchise Opportunity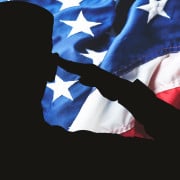 Mr. Handyman is a Military Friendly Franchise®. It's a designation we've always known, but G.I. Jobs magazine confirms it in its June issue. We will also be recognized in the July/August issue of Vetrepreneur Magazine and on the web at militaryfranchising.com. We are committed to attract military veterans to our Mr. Handyman franchise business, and because of our efforts, Mr. Handyman ranks among the top ten percent of all the nation's franchises in recruiting military veterans to our franchise business opportunity.
For veterans like Ms. Jo McCabe, joining the Mr. Handyman franchise team was a logical step in founding her business career. Jo graduated from the U.S. Naval Academy in 1991 with a Bachelor's Degree in Aerospace Engineering. She went on to earn an MBA from Southern New Hampshire University. She was on active duty for six years and retired as a Reserve officer. During her stint in the military, Jo was an aircraft maintenance officer and served in physical security, overseeing the Navy's northeast region where she managed 1,500 people.
In 2008, while in the Reserves, she wanted to put her MBA and management skills to work as a business owner. She investigated several franchise businesses and selected Mr. Handyman for our buttoned-down systems, our support network, and the flexible workweek schedule, which allowed her to meet her Reserve obligations. Jo's success in the military has carried over to civilian life. She was named our 2010 Mr. Handyman Franchisee of the Year for her sales growth and profitability. Jo is one example of highly trained and dedicated military veterans who are excelling as Service Brands franchise owners.
Service Brands franchise companies Mr. Handyman, Molly Maid, 1-800-DryClean and ProTect Painters are excited to partner with the International Franchise Association to take part in the VA for Vets Hiring Fair, June 26-28, at the Cobo Center in Detroit. Nearly 230 federal and private-sector employers will be on hand with more than 24,000 job openings. It's a tragedy that since 9/11 those who have served to protect our shores and freedoms face higher unemployment rates (12.1 percent last year) than the national rate of 8.9 percent in 2011. At Service Brands and Mr. Handyman, we owe our returning heroes a clear path into the private workforce. Our participation at the VA for Vets Hiring Fair is another example of our continued support of our vets in their search for the American dream.
We are making it easier for vets to own their own Mr. Handyman franchise business by offering a $2,500 VetFran discount off the franchise fee. Now is a great time to earn a new set of medals and honors as a Mr. Handyman franchise owner, just like Jo McCabe. During our 2012 convention in Orlando, she was again recognized for ranking among the top 10 percent of Mr. Handyman businesses in sales.