Mr. Handyman Owners "One Notch Above Awesome"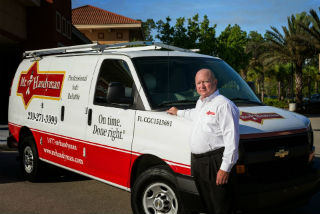 Part 2: Dwyer Group Franchise Families in Business
James Furrer and his father, Allen Furrer, own three Mr. Handyman franchises between them. This dynamic duo is the epitome of teamwork, drive, and off-the-charts commitment. They know their plan. They follow the system. They reap the rewards.
When James Furrer agreed to interview for this article, who knew he'd be doing it from his car in the parking lot of a Cracker Barrel while his family dined inside? He, his wife, Sara, daughter Ava, and a group of 44 others were about to make their annual trek to Minnesota for an outdoor family vacation, and James wanted to make sure to touch base and complete it before he went "off the grid."
James won't need to worry about Mr. Handyman while he's away because he and his Dad have built a business together with an excellent team and dual leadership. They were awarded Rookie Franchisee of the Year their first year, as well as Fastest Growing Brand New Business. They have expanded to include Mr. Handyman locations in Indianapolis, Indiana, and in Fort Myers and Naples, Florida, with eyes on more opportunity – and they've done it all in 6 short years.
Working with family isn't always easy, but the two appear to have it down to a science.
"We've worked all of the kinks out," James said. "We know each other's strengths and weaknesses, know the in's and out's, and are able to speak candidly with each other."
Allen Furrer added, "We might not always agree, but we know to shake it off and move on, because at the end of the day, one thing never changes and that is we are father and son." James is the oldest of six children.
"He [James] shows up and suits up to win every day," Allen said. James is based out of Indianapolis but also travels to Florida to meet with the team there. Allen does the same from Florida, traveling north. They share the same values and together are a family of faith, work, family and avocations. They all like to spend time outdoors, often on the farm in Indiana, enjoying the river, woods, and time together.
When Allen answered the phone for this interview and was asked how he was, he answered, "I'm one notch above awesome, thank you. How are you?" With the success he and James are sharing with their businesses and their families, I'd say that sounds just about right – maybe even two notches.