Mr. Rooter finds lost rings, brings long awaited smiles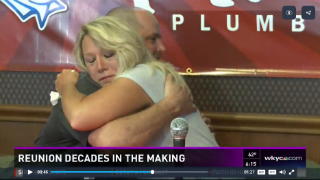 What do you get when you combine a plumber, his daughter, home-office PR support, 4 rings and a lot of determination? Four very happy endings.
Here is yet another story of a Dwyer Group franchisee going above and beyond the call of duty in a way that affects people's lives in a positive way. Trent Dawson, of Mr. Rooter of Mid-Ohio, finds countless items in drains and sewers throughout a typical workday. When routine work at area high schools began to turn up missing Class Rings, it was Trent's daughter Tori who put the idea in her Dad's head to seek out the owners.
The rest is history. Check out this story about how a plumber, his family and his company all came together to give back what turned out to be more than just jewelry. It's our most recent installment of Dwyer Group Daily Heroes.
http://www.wkyc.com/news/precious-discovery-reunion-decades-in-the-making/202047790
Mr. Rooter and the Dwyer Group family of brands see daily heroes in action every day. Want to be a part of this kind of culture? Learn more about becoming a franchisee TODAY.
http://www.cleveland19.com/story/32010601/local-plumber-finds-lost-rings-reunites-them-with-owners
http://www.foxnews.com/us/2016/05/19/ohio-plumber-reunites-owners-with-long-lost-class-rings.html