Retired Army Master Sergeant opens a Window Genie franchise!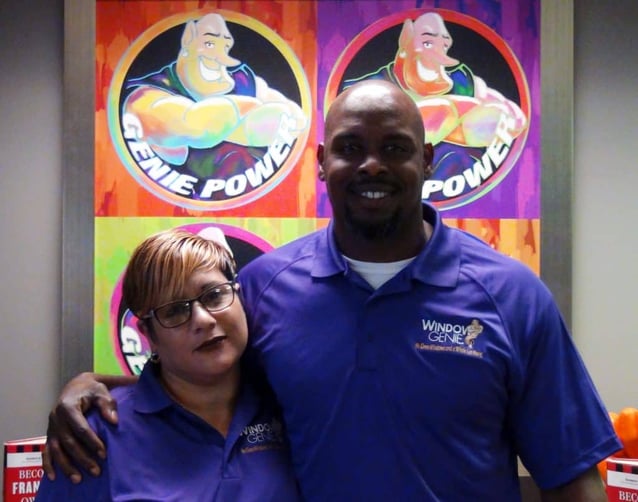 We're excited to welcome Eric & Nydia Stewart to our team! Eric is a retired Army Master Sergeant who spent over 20 years serving our country. We're lucky to have him and his wonderful, hardworking wife on board TEAM GENIE. Their story sheds some light on a hard truth… that finding a job is not easy! After returning home from service and submitting what he thought to be a very robust, impressive resume to about 70 employers, Eric received only 2 phone calls. Confused and slightly discouraged, he entertained the idea of business ownership… and boy we're glad he did! With the help of a franchise coach he was able to see himself as a business owner – HE could be the boss in control of his own success and happiness.
To view their full grand opening press release, click HERE
Meet the Stewarts!
According to Eric Stewart, he spent "20 years, 28 days, 11 hours and 37 minutes" serving in the Army, most recently as an Apache Helicopter Mechanic. After retiring as a Master Sergeant E-8 in 2008, he returned to Iraq and Afghanistan to serve the troops as a Contractor for 6 years in support of "Operation Enduring Freedom" until March of 2014. After returning home to Killeen, Stewart put his resume out to almost 70 employers. "I think I was only called in for two interviews," Stewart said. "I had no idea how hard it would be for me to get a job." Shortly after beginning his job search, Stewart was contacted by Bruce Krebs, Franchise Coach with The Entrepreneur's Source. Together they were able to discover what business opportunities best fit Stewart's strengths, weaknesses, interests and goals. Stewart said, "Bruce helped me realize business ownership was the best opportunity for me to be both successful and happy; I wouldn't do well behind a desk. I was excited immediately at the prospect of being my own boss and creating a future and legacy for me and my family."
The Stewarts ultimately chose Window Genie for the opportunity to work as a family in a community oriented service business. "We liked that we could earn loyal, repeat customers through the multiple services Window Genie offers year round," Eric said. "We love Killeen and are very social, so Window Genie was the right choice for us because we'll constantly have a chance to interact with customers and other business owners in the community."
Eric and Nydia Stewart open for business on November 17th. Eric is the owner/operator and Nydia will help with administrative duties and social media. Nydia said, "We know starting a business is hard work but we're committed to learning and growing as a team. Our customers' loyalty is what will help us achieve our goals over the next few years so delivering on expectations and building genuine relationships with the people we service will be a major focus."
Window Genie of Killeen's service area includes 138,000 households in the community. 15,000 of those households were added to the Stewarts' territory at no cost. Our franchise website states, "Veterans have sacrificed their lives for our country, and that's why Window Genie wants to give back in whatever way we can. We proudly participate in the International Franchise Association's VetFran program. The program offers discounts to veterans who want to start a business. Window Genie offers veterans a 15,000-household bump at no extra cost. Our goal is to help military men and women make a smooth and successful transition back into the working world."
Visit the Stewarts' website at http://killeen.windowgenie.com/
Window Genie has had a busy fall season opening 8 new franchise locations since August! Husband/wife duo, Eric & Nydia officially open for business today (November 17th) in Killeen Texas… that makes 19 new WG franchises in 2014… and we aren't done!