Leadership
,
Franchising 101
Something to Call Your Own: Franchise Ownership vs Self Employment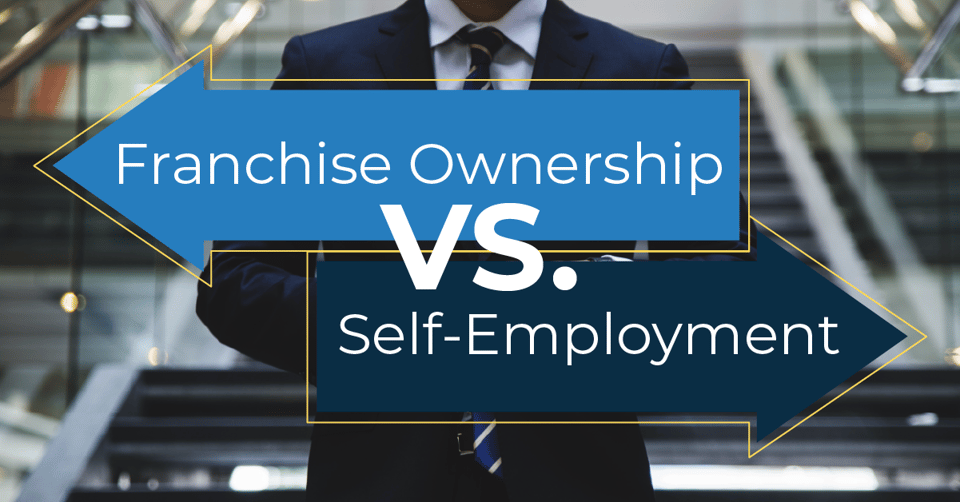 Launching a business can be one of the most exciting times in a person's career. The thrill of steering your own ship, growing a team and stretching new ideas to see where they land are the stuff of dreams. In fact, entrepreneurship is the goal of so many that May has been designated as Small Business Month.
For entrepreneurs, the most common paths to business autonomy are franchise ownership and self-employment. The question is: which one is the best?
The Profile of an Entrepreneur
When deciding whether to launch an independent business or a franchise, consider the basics you'll need to get started: experience in sales, operations and marketing; a business plan; creditworthiness and financial stability; and the ability to identify and recruit talent. You've also got to be goal-focused and have the personality, constitution and work ethic to handle the job.
And if you're considering franchise ownership, ask yourself: Am I willing to apply and follow systems and processes? Do I want to work with an established brand, and learn from those who've done it before? Will I be open to hearing about proven ideas and best practices? If you've answered yes to all of the above, then you've got many of the qualities we look for in our franchise owners.
Finding Your Way with Franchise Ownership
So back to my question about which path is best — self-employment or franchise ownership. Because it's a personal choice, I can't say what will work best for you. But I will say that the benefits of franchising are tremendous. Ask your friends and colleagues to name a Neighborly brand and chances are they know at least one. This means Neighborly has deep awareness in the marketplace. And that plays to the benefit of our franchise owners.
Each franchise owner runs his or her business autonomously — but not blindly. Neighborly has proven systems and processes to guide operations, and we assign dedicated teams to each business to ensure marketing support. We offer coaching and mentoring across all business stages, and we pass along our purchasing power to each franchise owner so they can drive down costs for supplies, equipment, and more.
The Challenges of Franchise Ownership
But to be fair, I must mention that franchise ownership isn't without its challenges. It can take time and effort to find the right franchise brand that fits the entrepreneur's goals and objectives. And while the proven processes and systems are designed to help, they do come with a set of standards and requirements that franchisors must follow. This can mean less overall flexibility in the business, but if you're willing to work within guardrails, then the support will be more important than the limitations.
On the other hand, those who are self-employed may not have anyone to answer to, but they have their own difficulties to overcome. Competing with national brands that have an established image and a strong customer base can be tricky. Starting a business also means trying to construct a profitable business model while also deploying the right marketing, operations and technology resources. These resources are often expensive and time-consuming. And what about support? Finding a network of coaches and mentors who will provide valuable insights can be hard to come by — if not impossible.
Calling Aspiring Entrepreneurs
For anyone considering business ownership in the professional home services industry, take a moment to give Neighborly your consideration. Our company has more than 40 years of franchising expertise across multiple brands. We have a proven business system, marketing leadership, operations expertise, and a strong and growing customer base.
Working with us means you're the boss, but with access to our customer base to help with local acquisitions. And we provide you with the tools you need to recruit and retain talented team members.
Regardless of which ownership model you choose, you'll need to remember that ultimately, you're the business owner. Payroll, operations, and profitability are all your responsibility. But the joy and satisfaction that comes with successfully doing your own thing is hard to beat. So which option is more advantageous? I think our 29 brands and 5,000 business owners will tell you that, for entrepreneurs who want something to call their own, launching a franchise business can be the very best answer.
Explore franchise ownership with Neighborly today or contact us to receive more information.
Written By Brian Woods, Group VP, Franchise Development, Neighborly on LinkedIn