Leadership
,
Franchising 101
Spring Into the New Season with the Hub for Home Services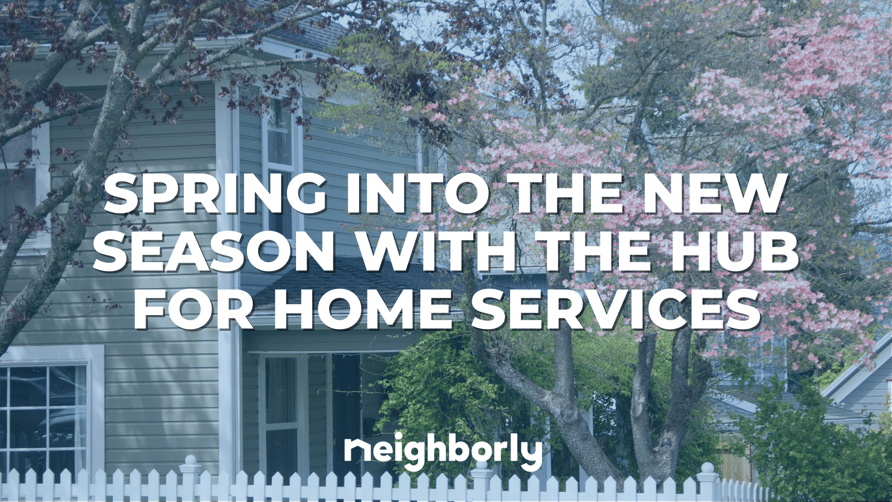 Spring is known as a time of growth and fresh starts. With spring cleaning, the upcoming moving season, and warmer weather, the home services industry is gearing up for one of the busiest times of the year. And with that comes increased opportunities for starting a successful business in home services, particularly with a franchise to kickstart growth.
Homeowners look for trusted professionals to help them tackle their home repair, maintenance and enhancement projects. As the hub for home services, Neighborly is a one-stop-shop for homeowners eager to take care of their home needs this spring. As such, our network of over 5,000 franchises is only continuing to grow. With the renewed energy the spring season brings, now is a prime time to get started on your franchising journey in home services. Here's why…
Homeowners Hop Into Spring Projects
In the spring, people begin to spend more time outside of the home, enjoying all the season has to offer. At the same time, homeowners' spring cleaning checklist grows, leading many to look for help with their home to-do list. Therefore, more consumers tend to outsource their repair projects in the spring, with a 2022 survey from LendingTree finding that 48% of respondents planned to renovate or upgrade their home in spring or summer, and an additional 34% considered it. Usually, the projects done during this season are also much larger, which results in larger spending as well.
Common spring projects include…
As homeowners look to Neighborly's more than 30 trusted brands for these needs, more opportunities present themselves for entrepreneurs to own a franchise and help homeowners in their communities maximize all this season has to offer. At Neighborly, having the ability to cross-market to the customers of all of our brands in your local community also positions franchise owners for success, making it easier for consumers to work with one overall company for all of their home services needs.
Help Your Business Bloom
While repair projects increase in frequency this time of year, home services is a booming industry all year round. We continue to see approximately two-thirds of all homeowners outsourcing at least one project a year. Additionally, as inflation remains high and we face a potential recession, many homeowners are choosing to stay in their current homes, opting to repair what they already own as opposed to buying new ones. This creates opportunities for home service brands to help them repair, maintain and enhance their beloved homes. Overall, the home services industry is highly resilient and continues to experience a multitude of upward momentum.
As the largest franchisor of home services bringing over 40 years of home services expertise, Neighborly is truly a leader within our industry. Our premium experience and services provided result in customers returning to our brands for their home service needs each season. As we enter the busiest seasons for our industry, now is the time to get started with a Neighborly franchise and set your business up for success in springtime and beyond.
Written By Brian Woods, Group VP, Franchise Development, Neighborly on LinkedIn