Starting a Business? Here Are 10 Small Business Mistakes to Avoid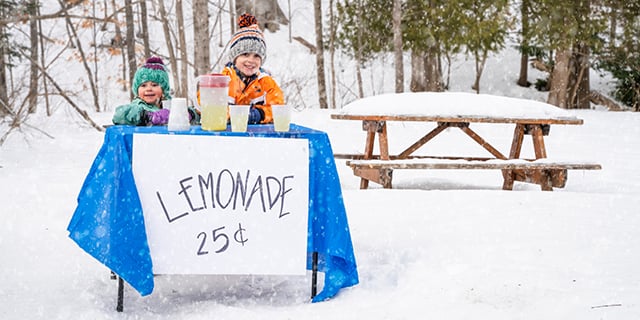 Starting a business can be both exhilarating and overwhelming. New business owners often want to dive right in, expecting that everything will flow smoothly once they actually open their doors for business. Unfortunately, this nonchalant approach is likely to create more headaches in the long run, and it may even capsize your dream before you make it out of the harbor. There are several small business mistakes to avoid. Addressing these common bad business practices can help your business skirt – or at least sail through – any rough waters you may encounter.
Lack of comprehensive planning: This is perhaps the biggest of all small business mistakes to avoid. Shrewd entrepreneurs develop comprehensive business plans before starting a new business. (Note: Jotting down a few notes on a napkin at lunch doesn't count!) At minimum, written plans should include a description of the business, its mission statement and/or goals, a market analysis, marketing strategy, and financial data – including projected costs and revenue, funding plans and a disaster recovery plan. (For more help, check out these tips from the Small Business Administration.)
Not having written policies in place before operating the business: It is essential to have clear policies and procedures in place before you hire employees or accept clients. For clients, your documentation should explain service limitations, fees, and payment terms. For employees, you'll need a handbook that covers basic expectations regarding dress, conduct on the job, sick policies, etc. Be sure to consult with a lawyer to make sure you address all legal risks.
Failure to develop a strong marketing strategy: Another bad business practice is misusing marketing resources on too much "generalized" marketing. Instead of increasing spend and casting a wide net, try to identify your target audience and build your contact list from there. Instead of using straightforward messaging, try to differentiate yourself from competitors. And remember: Everyone is not a potential customer. Consider various demographic categories to focus your marketing: age, income, housing, etc. For example, a glass repair business should target home and business owners rather than renters; a home cleaning service will reach more prospective clients by marketing to upper-middle-class households. Use this information to decide which marketing channels and tactics to focus on most.
Inadequate preparation for setbacks and failures: This can turn a thriving business into a struggling one. No business is immune from an occasional disaster. Anticipating setbacks and creating back-up plans before you find yourself in crisis mode may help keep you afloat during difficult times. For instance, what will you do if your business reputation is tarnished due to a negligent employee's actions? What if you suddenly need to replace a vital piece of equipment you can't afford? Do you have an IT disaster recovery policy? If you have already considered these scenarios, you will be better equipped to overcome them.
Failure to appropriately staff the business: Hiring more people than you need, hiring the wrong person or waiting too long to add staff are other small business mistakes to avoid. Labor, although costly, is an essential investment in the future of your business, but it takes time to determine an ideal number of employees and find the best people to fill positions. Use your business plan's financial projections to help determine staffing needs. Start small, but don't wait until you (or your existing staff) are pulling hair out due to work overload, because this can lead to rash hiring decisions. Regarding choosing the right people, most business experts recommend looking beyond technical skills, education and experience. The best candidates may not be those with the most experience but rather those with a positive attitude and integrity.
Offering too few services and/or failing to consider seasonal ebbs and flows: Most businesses will have peak times and slow times over the course of the year. Offering a number of services that tend to peak at different times of the year will maintain a more consistent revenue stream. Use your market analysis research to help you see seasonal trends and plan accordingly.
Failing to develop a budget: Another small business mistake to avoid is ignoring your budget. Ideally, your business plan with include a preliminary budget. Monitor your monthly spending closely, and adjust your budget to cash flow. Businesses that do not follow a budget risk overspending and/or damaging their credit rating if they find themselves unable to pay bills on time.
Ignoring technological security risks: Most businesses use digital resources and computer software in their day-to-day operations. It is critical to keep IT security current. For example, firewall and virus protection must be updated regularly, as should any other program you use. This will help keep private data protected and prevent unauthorized access to your system. It's also important to back up files using trusted cloud-based resources to ensure that data is not lost if a system crashes.
Failing to prioritize a strong digital presence: Having a strong online presence is essential for building brand awareness and driving sales. According to Google, "76% of people who search for something nearby on their smartphone visit a related business within a day, and 28% of those searches result in a purchase." If you don't show up in search results because you haven't invested in digital marketing or a mobile-responsive website, you won't hear from those people. In addition, 96 percent of small businesses have a social media presence (Social Media Examiner). Digital marketing in multiple channels is a smart, essential investment.
Trying to do everything yourself: Yes, trying to go it alone could be considered a bad business practice, as there are many helpful resources available. Don't be afraid to outsource some tasks – bookkeeping, IT or marketing, for example. If you want to cut out the many unknowns and focus on what you do best, consider franchise ownership. The right franchise organization knows your industry inside and out and can provide you with invaluable support and guidance on your new path.
Start a Business with a Trusted and Well-Established Franchise
Neighborly (formerly Dwyer Group) offers an entire family of home services franchise opportunities. For more than 30 years, we have helped thousands of people discover the joy and freedom of franchise business ownership.
If you're interested in a home service business, you have 12 different Neighborly brands to choose from in locations throughout the nation, all with access to ongoing support and benefits. In fact, this support covers each of the small business mistakes to avoid listed in this post – and beyond!
Proven business models, plus coaching from home services industry experts
Contract and documentation support from the very beginning
Marketing strategy and assistance, including access to branded materials
Reputation management bolstered by built-in, national brand recognition
Hiring support and employee training
A dedicated franchise consultant to help you through the ups and downs
Exclusive vendor discounts for franchisees
Technology support, including access to proprietary software
A user-friendly website and digital marketing support
A family of Neighborly franchisees to share cross-promotions with
Plus:
Networking opportunities at regional training workshops and national conferences
Special discounts and programs for military veterans and community service personnel
And more
Visit Neighborly online today to discover franchising opportunities near you, or connect with one of our franchise developers at 888-387-8018!