Starting A Painting Business: Beginner's Guide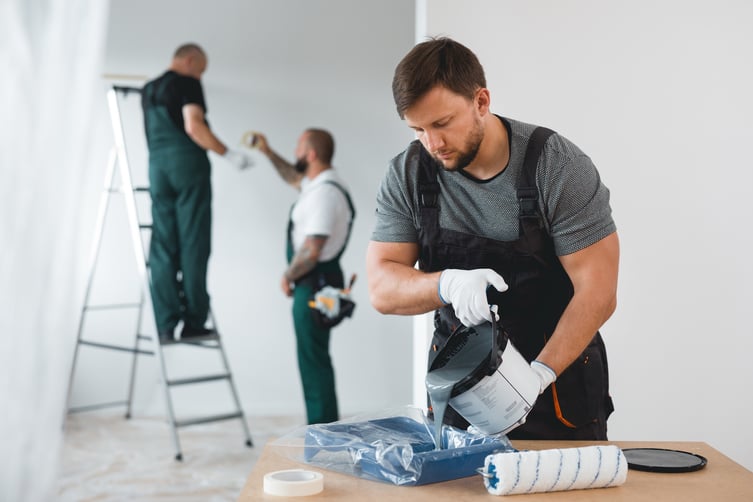 Whether you enjoy working on painting projects or are looking to start a small business that is scalable, starting a residential painting business can be a great endeavor/venture. Painting businesses are in high demand, and there are many ways to get started in this industry. One approach that isn't always thought of is franchising with an existing company specializing in the industry. Explore the benefits of starting a painting business and how buying into a painting franchise can help overcome many of the challenges most new small businesses face.
Advantages of Starting a Painting Business
If you've been wondering whether starting a painting business is a good idea, you probably already know that there are some great reasons to go for it! Some of the key benefits of starting a painting business include:
Low Startup Costs
One of the top advantages of the home painting industry is that it is very affordable to get started. In fact, the start-up costs for residential painters are very low, making it accessible to anyone wanting to start a business on a modest budget. Generally speaking, the home painting industry in the US is labor intensive, meaning such businesses are more reliant on labor than on capital. That means that to get started, you won't need to buy expensive machinery or equipment, or rent a storefront, either.
Instead, you just need a few basic supplies including paint rollers, brushes, and sprayers. Additional equipment most painters need includes:
Paint tray
Drop cloths
Sandpaper
Painter's tape
Scrapers
Ladder
Caulking gun
On average, these supplies can cost anywhere from $2,400 - $11,550 depending on how much money you want to spend. It is possible to save money by renting tools and paint sprayers, as well as partnering with local paint or hardware stores to receive bulk discounts.
With low startup costs, a painting business can be more easily scaled in a shorter amount of time.
Large Market Size
Another reason why starting a painting business is a good idea is the large market size. Painting services are in demand and surprisingly diverse. Depending on the services you want to offer, you could make your business as generalized or as niche as you want. In fact, there are many different types of painting services available to choose from depending on your target clients and the demand in your area.
For example:
Interior painting
Exterior painting
Construction painting
Repaints
Staining
Drywall repairs
Wallpaper removal
Metal door painting
Your painting business could include a custom set of these services or focus on just one. The key point here is that the painting services you offer should depend on what you want to do, what you're good at, and what your potential clients need.
Benefits of Franchising a Painting Business
While all new businesses face challenges, some of the more common ones might be avoided by buying into an established painting business franchise rather than starting your own business from scratch. In fact, if you have hesitated to start your own company but want to be your own boss, buying a painting franchise might be the solution you've been looking for. There are several key reasons for this:
Franchising has a higher success rate than start-ups. When you buy into a franchise, you are joining and becoming part of an already established brand. This gives your business an automatic leg-up in terms of name recognition and customer base. People are more likely to trust and do business with a company they have heard of before.
Franchising comes with successful business models, training, and brand awareness in place. When you become a franchisee, the franchisor will provide you with all the information and resources you need to get your business up and running - quickly and successfully. This includes a detailed business model, access to their marketing campaigns and materials, as well as extensive training on how to run every aspect of your new business.
Hands-on training will improve your business. Access to hands-on training is essential if you wish to start a painting business with little to no experience. You don't need professional experience to own a painting business, you can hire the team that handles the painting while you build and grow your business and with Neighborly, you'll have the help to find those subcontractors. Neighborly also offers a streamlined training process with classroom-style and hands-on business training, powerful back-office technology to simplify your day-to-day duties, continuous hands-on support and more.
A respected brand name and professional marketing assistance can help you stand out. Because the home painting industry is very competitive, the marketing assistance that franchising offers is valuable. An established brand name will help you attract customers in your local market, while the franchise's marketing team can help you develop and execute promotional campaigns.
Franchising gives you a network of like-minded franchisees willing to share ideas and collaborate. When starting your own business, you are out on your own, with a franchise, you have a community of other business owners in the same boat available to give advice and insight you wouldn't normally have.
Five Star Painting is one of the top painting business franchises in the nation. In fact, Five Star Painting franchisees enjoy the best of both worlds: the independence of owning their own community-based small business, along with the support and expertise of a large North American company that has been in operation for more than twelve years. As part of Neighborly's community of home service experts, Five Star Painting provides benefits that independent startups just can't match:
Cutting-edge marketing strategies, including digital advertising, a website, and marketing professionals to help your business be highly visible year-round.
Cross-promotional advertising and business leads through Neighborly's expansive network of home service businesses.
Comprehensive Sure Start training. A dedicated franchise business coach will walk you through all aspects of owning a painting business.
License to use established trademarks and recognizable brand materials/logo to set your business apart from local competitors.
Ongoing coaching, training, and support for the life of the franchise agreement, including networking opportunities, preferred vendor discounts, and more!
While owning any small business will come with both pros and cons, by starting a franchise painting business you can benefit from the support of an established brand, access to training, and marketing resources that other start-ups simply don't have.
If you're thinking about starting a painting business, a franchise is worth considering! To learn more about owning a Five Star Painting franchise, download our franchise guide today!