Starting a Property Management Business - Part 2: What is Franchising? Let's Look at an Example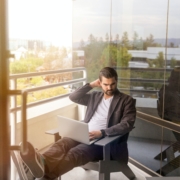 One of the best ways to understand how franchising works is by looking at an example. A lot of the information available about franchising is very general, in part because each franchise opportunity is different. Still, there are a few basic similarities that are common to the new franchisee experience. By using one particular franchise opportunity as an example, you can get a better sense of what to expect as a new franchise business owner.
According to the Federal Trade Commission (FTC), owning a franchise is similar to owning any other small business, except that the fees you pay to the franchisor give you a range of extra assets and benefits. For example, franchisees are typically trained on a specific business model and operational system, are given the right to use the franchisor's brand, and have access to some degree of ongoing support. In exchange, you agree to use the franchisor's systems and procedures to create a franchise business that is operationally similar to other offices in the franchise. This kind of uniformity can help bring in clients who are already familiar with the brand, as well as guarantee high-quality services.
To use one well-known example, consider how franchising works for a new Real Property Management franchisee. After doing a bit of research, you discover that property management is a growing industry with strong demand. You then hear about Real Property Management, a national property management franchise with great customer reviews and a growing presence in cities from coast to coast. After contacting a Franchise Consultant, both you and the company will gather information and try to determine whether you are a good fit for each other.
If you like what you see, and get a positive response from your Consultant, you would then need to go through the financing and contract stage. All reputable franchises require new owners to pay an initial franchise fee, and there are other business expenses that you will need to have enough funds to cover. For example, in the property management business you'll need an office,, marketing and advertising materials, business insurance and software, as a few examples.
Once you sign the contract and pay your fee, you will then have access to all of the benefits that come with owning a franchise business. Real Property Management franchisees begin with an intensive, multi-day training course that prepares them for starting and running a successful property management business. You will meet industry experts, other franchise owners, and others in the organization, all of whom can provide advice and guidance every step of the way. While the startup period is challenging for any new business owner, as a franchisee you can lean on the experience and expertise of others who have used the same proven business model to grow a successful business.
Armed with comprehensive training and corporate support, you will then be ready to set up your own Real Property Management office. As far as build-outs go, a property management office is a relatively simple affair: some office furniture, computer equipment, and other necessities are really all you need. Before long, you'll be ready to open your doors and sign your very first client. And then the real work begins. Growing a successful property management business takes a lot of hard work and dedication, but when you choose a Real Property Management franchise, you can be confident knowing that all that time and effort will pay off down the road.
Whether you are a new entrepreneur or an experienced business owner, Real Property Management is an excellent franchise opportunity that might be the perfect way to help you build toward the future of your dreams. For more information on what Real Property Management has to offer, visit our Tools for Success page.