The Worthington Word: Proactive vs. Reactive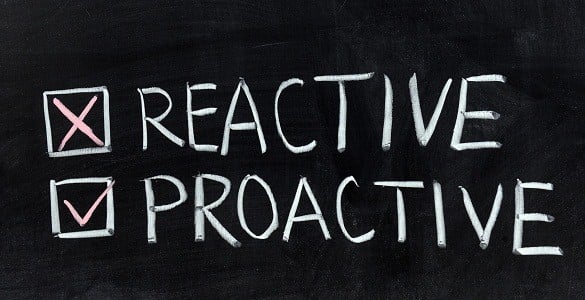 Be PROACTIVE.
This is opposite of being REACTIVE. Proactive people take responsibility for their lives. They don't sit around reacting to things they have no control over. Things like the national debt, economy and foreign relations are things that we have little control over, yet sometimes we let these things direct our emotions and energy. Others are reactive even to the things they do have control over. They react negatively to their job, their boss, their spouse or children. Everything is just a reaction to what is going on around them. I call these people thermometer people. They reflect the climate around them.
When you're living your life that way, you're living out of control.
Proactive people are those who take responsibility for their lives. They chart their course and plan ahead. They are thermostats. They don't simply reflect and react what going on around them, they change what's going on around them.
They determine their course and the climate of their lives.
So, what's it going to be? Are you going to be a thermometer or a thermostat? Are you going to be proactive and chart your course? Or, are you going to just let life happen to you?
The clock is ticking!
Joel Worthington is the President of Mr. Electric. He reads and writes material on all things regarding Leadership, Sales and Customer Service. Mr. Electric is part of the Dwyer Group family of brands.