Leadership
Tricks or Treats: Debunking Common Franchising Myths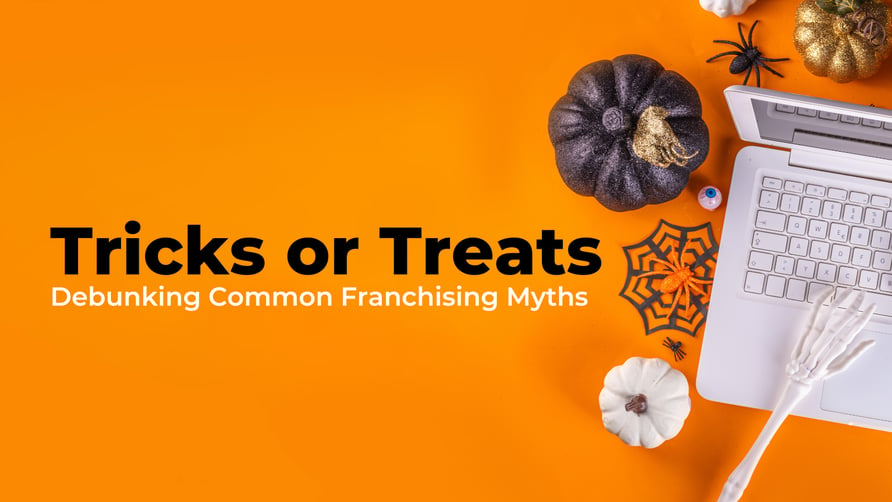 Halloween makes for the perfect holiday for spooky stories and urban legends. But what's even scarier than ghosts and goblins? For many, it's the bone-chilling fear of starting a business, particularly in the world of franchising.
However, these apprehensions are often fueled by commonly held myths about franchising, which might be preventing you from exploring a potentially rewarding career change. So let's dispel these misconceptions and highlight the numerous benefits of franchising, with Neighborly's proven system as your guiding beacon.
Myth 1: Franchising opportunities are only available in the food industry.
One of the most common myths surrounding franchising is the belief that it's exclusively linked to the food industry. While fast-food chains may come to mind first, there are franchise concepts in nearly every industry imaginable, spanning a diverse array of sectors.
For instance, Neighborly is a major player in the home services sector, holding the title for the largest home services company in the world. With a vast portfolio of over 30 brands and more than 19 service verticals, we offer a diverse range of franchise opportunities within the same field. Furthermore, based on the 2023 Franchise Economic Outlook, the total money made by franchised businesses is expected to go up by 4.2% in 2023, reaching $860.1 billion, compared to $825.4 billion in 2022. This remarkable growth underscores Neighborly's position as a leader in delivering essential solutions to homeowners worldwide.
This industry's diversity and continuous expansion are a testament to the adaptability and versatility of the franchise model. Franchising allows individuals to explore their entrepreneurial spirit in various sectors, catering to a wide range of interest and skills sets. It's a model that empowers potential owners to leverage their passions, expertise, and aspirations in the industry of their choice.
Myth 2: Franchising is not affordable
Another misconception is that franchising is an expensive venture, reserved only for those with deep pockets. In reality, financing options are available to make franchise ownership accessible.
Franchising opportunities often come with a range of financial packages to accommodate diverse investment capacities. These can include low-cost entry options, financing plans, or even partnerships with investors. This flexibility allows aspiring entrepreneurs to find a franchise opportunity that aligns with their financial means and goals.
Business owners can also decide to franchise through various means, including 401k rollovers, personal savings, Small Business Administration (SBA) loans, and Home Equity Lines of Credit (HELOCs). These options empower individuals to enter the franchise industry without breaking the bank.
Myth 3: The risk is the same for a franchise business vs. an independently owned business
Data from the International Franchise Association (IFA) 2021 Franchising Economic Outlook Report demonstrates the industry's remarkable resilience and massive growth. Private equity and institutional owner groups are diversifying their investments by becoming operating partners of franchises. This growth underscores the viability and success of franchise businesses.
Contrary to a common misconception that the risk in franchise businesses is on par with that of independently owned enterprises, statistics reveal a stark contrast in success rates. In truth, statistics reveal a stark contrast between success rates. After five years post-opening, approximately 50% of independently owned businesses are still in operation, a figure that pales in comparison to successful franchise businesses. An impressive 85% of franchises continue to thrive after the same time frame. These statistics emphasize that franchising is a lower-risk path to long-term entrepreneurial success, appealing to those seeking business stability.
It's crucial for potential business owners to recognize that while the perception of risk may deter some from entering the world of franchising, the reality is that franchises often provide a more secure path to entrepreneurship.
All Treats, No Tricks
For individuals still hesitant about taking the leap into franchise ownership, remember to trust in yourself and your capabilities. Believe that you can achieve financial independence, create a lasting legacy for your family, and have a meaningful impact on your community. Additionally, don't be afraid to seek guidance from existing franchising owners who were once in your shoes. Learn from their experiences and gain insights into how they overcame their doubts to become successful business owners.
Remember that considering a career change or entering the franchise industry for the first time doesn't have to be scary. Neighborly offers valuable resources to make the transition as smooth as possible. One notable resource is franchise business coaches to guide newcomers through the process. Additionally, those curious about the industry of franchising can check out our Franchise Readiness Webinar series for more information on everything from franchise best practices to financing your business.
The myths surrounding franchising often dissuade potential entrepreneurs from exploring the remarkable opportunities it offers. Fortunately, Neighborly's proven system, complemented by compelling statistics and a vast array of invaluable resources, has the power to dispel these myths and enable individuals to turn their dreams of becoming successful business owners into reality. Taking the leap into business ownership can be frightening, but don't let the tricks of franchising scare you away from experiencing the treats of owning your own business.
Written By Brian Woods, Group VP, Franchise Development, Neighborly on LinkedIn