Valentine's Day Edition: Celebrating Love and Success in Business with Mr. Electric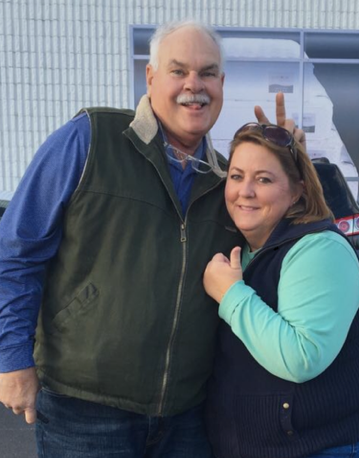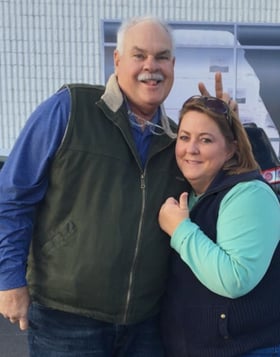 Valentine's Day is just around the corner, and we're celebrating all kinds of love! This special day is all about celebrating the meaningful people and relationships in our lives – but we feel it shouldn't stop there. One of the most fulfilling and satisfying achievements is to truly love your job, and we know that's a feeling worth celebrating. That's why we've interviewed the perfect couple: Jule and Dana Philpot, Mr. Electric of Central Kentucky.
Not only are Jule and Dana celebrating a loving marriage of over 25 years, but they're also celebrating their love for their small business. In 2004, Jule and Dana made the thrilling plunge into business ownership and purchased their very own Mr. Electric franchise. Let's hear their story of love, teamwork, and success:
A Lifelong Commitment – to Each Other and Their Business
Jule and Dana got married in December of 1989. 15 years later, they made a big step in both their
careers. "We purchased our franchise in June of 2004," Dana explained, "and recently renewed our contract for 10 more years." The couple also has a wonderful family. "We have two children, Hanna Jule Hager, recently married and a school teacher, and Chase Parker, a freshman at Eastern Kentucky University – and future firefighter. We have a dog Christopher who comes to work each day with us, as well as two house cats, Gracie Ann and Zoe."
The Couples' Diverse Skills Make the Business Work
Jule has spent his entire career, not only as an electrician, but in various leadership roles while within the electrical contracting industry. Before beginning a business of his own, Jule served as Crew Leader, General Foreman, and Aerial Foreman on many projects—sometimes managing as many as 50 people—for large contractors in and around Kentucky. He wore many hats, and still recognizes that no matter how large the size of the project, it is managing the people that is as important as the work they do.
"Just like when I was a foreman, Dana and I now manage the people in our Mr. Electric family. They do well for themselves and us, and we like making sure our little family, as well as our Mr. Electric family, are all taken care of."
Dana's experience ranges from working in Fortune 500 companies all the way to the medical field, alongside working hard to raise her kids. "I was a Staff Assistant VII for multiple surgeons, staffers, and Shriners Hospital for Children." Dana is no stranger to hard work – from 1996 to 2002, she recalled, "I decided to stay home and do medical transcription, as Hanna was turning five, and I was pregnant with Chase. I ended up doing this at home for six years until Chase started all day school… So I had two full-time jobs then!"
Getting Into Business
When the couple decided to go into business, they chose a Mr. Electric franchise. "Jule kinda tricked me into going to Waco for a 'fun weekend' at The Dwyer Group," Dana laughed. But when they did make the decision to become franchisees, they made it together. "We are glad we made the first step in becoming a Mr. Electric. We are the first original 'Kentucky' Mr. Electric!"
Right away, Jule and Dana discovered that their unique skills were put to work at their new business in very different ways. The couple elaborated on their day-to-day obligations: "Jule oversees the technicians, meetings, training, and ordering/stocking vans and warehouses. Dana runs the office and oversees the CSR, technicians' jobs, invoices, record keeping and accounting aspects, and answering phones."
When asked if they do any work together, they replied, "We have our Monday morning meetings together, but that's about all of the 'overlapping' we do. When asked if they ever get sick of each other, Dana playfully added, "I think my answer to this is YES! He would say no, though."
Work-Life Balance and Marriage
It's important for many people to generate a good work-life balance, and even more so for couples in business together. "We try super hard not to take work home," they note, "unless we are super busy throughout the day, we may take a little something home to work on." Jule and Dana made it a point to keep work at work, so that time at home could be spent with the family. "We never discuss work at home… we made that promise (mainly for the children's sake) when we purchased our company. We try very hard not to even discuss work on weekends."
Thanks to their dedication to a balanced lifestyle, the Philpots enjoy their time off to the fullest. "We spend a lot of our time relaxing and try to spend time with our children, neighbors, and friends. We make it a point to stay active! We love to walk our dog, Chris, after we leave the office and enjoy visiting with neighbors. In the summer we have a pontoon on a lake not too far away from our home and love to just drive, ride, and listen to music."
While their Mr. Electric business integrates them into their community in many ways, Dana and Jule also go the extra mile for their neighborhood. "Jule and I are active in several volunteer activities in the community," said Dana, "We serve with fundraising efforts with our local Beef Cattle Association in the summer, pack backpacks for needy children every Thursday evening through our church, and also serve during church worship on Sunday morning."
The Love of the Business
When asked what they love about owning a Mr. Electric franchise, the couple replied, "We enjoy the freedom we have to do what we need to do to be successful. We enjoy the challenges that come our way, and we really enjoy the people we work with. We are happy we get to work with each other and have our own 'place' within the business."
Aside from their own unique skillsets, they also acknowledge those of their employees, and the differences they can make in their lives. "We love our company, our jobs, and our technicians and CSR. They make our lives less stressed, and we truly do love our work family."
"It's great to be able to leave each day knowing we contribute to the income and success of our employees and their families," added Dana. "We only wish we'd had the opportunity to start sooner, or to have worked for a company like we have when Jule was a struggling electrician."
And for Valentine's Day?
"We normally celebrate by eating local from a business we haven't tried," said the Philpots, "we may try to go to a movie as well." The couple joked, "We've been married too long to have those 'romantic dates,'" but they still dropped a couple of hints for special V-Day treats. "My favorite candy has to be a Reese's Cup," Dana offered, "Jule's is Hershey's Chocolate Bar with Almonds!"
With their commitment to their marriage and family going strong, Dana and Jule have a lot to celebrate this Valentine's Day. What's more, with a 10-year contract renewal for their Mr. Electric franchise, these lovebirds are thrilled to continue their own long-term relationship with their amazing small business. Mr. Electric has brought not only fulfillment, stability, and growth to the Philpot family, but also to the families of all their employees and technicians. With their combined skills and experience, both Dana and Jule make the success of their business possible. This truly is a story of love and teamwork.
One of the reasons we love stories like these (besides the fact that they put a smile on your face!) is because they show how franchise opportunities like Mr. Electric can change lives. So many industry experts and business professionals have turned their entire lives around – and the lives of those living in their communities – thanks to the unique advantages of owning a business franchise.