Valentine's Day Edition: Married Couple Loves their Grounds Guy Business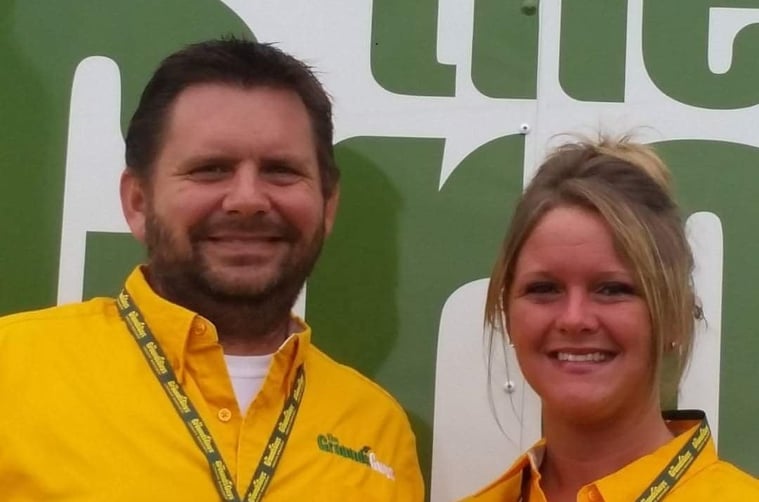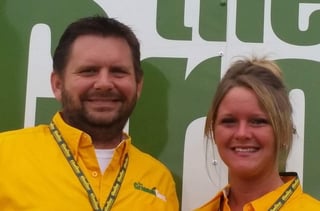 Love is in the air this Valentine's Day – and it's not just the love between people we're celebrating. Today, we're taking a closer look at some of our amazing franchisees, and Jessie and Matt Hollerman are about as in love with their Ground Guys franchise as they are with each other. We interviewed the Hollermans to find out what makes their relationship – and their business – keep going strong.
The Marriage and the Business Grew -- Together
The Hollermans have enjoyed a business relationship and a married relationship right alongside one another. "We have been married for 14 years; we have been in business for 10 years now."
The Dothan, AL couple fondly recalled their daring (and sometimes improvised) entrance into their business world. "In November of 2006, my husband Matt went to our local maintenance equipment dealer with a friend of ours," Jessie explained. "While waiting on the part at the counter, Matt (who was only 21 years old at the time) had a bright idea to see if he could be approved for a $14,000.00 lawn care equipment package, which included a 60" ZTR mower, weed eater, edger, blower and a 6x12 open trailer with weed eater racks and all commercial grade. Keep in mind at this time he and I had never even mentioned cutting grass for a living. We didn't even have grass of our own. We were living in apartments!"
Sure enough, Matt was approved for the loan and the equipment, but then the couple faced another
problem. "At the time our vehicle was a 2003, two-door Mitsubishi Eclipse!" Jessie laughed. "We had no way to go and pick up our new commercial Lawn Care setup!"
That's when a little support from family came in.
Jessie's mother agreed to pick up the equipment in her truck and take it to her house – the next step was discovering what all the equipment actually did. "Matt had no idea what a commercial ZTR even was until the day he signed his name to one!" Jessie added. But the couple wasn't without any experience, and they had a little help from Jessie's mother. "I was familiar with those mowers due to my family having some then, and while growing up," said Jessie, "Once we got back to my Momma's, my Mom taught Matt all the basics about the mower, and in about 15 mins he was mowing some grass. She then taught him the basics of backing, hooking up and pulling the trailer, and after a few tries himself, you would have mistaken him for a professional LCO!"
The rest, they say, is history. "Eleven years later, we are now proud owners of a Grounds Guys franchise and are absolutely in love with this industry and everything that comes along with it!"
Making the Plunge into Business
Like many small business owners, the decision was nerve-wracking. "Matt was employed with the City of Dothan for seven years up until September 2016," Jessie recalled, explaining that the decision to "finally close the door of working for someone else" was one of the hardest decisions they have ever had to make. Jessie herself, however, took a little convincing. "I was very young, and a 'know it all,' and of course did not believe there was any significant money to be made – or any way possible to build an actual business cutting grass."
Despite her initial skepticism, it didn't take long for Jessie to see the potential for their new Ground Guys business. "Coming back from training in December 2014 you can bet I was 'fully involved' with the Grounds Guys business we had just brought back to our area."
Running the Business Together
"We both have specific roles," Jessie explained. "I do all the internal tasks that keep a business up and going as in invoicing, quoting, in-and-out calling, current customer contact, and I have been in the field trimming bushes, mowing grass, and anything else I am asked to do. I don't mind being wherever I am needed."
Meanwhile, Matt flourishes out in the field with the crew. "He has been out there every single day since leaving his job (with the exception of some well-deserved weekend downtime), making sure all of our existing clients receive the Grounds Guys touch and a great experience. Painting the town green and Yellow!"
Matt and Jessie's skills and work styles complement each other at their business. "We balance each other out. He is equipped with the skills that I lack and I am equipped with the skills he lacks."
Like with any relationship, there are some bumps in the road, but the couple has learned to take it all in stride. For Jessie, she says that her favorite part about working with Matt is "knowing that he is always there no matter how I let a bad situation affect my attitude." Being in business together gives the couple a connection of understanding for what each other is going through. "The great thing is he knows what I feel because we deal with the same issues, people, places, things," Jessie added, "so it is really easy to relate to each other."
When playfully asked if they ever get sick of one another, Jessie laughed, "get sick of one another!? Most definitely, and it is probably a good idea to NOT elaborate on this!"
The Business is Part of the Family
Aside from their work family, the Hollermans also have a bustling family at home. "We have two kids, our son Landon who is 10 years old, and our daughter McKenzie who is seven years old. We also have a dog we rescued five years ago, and her name is Sally. We have a cat (which is the love of my life), and her name is Martha. Oh, and we also have a goldfish that was won by our daughter playing a carnival game. The goldfish has been alive and well now for almost a year. Imagine that!"
For the Hollermans, their Ground Guys franchise is as much a part of their family as the rest of their household. "Our business is run from our home, that in itself makes it very hard to not think about work and what needs to be done."
Jessie's day-to-day schedule is far from leisurely. "I work on the business for at least eight hours a day while the kids are at school. Kids come home, and I take care of my motherly priorities, household duties, and wife responsibilities, and I take breaks by sitting at our desk for 20-30 minutes working on work related things. Then get back to the non-work related responsibilities, and I flip flop like that until about midnight and wind down for bed." Like for many small business owners, the company is fully incorporated into their lives.
While the constant presence of work might make some couples' heads spin, that's not the case for the Hollermans. "Really, we don't feel as if it's work. I would say our Grounds Guys business is part of our family," they explained. "We share a lot with our kids, so they are just as included as we are. We share when we are awarded new accounts… when we drive by one of our commercial accounts, we always point it out to them."
For the family, the business also is a teaching tool. "We have introduced [the kids] to the basics of finances and routinely touch on how to manage them. We include them on conversations when discussing famous self-made millionaires and the pros and cons with being a successful business owner… while assuring them the hard work pays off for a life of relaxation and enjoyment (before you are too old to enjoy your success). Sacrifice now to reap the rewards later is said a lot in our household. So yes, Grounds Guys is part of the family!"
For the Love of Family and the Business
"Joining the Grounds Guys has truly been a life changing experience for us and continues to be with each new day," they explained. Jessie, in particular, loves the connections they make with their customers. "I have built some solid relationships with our existing clients and I enjoy this the most," she said. "This will probably be the one role that I may never let go of. I want to make sure our clients never have to experience a promise I made that wasn't delivered, feel as if they are just another paying account, or that we do not have their best interest at heart."
For the upcoming holiday, the couple has business plans. "Valentine's Day we will be working quotes!" they exclaimed with a smile. There might be some hints of their favorite treats, though. "My favorite candy is Twizzlers," said Jessie, "and Matt's favorite is the classic gummy worms."
When asked their favorite part about owning their franchise, the couple offered an inspiring answer. "It's not so much 'owning' The Grounds Guys we love, as much as we love being a 'part' of the Grounds Guys! We have never encountered such an amazing group of people. We are highly grateful to be a part of such a big family."
Through hard work every day, the Hollermans are an incredible example of just how far love can take you – both in a marriage and in business. By taking risks, setting goals, and working hard every day, the couple has built an incredible foundation for their families through their amazing Ground Guys franchise.