Vehicle Wraps: The Key to Mobile Franchise Marketing

When it comes to marketing a franchise, vehicle wraps are a no-brainer. They're an affordable, effective, and mobile way to get your franchise out in the public arena. Not only does it strengthen your franchise, but it also strengthens the company brand as a whole.
At Dryer Vent Wizard, we provide our franchisees a vehicle-wrapped company van to get their franchise up and running with this powerful, built-in marketing tool.
Affordable Advertising at Every Turn
Vehicle wraps represent one of the most cost-effective ways to market your home services franchise. Even amidst the most expensive or cutting-edge marketing strategies, something as simple as a well-placed, large-scale graphic showcasing your brand can garner the most attention.
According to the Outdoor Advertising Association of America, vehicle wraps are the most affordable yet effective form of advertising. It's estimated that one vehicle wrap can generate anywhere from 30,000 to 70,000 daily impressions, depending on the vehicle and how far it's driven any given day.
One of the highest ROI forms of marketing, vehicle wraps come with a relatively small price tag – but can help you generate hundreds of thousands of impressions that can later turn into tangible leads.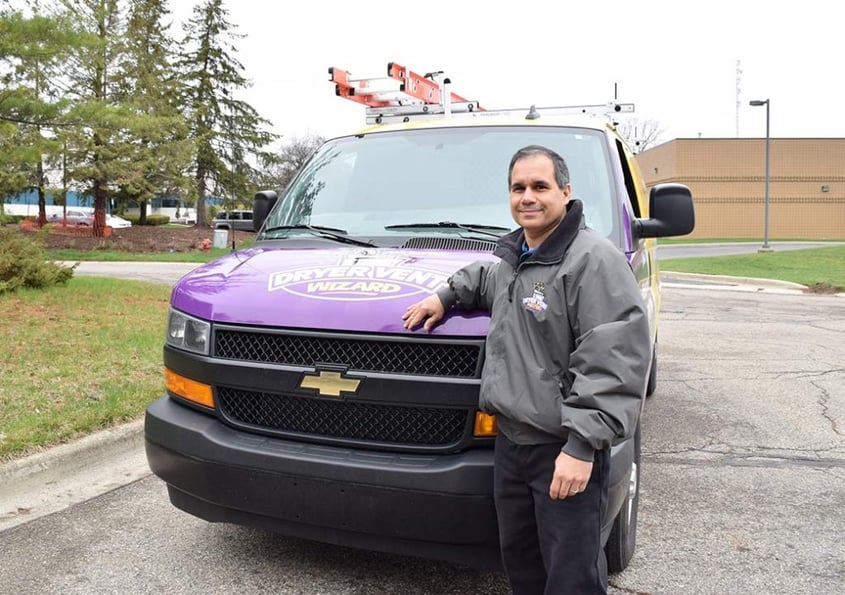 Driving Brand Awareness Every Time You Hit the Road
When it comes to franchises, bolstering the company brand and driving broader awareness is crucial. In fact, solid brand recognition and reputation can be some of the greatest strengths and draws of any franchise brand.
The key to strengthening a franchise brand is consistency. No matter the location or territory, customers expect the same high caliber of service across the brand. One of the most simple yet effective ways to ensure this consistency is by employing eye-catching, universal branding elements in franchise-wide marketing mediums, like vehicle wraps.
As your van travels around your town generating hundreds of thousands of impressions, it's also sending a message of professionalism, reliability, and expertise – both for your local business and the brand as a whole.
A well-executed vehicle wrap design with solid branding shows guests that you're aligned with a strong, professional brand across the country, and customers can expect to see the same high-quality service regardless of location.
Building Up Our Brand While Building Your Local Business
At Dryer Vent Wizard, we provide each franchisee with a professionally-designed, branded vehicle wrap in our initial investment fee.
With bright yellow and purple brand colors, our bold wrap design is made to grab the attention of passersby near and far. Our whimsical logo promotes our fun company culture, and with the local franchise's contact information displayed front-and-center, franchisees are able to convert mere impressions into qualified leads for their business.
With your own branded Dryer Vent Wizard vehicle, you're better able to drive tangible business to your local business every time you hit the road on your way to an appointment.