Professional Development
Want More Flexibility During the Winter Holidays? Consider Opening a Franchise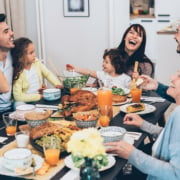 If you have both a family and a career, chances are that during past holiday seasons, your career has gotten in the way of spending time with your family. It's a common situation, especially if you're an employee without a lot of control over your own work hours or schedule. If you would rather be present with your family during the holidays and enjoy all of the moments that really matter, you should consider opening a property management franchise business. Franchise ownership can help you take back your time and be there more for your family. At the same time, owning a franchise can help instill key values and creating a legacy to pass down to future generations. With so many benefits, it's no surprise that property management is one of the best industries to start a business! Let's take a closer look at how becoming a property management franchise business owner can help you achieve the work/life balance you want this holiday season!
The Gift of Recurring Revenue
One of the most important benefits of a Real Property Management franchise business is the revenue model upon which it is built. Our property management franchise opportunities are based on a recurring revenue stream, which means that business income is not seasonal. Rather, businesses built on a recurring revenue model are remarkably stable, with reliable cash flows from month to month. Not only does this consistency result in a more predictable revenue stream, but it also helps ensure that you can take time for your family during the holidays without seeing revenues decline. Whether you're just learning how to start a business or have years of experience, a recurring revenue business model could be your key to greater flexibility and more time for your family.
Celebrate Resilience
Another important advantage of owning a business in the property management industry is resilience. And a resilient business is one that offers both time and flexibility to owners. During challenging economic times, many other kinds of small businesses often stop growing or, even worse, may fail altogether. But property management franchise businesses are uniquely suited to be in a good position to survive and even thrive, even during a recession. One reason for this is that demand for rental homes – and professional rental management – doesn't decline in an economic downturn. People will always need a place to live, and property owners will need help keeping their investment properties occupied. When your business is on firm footing, you can more easily arrange your schedule to ensure that your holiday season is spent creating memories with your loved ones.
Build a Legacy
A final benefit that comes with owning a Real Property Management franchise business is a chance to not just earn an income, but to build a legacy that will last. What greater gift can you give to your family than a successful business and the skills needed to keep it growing? By owning your own property management business, you can help teach your family important values like dedication and hard work. You can also build something that you can later pass on to future generations, when the time is right to do so. But perhaps even more importantly, you won't need to sacrifice your valuable family time in the short term to build a lasting legacy for them in the future. When you own a property management franchise that is part of Neighborly's family of brands, you can enjoy time with your family this holiday season and still enjoy all the benefits that growing a successful business will bring.