Welcome Jorge Rodriguez, Window Genie of Boca has Arrived!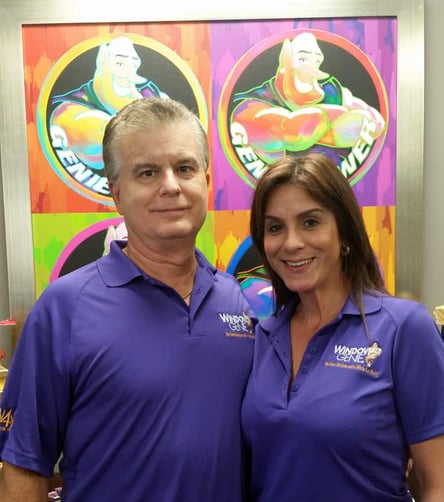 Window Genie is excited to welcome the first of many new owners for the new year. Jorge Rodriguez will open his Window Genie franchise on February 8th serving his hometown of Boca Raton, Delray Beach and the surrounding communities.
Before purchasing a Window Genie franchise, Rodriguez was unexpectedly let go from his job of over 10 years. He said, "For the last 10 years I was in senior management as an executive until one day I was called into a meeting and I was no longer with that company. It's something you read about in the news, but until it happens to you… it was a shocking experience that changed my life. I was determined to make sure that never happened again, there are just no guarantees when you work for someone else." To take control of his own success and transition from employee to boss/owner, Jorge engaged with Jose Torres of FranNet, a franchise consulting firm. Together they were able to determine which franchise opportunities best fit Rodriguez' goals, interests, strengths and weaknesses. Among his top choices was Window Genie.
"I went into this process without knowing what I wanted, but definitely knew what I didn't want," said Rodriguez. "I was sure I didn't want anything high tech where I'd always have to adapt and learn as technology advances. Also, I was looking for a franchise I could run from home without a retail space." Consistently ranked on Entrepreneur's list of top home-based and low-cost franchises, Window Genie fit the bill.
Another advantage Window Genie presented was Rodriguez' ability to serve his community. He said, "I've lived here over 30 years, I raised my children here, it's my comfort zone. Being able to offer my neighbors and the entire community a much needed service was ultimately why I chose Window Genie."
Opening just in time for spring cleaning, Rodriguez has his plate full, but is excited. "The timing couldn't be better for me. I'm not afraid of a challenge and I know the demand is there, it's just up to my team to deliver on expectations. We're excited to start earning customers and grow the business for years to come."
We're thrilled to have you on our team, Jorge. Here's to a great 2016!