Leadership
,
Franchising 101
Welcome to the Neighborhood: The Strength of Being Part of a Franchise and the Neighborly Network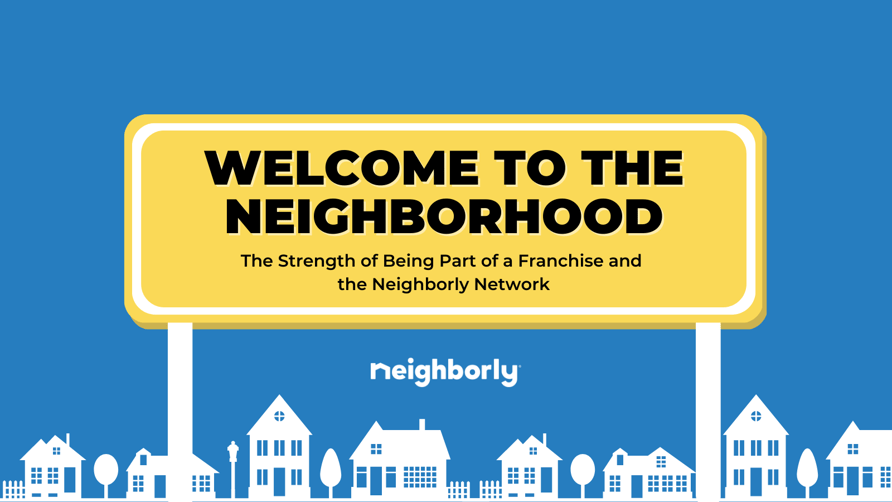 I became Chief Development Officer at Neighborly just a few short months before the pandemic, and as a potential recession now approaches on the heels of my third anniversary with Neighborly, I feel like I've seen it all. And with that, I have also seen firsthand the benefits of franchise ownership during turbulent times and how the Neighborly network makes a difference for our owners as they navigate running a business despite unforeseen challenges.
With a growing roster of 5,000+ franchises across more than 30 brands serving over 2 million homes in the U.S. each year, your hub for home services™ is accelerating like never before as more entrepreneurs see the strength of the franchise business model and the Neighborly network. But for those who still aren't convinced, let's take a deeper look at what sets franchising with Neighborly apart.
Going into Business for Yourself, But Not by Yourself
Being part of a franchise network provides business owners with access to resources, training and expertise to help them thrive in a competitive marketplace. I've covered a range of the benefits of franchising, from access to platforms to track key metrics, to discounts and resources offered for veterans, and most recently, the added benefits of owning a recession-resilient franchise in the current economy. I may sound like a broken record, but the benefits of franchising, particularly with Neighborly, truly cannot be overstated.
The systems in place with a franchise help owners kick start their businesses and help them get off on the right foot; we don't just sell you a franchise and then leave you to figure it out on your own. At the heart of franchising, it's about "going into business for yourself, but not by yourself." Our goal is to find highly qualified franchise business owners and help them to achieve their goals, from the moment they start their journey to the moment they decide to leave the business.
At Neighborly, we help our network grow during each stage of business ownership:
Before: Our robust franchising website covers everything from initial investment costs to training programs and ongoing support, making it easier than ever to learn about franchising with Neighborly and find available territories. We've also been hosting a webinar series – Franchise Readiness: The Go-Getter's Guide to Business Ownership – designed to help prospective owners learn the ins and outs of owning a franchise business.
During: Our dedicated Franchise Development and Operations team helps evaluate potential candidates and assists new owners with launching and growing their business, including deciding whether to buy an existing franchise through a resale or launch a new location. Once launched, Neighborly offers ongoing training, networking opportunities and resources to set business owners up for continued success.
After: We have a dedicated Resale Department with five full-time Resale Franchise Developers to help franchise owners looking to sell their business. The Resale Department provides education on succession planning, prepares sales-related information and negotiates rates, and pre-screens candidates to ensure owners leave their business in good hands.
Your hub for home services™
Franchising with Neighborly provides extensive benefits that I've only just begun to cover. One of the key strengths Neighborly offers as the world's largest home services franchisor is an unparalleled network. Neighborly not only provides homeowners with quality providers backed by the Done Right Promise across a range of service verticals, but it also gives our franchise owners the ability to cross-market between our more than 30 brands to extend their customer base and set their businesses up for long-term success. That's the benefit of being part of the Neighborly family.
We've made progress toward our goal of establishing a marketplace for home services this past year with three major acquisitions, and our growth shows no signs of slowing down. And with recognitions on Entrepreneur's Franchise 500® and Franchise Business Review's Franchisee Satisfaction Awards, we're proving that we're not only an invaluable resource for our customers, but for our franchise network as well.
Franchising is a proven system, and with the hub for home services, we're making it even better. The support we offer to owners sets the Neighborly network apart and positions them for success. If you're ready to join the neighborhood and kickstart your franchising journey, visit our website for more information on Neighborly's franchise opportunities.
Written By Brad Stevenson, Chief Development Officer, Neighborly