Leadership
What Veterans Mean to Neighborly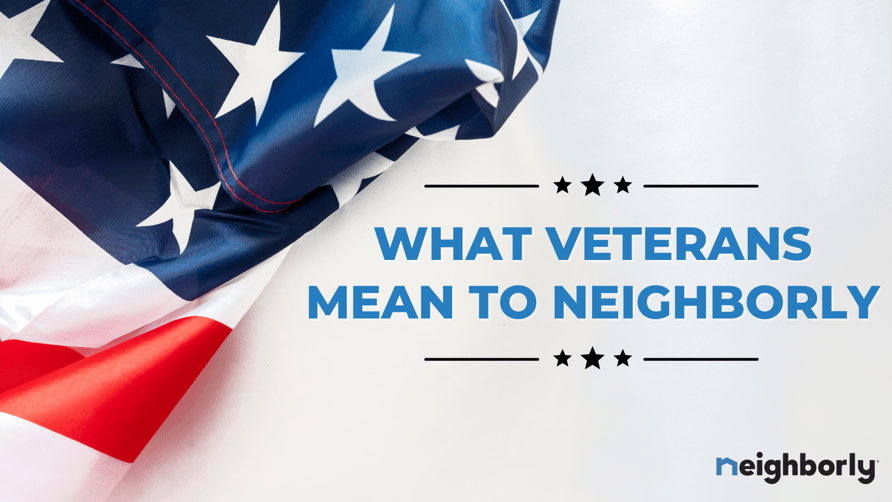 From serving our country to serving their neighborhoods, veterans embody the Neighborly mission to build a service community that enriches people's lives by delivering amazing experiences. As a vice president of franchise development at Neighborly, I've seen firsthand how veterans' leadership skills, dedication and desire to give back to others helps them become highly successful business owners. Even in my own family, my father, brother and nephew are army veterans, and coming from a military family has given me immense respect for the sacrifices and bravery of our veterans.
Each May for Military Appreciation Month, we honor these men and women who have bravely served our country. But at Neighborly, honoring and providing opportunities for our veterans is at the heart of what we do, all year round.
Giving Back, the Neighborly Way
Neighborly is dedicated to creating business ownership opportunities for our country's veterans. Not only do we provide incentives to help pave the way for veterans to join our network, but our commitment to doing so traces back to 1991, when Neighborly's founder, Don Dwyer Sr., created VetFran to encourage franchise ownership by offering financial incentives to honorably discharged veterans.
Since the founding of VetFran, we've awarded more than $2.4 million in discounts to over 370 veteran franchise owners. In the last three years alone, more than 150 veterans have opened a Neighborly franchise. Our continued partnership with VetFran and other veteran groups looking to place them in business ownership allow us to help create more opportunities for our servicemen and women. In fact, we're increasing our VetFran discount to 20% to help open the possibilities of business ownership to even more veterans.
However, the support Neighborly provides for veterans doesn't end when they join our network. One way we continue to support veteran franchise owners is through employee resource groups (ERGs). ERGs give franchise owners a chance to connect with others that share common interests, backgrounds and beliefs, helping to drive inclusivity within the franchise network as well as with a franchisor's team members. They serve as an informal support group to ensure owners are getting the guidance and assistance they need. As a result of this inclusivity, franchise owners feel a sense of motivation to excel and be successful by feeling like they truly belong, because they do.
And those successful franchise owners in turn become advocates for both franchising and also their brands, setting an example for other aspiring entrepreneurs in their communities. We have veterans in our franchise network that are dedicated to helping us recruit other veterans to our brands by speaking on panels, representing us at all veteran events and serving as ambassadors for Neighborly to the veteran community at large.
Other resources are available to veterans outside of the Neighborly network. These include events such as Veterans Edge, Service Academy Career Conference (SACC), or franchising initiatives through the IFA including ZeroMills and Hiring our Heroes. When veterans are able to open a business and get started on their franchising journey, they strengthen our industry as a whole.
The Value of Veterans
Now you may be wondering, why does Neighborly actively recruit veterans as franchise owners? Roughly 14% of franchises are owned by veterans, and with more than 370 veterans within our own network, they undoubtedly make a big impact in business. However, the value they bring goes beyond just strength in numbers. The diverse experiences and skills they bring to the table have enriched our organization in countless ways.
We work with franchise owners who have a variety of previous career backgrounds, and veterans in particular offer a unique skill set different from corporate professionals or existing tradesmen. The skills learned and experiences gained in the military – following systems and processes, overcoming adversity and so on – translate well to running a business and leading a team which helps set owners up for success from the beginning.
But the impact of veterans is felt throughout the company as a whole, not just within their own teams. As part of Neighborly's Diversity and Inclusion committee, I understand that veterans are a huge part of conversations surrounding diversity. There is great representation of minorities and people of color (POC), people with disabilities and women across the military.
Our veterans not only selflessly served our country – they are part of our communities and represent all of us. The skills and diverse perspectives they bring ultimately make our company and our neighborhoods stronger. The value of having servicemen and women in our network truly cannot be understated, and I am proud to work for a company that is dedicated to creating opportunity and giving back to the brave men and women who have served our nation. To all of our nation's veterans, happy Military Appreciation Month and thank you for your service.
Written By Brian Woods, Group VP, Franchise Development, Neighborly on LinkedIn