Leadership
What You Should Know About National Home Improvement Month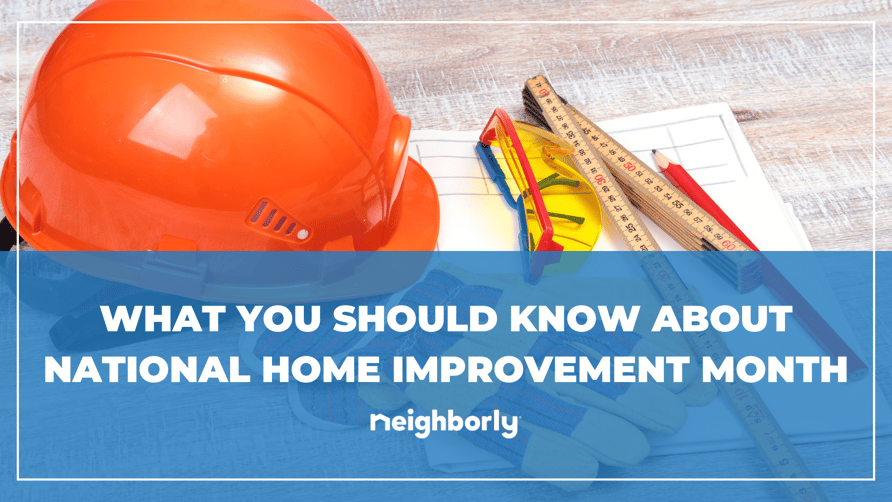 It's no secret that home services is a year-round industry – one of the many factors that makes it recession-resistant. But even so, this month stands out as the "Super Bowl of Home Services." So, what sets this month apart? The simple answer: May is National Home Improvement Month.
The last few years have seen a rising demand for home services, and as National Home Improvement Month gets underway – followed by National Homeownership Month in June – our industry (and the weather!) is only just heating up. Let's take a closer look at why National Home Improvement Month is so important, and how you can get the most out of it this year with Neighborly.
Why Now Is the Time to Tackle Home Service Projects
With warmer weather, May is the perfect time for people to start undertaking home projects, both inside and out. Ideally, you'll get through your home to-do list before the peak of the summer heat, just in time to enjoy all the season has to offer.
But perhaps the most important trend that drives the success of National Home Improvement Month is moving season, which peaks from May to July. As homeowners prepare their homes for the market or update their new homes, they get these projects underway now so they're complete by the time the season is over.
This year, however, more homeowners are staying put and spending on upgrading their homes to accommodate expanding families and work from home instead of moving to up-size. The sudden rise in mortgage rates over the last 15 months or so makes the effective cost per square foot of moving considerably more expensive. Coupled with the substantial gains in home equity during the last couple years prior to that, people often feel more comfortable making additional investments into their current home to make it more accommodating rather than incurring the cost to move.
Getting the Most Out of National Home Improvement Month
Whether you're moving or upgrading your home, now is the time to repair, maintain or enhance your home. And Neighborly is here to help each step of the way. But what can you do to get the most out of this month?
Step 1: Determine the Projects You Need
The projects you want to complete during National Home Improvement Month will depend on your home's needs. Some common projects include:
Additional home projects just in time for the summer season can be found in our most recent Neighborly Checklist.
Step 2: Put Together a Plan and Budget
After deciding which remodeling options are most important, decide on a budget and consider that home improvement projects take time. Planning ahead for the cost is the easiest way to achieve success. You can start by getting a quote from a Neighborly brand early to budget your finances and plan to get the most bang for your buck.

High costs are a top concern for many homeowners, especially as inflation continues. However, as DIY projects become more popular to save money, keep in mind that doing some projects on your own with no experience may result in more damage, ultimately costing more in the long run. Calling on a trusted brand like Neighborly can ensure the job is done correctly and fewer unexpected costs are incurred.
Step 3: Find Someone You Can Trust
Trust is always a concern for homeowners when strangers are entering their homes. It is vital to find a contractor that will do what they said when they said. Are they going to make a mess? Is their work quality going to be good? How long will renovations take? Will they stick to their quote? At Neighborly, our Done Right Promise ensures that the project isn't done until it's done right.
Look to trusted advisors and allow yourself plenty of time for repairs or upgrades. Be proactive, take an interest in the work, and ask questions. Raising issues early and setting clear expectations will strengthen the partnership. It is much easier to make corrections while tradespeople are already on-site with their tools in hand.
For each project and each stage in the process, Neighborly is here to help you get the most out of National Home Improvement Month and all your home service needs, all year long. Whether your house needs a complete remodel or a few simple upgrades, you will want to work with a company that has an excellent reputation with other homeowners. Visit our website or download the Neighborly App to find home services providers near you.
Written By Mike Bidwell, President & CEO, Neighborly