Window Genie Franchise Review: Mike Boone, Raleigh, NC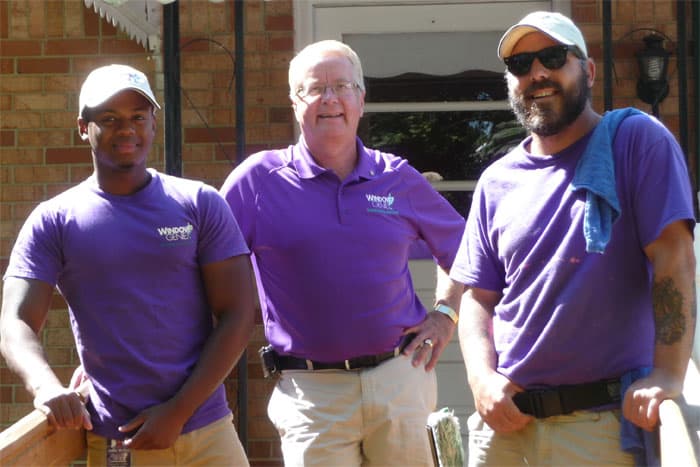 Chance phone call opens up a new world for Window Genie franchise owner
Mike Boone enjoyed a successful career in manufacturing. His last job was VP and General Manager of Zurn Commercial Brass, which was a division of Rexnord, a $1.7 billion global industrial conglomerate. His division was about $115 million. When the company went public in April 2012, Mike found himself in a unique position. "That afforded me the opportunity to do something else," he says. "I wasn't interested in retiring. I said, 'What am I going to do? Play golf once a year when my brother makes me?' " So he started working with a franchise coach to find something that would be "a good fit for me and my personality. One thing led to another, and that's how I wound up with Window Genie. I had not considered a franchise before, but I had considered owning my own business." Mike, 60, talked to us recently about his Window Genie experience.
Tell me about yourself and your family and your hometown. I'm originally from North Carolina and I hadn't lived here since college. There was an opportunity for my wife and I to come back to North Carolina. I've lived in North and South Carolina, Indiana, Illinois, Alabama, Pennsylvania and Ohio. My background has always been in manufacturing-type companies. I have three daughters: Amanda, 29, is a second-grade school teacher in the Philadelphia area; Ashley, 26, handles social media for Modcloth in Pittsburgh; Ali, 24, is a registered dietician in Austin, Texas. My wife, Suzan, works for H&R Block. We have a home in Bucks County north of Philadelphia, and she has a tax practice up there. We're probably getting ready to sell it. A lady in Raleigh has been chasing her for three years to take over a portion of her business. We'll probably sell that place and buy a place in Marco Island, Fla. I play racquetball three days a week and work out 3-4 days a week.
How long have you been a franchisee? I started in August of 2012. The first year was great. I didn't have any of these moments the first year of "Oh, no, what have I done?" Probably the first major hiccup I had was in July of 2013 when two of my techs quit at the same time. These two guys had been with me right from the beginning, and they were both great and did really well. Then both techs ended up resigning within three days of each other. That was a setback. One guy's mother signed him up for college without telling him, and the other one took a job I just couldn't touch the salary on. It was kind of bumpy for awhile. It's stabilized now.
Did you take on the work yourself? I helped out. I still help out sometimes, but I have no desire to climb ladders and clean windows. I did do the work for two weeks with just one tech. I had already hired a third tech, but he was not a good communicator. He left last week. You have to have at least one lead tech who can communicate with the customers. I am back down to two guys now and I can run it with two guys until spring. I'll have four guys ready to go by spring.
How important is it to have window-cleaning or other home services experience before joining Window Genie? Not very. I've been in seven different industries. You just have to apply yourself and learn how to manage this business.
What services do you provide? I do everything but the tile and grout cleaning — window cleaning, power washing for decks, houses and concrete. We provide window films for three different companies.
What sets Window Genie apart from other franchise operations? I told my techs and I tell other potential owners the same thing: One strong point is we do a lot of things. One of the weak points is we do a lot of things. Generally, it's good when you're starting up a business. It's a business where you generate cash flow almost immediately, and you're not out there making cold calls, unlike Fish Window Cleaning. I think that's a plus. You're not trying to establish a restaurant or a B2B-type business. Your people seek you out. It's easier to generate cash flow with a service business, and it's not a 24-7 business. I work on weekends a lot of times, but I don't schedule work on weekends. Some guys do, but you have that flexibility.
How large is the opportunity to grow with Window Genie? I told (Window Genie Founder & President) Rik (Nonelle) my wardrobe choices are pretty easy now — black or khaki pants and my Window Genie shirt. Until I had this setback, I was going to try to double the size of business this year. I am still not going to lose sight of that. I definitely want to take it over $250,000 to $300,000, and that's in reach this year. I got it really scaled up in the spring. I will probably do a campaign with some daily deals now that I have my tech group stabilized. I really want to target Angie's List.
Who are your target/ideal customers? I would say our ideal vertical would be a household income north of $125,000 and a home value north of $350,000.
Where is your territory and how many households are included? I own a territory that includes about 90,000 households in Southwest Wake County, which includes Cary, Apex, Morrisville, New Hill, Holly Springs, Fuquay-Varina and a couple of Raleigh ZIP codes. This MSA grew by 46% in the most recent census and in my opinion will continue to grow very quickly in the years to come.
How does Window Genie compete with independent contractors? Our largest competitor is Window Gang, which started in the Raleigh market; they do about $2 million a year. I compete with them just fine. There's plenty of business to go around. We took my house and quoted every service with every competitor. I had some Rotary buddies do the same thing with their houses, so we had a good idea of what the market is like. There are not a lot of independent contractors. I don't run into them often. The typical Window Genie customer is usually a first-time customer. I've taken some of Window Gang's customers, and they may have taken some of mine.
What attracts customers to Window Genie rather than its competitors? One, we advertise a lot. I think the thing that's attractive is you typically go onsite to quote one thing but you end up selling more. We're actually pretty effective because there are so many things we offer that you're able to sell at least one other service, sometimes two, on every location. So, you generate more money on that first acquisition. Also, my competitors, as far as the mom-and-pops, certainly aren't licensed all the time, and they're probably not insured. A lot of times, especially when we sell window film, there is no competition. I did a job this week where we're over there and this lady wants her windows cleaned. I'm talking to her and she said, 'oh, you do film?' Next thing I know, she calls me back and we're going to go back today and film $700 worth of windows.
What does your typical day look like? I get up and walk my dogs at 6 a.m.; on Mondays, Wednesdays and Fridays I play racquetball at 5:30 a.m. I get into the office and meet my techs around 8 a.m. and go through the day reviewing what we need to do. Normally, I'll go back and do paperwork, hit the bank at 9 and then I do quotes the rest of the day. I truly try to meet all my customers. I found out pretty quickly my close rate is a lot better when I meet face-to-face. When you first start, you chase every single phone call and every single request. I get calls from Durham and Chapel Hill and Clayton, and I'll go see those people on the weekend. You can schedule a time and meet them there. So, I'm in the major areas every day, especially Cary.
What kind of person do you think would enjoy owning a Window Genie franchise? I've talked to Rik and (Director of Technical Services) Ken (Fisk) about that. It's a business where you have to like people. If you're someone who likes to stay in the cubicle, I think you'll struggle in this business. It's important that you like people — meeting new people and talking to people.
What does franchise ownership allow you to do in your personal life that you couldn't before? Even though I've almost always been the senior executive and I had some latitude, I'm talking to you from my car going to a football game on a Friday night. I might not be doing that if I was in corporate America. On my worst day, owning my own business is better than most days in corporate America. I'm not going to make nearly as much money, but I'm at a point in my career where I don't have to do that.
Learn more about Window Genie
Window Genie franchisees need a net worth of $150,000 and liquid assets of $50,000. Our 25 years of experience have helped us carve a solid lead in the home services market, and we have few national competitors. We added 36 units last year, bringing us to a total of 145 Window Genie franchises across the country.
If you're interested in learning more about our simple, scaleable business model, please fill out the form at right. We'd love to start a conversation with you!