A Look Inside Franchise Ownership: Window Genie Makes Entrepreneurial Wishes Come True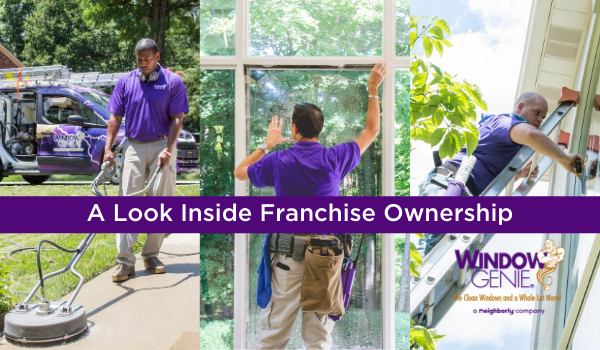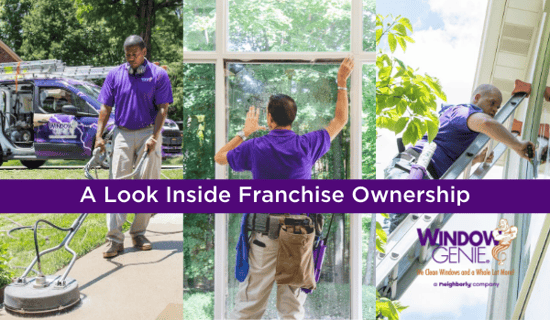 One common misperception about the home service industry is that such businesses are too niche to be successful. Perhaps this is why Rik Nonelle, President and founder of Window Genie, was surprised when a friend suggested that he give residential window cleaning a closer look. What Rik discovered was a thriving market for residential window cleaning services, a market with plenty of room for a company with honest values and a dedication to excellent customer service. In 1998, Rik sold his first franchise, and has spent the last 22 years expanding the company into a national brand.
As part of Neighborly, the world's largest family of home service franchise brands, Window Genie offers a range of benefits that entrepreneurs would be hard-pressed to find elsewhere. But perhaps the defining feature of Window Genie's appeal is the combination of a straightforward operational model and nearly unlimited potential. David Flax, Window Genie's Vice President of Operations, is a living example of that potential. David started out as a single franchise owner and, then within 9 years, built one of the largest window cleaning businesses in the Atlanta area.
A Look Inside Window Genie Franchise Ownership with Kelly Ford

It is stories like David's – and Rik's – that have inspired many others to join the Window Genie franchise. For Kelly Ford of Santa Clarita, California, the enthusiasm of Rik and his leadership team for their business encouraged her to open a Window Genie franchise of her own.
We (virtually) sat down with Kelly for more on the story behind when and why she chose a Window Genie franchise and what she is looking forward to this year.
Thanks for joining us, Kelly! What were you doing before you joined Window Genie's franchise network?
I worked in aerospace manufacturing as part of a large company's senior operations management and site leadership. But I'm also a clean window freak, and had been looking for franchising opportunities that corresponded with my interests.
What made you decide to open a franchise with Window Genie?
For me, it was the franchise management team. I was impressed with Rik Nonelle and his team, all of whom were very enthusiastic about the enterprise. They appeared to walk their talk regarding their claims that they exist to serve the franchisees. They told me "Your success is our success" – and I believed it.
How have you benefited from being a part of the Window Genie franchise system and the Neighborly family? What do you like most about it?
I have learned so much this past year! I felt I had a pretty solid skill set, but as a franchise owner I am still continuing to learn and grow. One of the best parts of the Window Genie franchise is all the ongoing support I receive from my Franchise Business Coach, not to mention the bi-weekly territory calls with other owners. Both Window Genie and Neighborly continue to innovate, upgrading suppliers, technical information, and opportunities to grow. But it has been the daily help offered during the COVID-19 pandemic that was stabilizing and reassuring. I feel that both Window Genie and Neighborly have my back, especially during these incredibly uncertain times.
What are you most looking forward to about owning and operating your Window Genie franchise?
There are many positive things I look forward to going forward. Growth, for one. Another is earning a solid return on my investment. I can see myself becoming a more accomplished business owner, where I can work for myself as hard and as successfully as I have always done for others. Now that I have the flexibility of being my own boss and freely allocating my own resources, I look forward to creating something of my own: a respected business in a community that I have been a part of for almost 30 years.
What advice would you give someone who is considering investing in a Window Genie or other Neighborly brand?
Take the time to do your homework and thoroughly research any franchise opportunity. Also, be willing to listen and take direction. I fully believe in the Window Genie model developed by Rik and his team. But it's important to work closely with company leadership in order to be successful. Talk to other Window Genie/Neighborly brand franchisees and learn from them. Their experiences and advice can be one of your greatest resources. As part of Window Genie, I have faith that the full potential of my business will be realized because I seek and will continue to adopt best practices from my colleagues and corporate advisors.
The Future is Bright with Window Genie
Although Kelly has faced some challenging times this year, her efforts to build a successful business are already being recognized. She recently received a grant from The Red Backpack Fund, an organization that supports female entrepreneurs impacted by the COVID-19 pandemic.
Despite everything, motivated owners are continuing to find success in the home services industry. Visit our site for more information about Window Genie opportunities and available territories near you.