Franchising 101
Local Franchise Marketing: The Benefits of a National Brand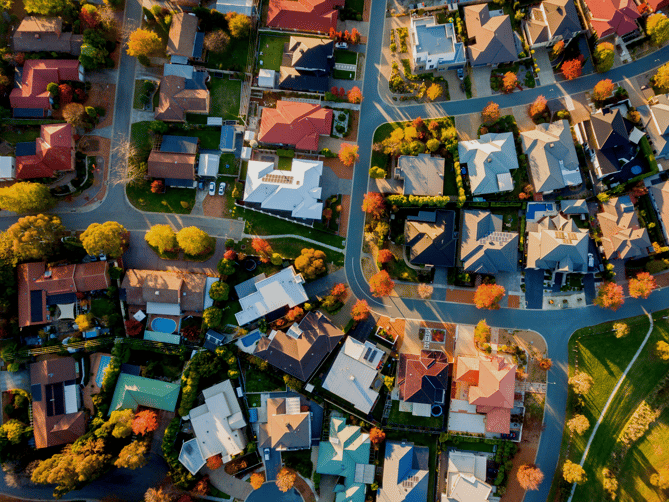 Marketing is crucial for building brand reputation and generating leads to grow your business.
One of the top advantages of purchasing a franchise is that it comes with access to an established brand, business model, ongoing training, and marketing support. Marketing support can ensure that as a business owner you have what you need to generate leads and grow your business in your area. More specifically, local digital advertising and marketing is the key to achieving these goals, as well as helping maintain the brand reputation.
To help the overall brand and each franchise succeed, franchisors like Neighborly will assist with local marketing campaigns that send a consistent message to customers while saving you time. In what follows, we will outline how local marketing strategies can benefit your franchise business.
Local Franchise Marketing
Local marketing is one of the most effective marketing strategies for franchise owners. Also known as neighborhood marketing, local marketing targets consumers and customers within a certain radius of the physical location of a business. This is essential is providing customers [SM1] with quick and efficient service within territories that are manageable for franchise owners.
Local marketing allows you to customize your marketing messages and target specific demographics in your area. As a result, you can generate leads, build relationships with local community members (and potential customers), and grow your business.
Targeting Local Franchise Customers Through Search
Local SEO is the process of optimizing your website and online content to rank higher in search engine results for local searches. When customers search for businesses like yours in their area, you want your franchise to appear as close to the top of the results list as possible. This is because studies have shown that most searchers will not click past the first page of results.
In recent years, "near me" searches have experienced exponential growth. In fact, in the past two years, there has been 150% growth for phrases like "near me now," such as "landscapers near me now". This growth is likely due to the increasing use of mobile devices and voice-activated searches. "Near me" searches are critical for franchise owners as it allows you to reach your intended customers during micro-moments when they most desire your service or product.
To ensure that your franchise appears in local "near me" searches, you must first claim and optimize your business online by using local business directories such as Google My Business (GMB) and Yelp. Doing so can ensure that your business has visibility on Google Maps and in search results, both of which are key to an effective local franchise marketing strategy.
In addition, you should also include your city or state in your website's title tags, meta descriptions, and H1 headers. For example, if you are a franchisee in Los Angeles, you should include "Los Angeles" in these key places on your website. You can also use other local keywords throughout your website's content to let both search engines and potential customers know that you are a local business.
Finally, you should encourage customers to leave online reviews of your franchise business on Google Business Profile and other platforms. Positive customer reviews can improve your ranking in search results, while also increasing trust and credibility with potential clients.
Targeting Local Franchise Customers Through Social
Another key strategy for effective local marketing is harnessing the power of social media. Social media provides franchise owners the power to tap into their local communities. Through social media, you can connect with local customers and followers, share relevant and timely content, and promote special offers or events. In today's digital world, franchise businesses that have a presence and consistent engagement on social media at the local level find it easier to develop relationships with local consumers.
For example, as a local home services business, you should use a free Facebook business page [SM2] dedicated to your local franchise. A flexible and powerful tool, social media can be used to connect with local influencers, share photos of your work and happy customers, and promote your community engagement.
Other tactics you may want to incorporate in your social media marketing include:
Joining local or community groups on social media.
Promoting upcoming sales or events.
Using location tagging.
Engaging with other local businesses.
Also, don't overlook the advantages of cross-brand promotion. At Neighborly, cross-brand promotion is encouraged. Local franchise owners could cross-promote each other on their websites and in advertising, especially when their services go hand-in-hand. For example, plumbing repair and water damage restoration are often needed by the same customers. By promoting your business together, your local marketing becomes even more effective in driving growth.
Local Marketing with Neighborly
If you are a Neighborly franchise owner, you have several distinct advantages when it comes to local marketing. First, we provide you with a custom-built website designed for lead generation. Each site is equipped with powerful SEO features to help you rank higher in search results and drive more traffic to your website.
Neighborly also offers a variety of digital marketing services to help you reach your local customers. Our services are designed to promote your franchise business online and offline, through both traditional and digital channels. We can help you with everything from print advertising to pay-per-click (PPC) campaigns.
Finally, we offer a wide range of support and resources to help you succeed with your local marketing efforts. Our team of marketing experts is available to answer your questions and provide guidance on any new franchise marketing ideas.
Case Study: Mosquito Joe
Consider how effective local marketing helped Mosquito Joe gain national recognition. In 2019, Mosquito Joe, a Neighborly company, was recognized as a Home Services category leader in that year's Localized Social Marketing Benchmark Report. Mosquito Joe was recognized for its performance in localized social marketing for the brand's localized presence, customer care in the form of local ratings and reviews, and local community engagement across the top localized social marketing platforms like Google[SK3] , Facebook, and Yelp.
Not only has local marketing helped the brand gain positive recognition, but it also played a role in the growth of individual franchise businesses as well. In fact, since its inception in 2013, Mosquito Joe has experienced significant growth in both the number of franchise units and franchise owner revenue - and is still growing strong!
Put Local Marketing to Work for Your Franchise
From advertising on social media platforms to attending local networking groups to advertising with neighborhood or city publications, Mosquito Joe and our other Neighborly brands ensure franchise business owners understand the power of local marketing and provide you with the tools to support the sustained growth of your business.
Ready to start your franchise journey? Contact our team at Neighborly to learn more!