How One Entrepreneur Found Great Success in Franchising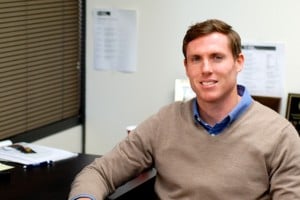 Franchising: Career Change amid Tough Economic Conditions
Not many young professionals who work for one of the big four accounting firms would decide to leave
their promising– and lucrative – career, but that is exactly what then 25-year-old Kyle Thompson did in 2008 to enter the real estate industry, just as the housing collapse was in full swing.
Why did he make the seemingly crazy jump? A California native and alumni of California State University Long Beach, Thompson pursued the traditional accounting career track only to discover what he really wanted was to be in business for himself. He began to look into different entrepreneurial ventures across various industries and business categories, including franchise systems.
During the precipice of the great recession, homes sales were on the decline and Thompson believed there would be an increased demand for rental units. More specifically, he thought he could provide property management services to people and firms who were planning to buy cheap or foreclosed properties and then rent them to people who could not afford homes. So with the support of his friend turned business partner Bryant Hull, Thompson made the jump to become a Real Property Management franchisee.
"The more I researched business opportunities, the more I realized the stark challenges you're faced with during the first couple of years as a new business owner," Thompson said. "Joining a franchise system offered us an opportunity to become profitable faster and experience greater growth benefits because there are systems and processes in place that have been proven over and over again – it was a better option than growing organically and figuring it out as an independent, first-time entrepreneur."
Seven years later, Thompson now manages more than 600 properties between his two offices in Huntington Beach and Long Beach.
In part, Thompson is success epitomizes the entrepreneurial trait of identifying opportunities during tough times. In Orange County – one of the wealthiest zip codes in the nation – the local economy is in constant ebb and flow, including the real estate market. To keep business strong especially as more competition continues to enter the space, Thompson has had to develop proactive strategies to bolster his customer base and develop relationships with local customers and business owners.
"There's no such thing as a business where you don't have to do a lot of the work yourself – anything you do will take many years and a lot of time to build, and you have to be prepared to put in your due diligence," said Thompson. "Today's business environment is constantly evolving and requires business owners to be open to change, even in a franchise system. You have to understand how to market well to your customer base."
For others looking to make a career change and dive into the world of franchising, the 2015 West Coast Franchise Expo (WCFE), produced by MFV Expositions and sponsored by the International Franchise Association (IFA), will be offering thousands of entrepreneurs the opportunity to fulfill the dream of owning their own business. From November 12-14, more than 200 franchise brands will be represented at the Anaheim Convention Center with investments starting at under $10,000 providing prospective entrepreneurs and small business owners the rare opportunity to meet face-to-face with representatives of proven franchise opportunities – full-time and part-time – in every industry as they embark on their franchising journey.