How to increase brand awareness: Open a franchise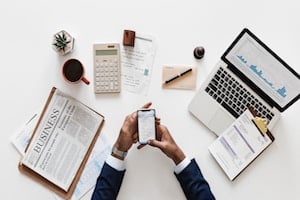 The power of a 'mature' company with name recognition brings trust and comfort to customers—and growth potential to franchisees.
Small-business owners must consistently strive to make consumers " aware of a particular product or service."
After all, familiarity with a company's brand—regardless of its size—is essential for growth. Richard Hanson, a franchise developer for Mr. Rooter, works with folks who own a plumbing business and are considering a franchise model.
"When I speak with independent plumbing companies where we have never had representation, I hear many times that they see our vans all over the place. They think we have a franchisee there." Hanson says, "It's the power of our brand recognition, and it's the ultimate compliment."
The Mr. Rooter brand—now 45 years old—takes resales, Hanson says. Changing the name from "John's Plumbing" to Mr. Rooter can attract new customers looking for "the comfort and safety of a known brand."
Hanson says trust is essential when people allow service providers into their homes. "With theft and everything that can happen inside a home with a stranger," he says, "it's more important than ever to offer people a brand they feel safe and comfortable with."
Dwyer Group is fortunate to have local—and global—name recognition for its 14 home services brands, Hanson says. Smaller entities might use social media, mailers and banners to promote their offerings. Being part of a franchise brings fresh marketing opportunities, he says.
These days, many businesses have replaced Yellow Pages advertising with internet visibility. "Brand names speak volumes when people are searching online," Hanson says. Helping others by sponsoring a charitable event or local youth baseball team raises brand awareness, too, Hanson says. "Dwyer Group has been giving back to communities for decades. We have the [marketing] templates for our franchisees to plug in to their communities."
Business cheerleaders
Dwyer Group provides support to new owners on a "continual basis," something that may not be available from smaller franchisors. "Our systems revolve around the steps of service and proven ways to build trust and comfort with the homeowner." It reinforces a strong brand awareness with a focus on "building customers that become cheerleaders," he says.
Mr. Rooter and other Dwyer brands have access to radio and TV spots, door hangers and additional printed materials that have proven successful. The average small-business owner would have to allocate time and money to develop those materials, and that's not always feasible, Hanson says.
During a recent Mr. Rooter promotion, "Hug a Plumber Day" was a fun way to promote business. "Our mascot was stationed on prominent street corners and shopping areas and was offering hugs. It was very successful," Hanson says.
Truck wraps are effective for marketing, too, he says. Branded vehicles are "the best billboards," as they stand out against competitors with plain white trucks.
Transitioning to a franchise
Personal name recognition is one reason some independent owners are reluctant to convert to a Mr. Rooter shop.
"They thought their family name brand was so powerful that they would lose customers by changing the name, but the opposite usually happens," Hanson says. He adds that established customers are typically happy for owners who buy a franchise, because the rebranded business will probably be around and more stable with modern systems, such as digital invoices. It's easier to do business, Hanson says.
Related: Marketing a Franchise: The Benefits of a National Brand
Hanson recalls a second-generation plumber in California who recently jumped on board with Dwyer Group: "He said in his first month as Mr. Rooter, he did almost as much business as he did all last year."
Hanson attributes the growth to brand awareness. "Our name is powerful," he says, "and our proven systems can impact second-and-third-generation businesses by bringing in new homeowners they cannot attract as an independent."
Throughout a Mr. Rooter acquisition, Dwyer Group guides owners with how best to communicate with established customers about the reorganization. They might offer a discount for regular maintenance, Hanson says, so property owners can avert a possible emergency.
In the end, Hanson says, removing the guesswork around brand awareness is a must for effective marketing.