Business Ownership
Searching for Low-Cost Business Opportunities? Check out Franchise Business Review's Top 100 List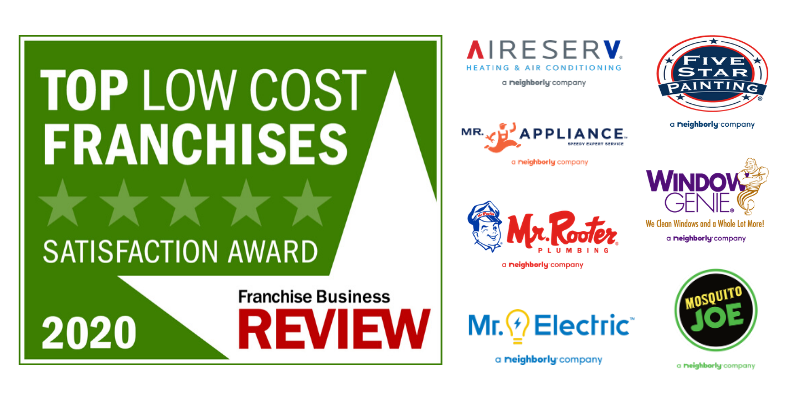 Have you dreamed of being a business owner? The desire to be in control of your future likely fuels your ambition. Yet, we often let our fears hold us back from reaching our dreams. To fulfill your vision, sometimes you must be willing to take risks.
Taking risks can be scary though! That's why it is important to do your research and calculate the potential impact of the risks you choose to take. If you've dreamed of owning a business and controlling your destiny, but fell paralyzed to fear - why not consider investing in a franchise? Owning a business doesn't guarantee success, but investing in a franchise has several advantages.
To further decrease your risks, consider a low-cost business opportunity, such as those included in Franchise Business Review's Top 100 Low-Cost Franchises.
Each year, Franchise Business Review does extensive research to determine the best low-cost franchise opportunities. Their research methodology is based on data collected from then current franchise owners of various franchise systems. They measure the health of franchise systems based exclusively on the feedback of franchise owners. As a potential franchise owner, it's an inside look at what might be your best franchise business opportunity.
Neighborly® Brands on Franchise Business Review Top 100 Low-Cost List
Seven Neighborly home service brands were named to this year's list, solidifying that Neighborly brands represent some of the most accessible and exciting franchise opportunities for entrepreneurs. Check out the Neighborly brands that made the list: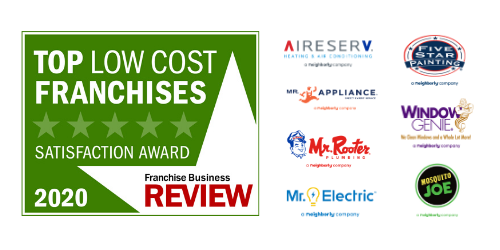 How a Brand Achieves a Top Rating from Franchise Business Review
To achieve a top rating from Franchise Business Review, a brand must be willing to open its doors to an independent research firm. Brands that choose to undergo this research offer potential franchise owners a wealth of information on their system's leadership, culture, training and support, and franchise owner community, so that the prospective franchisee can make the best investment decisions.
Franchise Business Review surveyed over 15,000 franchise owners from 160 of today's leading franchise brands to determine which franchises are truly the best. All their research is based on franchise owner satisfaction to give prospective franchise owners the most comprehensive list of top low-cost franchise opportunities.
Join the Neighborly Family
Regardless of your background, each Neighborly brand provides training and shares expertise in business and services to simplify every aspect of the experience and establish a sturdy foundation on which you can build your business.. This gives franchise owners less time to worry about their fears, and more time to reach their dreams.
What's more, is each Neighborly brand's franchise owners can count on a network of individuals and experts as they journey into business. Neighborly provides an environment for like-minded professionals to connect, share, learn and grow. And as a community of franchise brands under the Neighborly umbrella, we are stronger together!
If you want to be in charge of your future and make your own decisions, consider investing in one of Neighborly's home service brands. We are proud to be a leader in the franchise space. Our award-winning brands are among the best in the country! To learn more about Neighborly brands and about our family of unique franchise opportunities, visit our website or contact us to speak directly to a franchise advisor.